As more and more people get interested in solar energy, companies are bringing out the best with a lot of the latest modifications. 
Yes! We are talking about the Best MPPT Solar Charge Controller. If you already have a solar panel installed on top of your roof, or even thinking about it, this article is for you.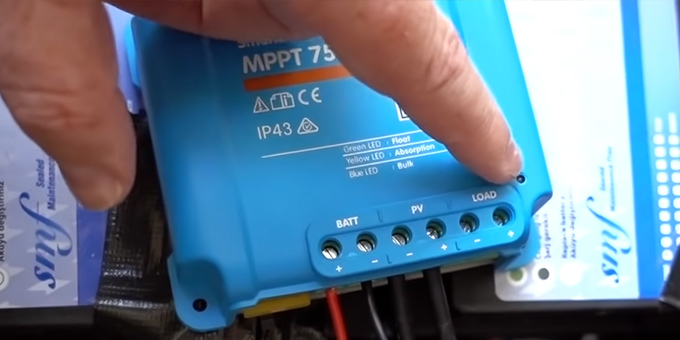 We will go through the solar charge controllers and what they have to offer and who is giving us what for our bucks. So hold on to your coffee and scroll away!
Key Features and Benefits of 4 MPPT Solar Charge Controllers
Here you will get in-depth knowledge about the market's best MPPT solar charge controllers firsthand. 
1. Victron Energy SmartSolar MPPT 100V 30 amp 12/24-Volt Solar Charge Controller
Starting from the very best, the Victron Energy SmartSolar MPPT 100V is an MPPT solar charger controller you want to have for your solar setup. This charger gathers all the energy, and I mean all, and stores it in your batteries.
It has the fastest energy-collecting technology, SmartSolar that helps you gather the maximum amount of energy from your solar panels. Basically, that is what we want from a solar controller. 
The Victron Solar charge controller can also charge an overly discharged battery. It won't require any power. Which makes it operate under even zero volts. That is how much efficient it is. But the battery shouldn't be dead or sulfated. Otherwise, this function won't work.
This MPPT charger gets the most out of your solar panels. You can control the controller via Bluetooth from all over your premises. Just pair it with your smartphone or other Bluetooth-activated device and you are done. All the info will be updated on it. 
One thing to keep in mind is that you have to install it correctly. Otherwise, it not only will stop working but also can be disastrous to your batteries. So it is suggested that you follow the instruction manual correctly or contact a professional.
Pros:
Power-efficient solar charge controller.
Workes in even with zero battery charge.
Bluetooth connection for better control.
Cons:
No in-body displays to know any info.
2. Outback Flexmax 80 FM80 MPPT 80 AMP Solar Charge Controller
Getting into the big leagues here. The Outback Flexmax 80 FM80 MPPT 80 Amp solar charge controller is one of the highest energy controllers in the market.
This controller has an amazing charging capacity of 80 Amps. The latest Flexmax technology gives it enough controlling power to harness all the power it can get out of your solar panel.
One of the great things about this charge controller is that it can work in any nominal battery voltage. Even if you have a smaller solar panel setup and a small battery, this solar charger will charge it without any problem.
A great feature that is included in this Outback Flexmax solar charge controller is that it comes with an internal cooling system. So if it senses any temperature rise, it cools itself. So there is no halt in power generating in any given temperature condition. The controller also can perform great even in 104 Fahrenheit. 
There is a backlit display to let you know all the information you want to know. How much power is being gathered, what is the temperature, how the controller is functioning, every single detail can be accessed from this display with just a push of a button. It can store up to 128 days of data in its memory. Sadly, if you want to get this info onto your smartphone, you need to buy a network hub that is sold separately from Outback.
Pros:
Great power gatherer and storer.
Works normally under high temperatures.
Has a dedicated backlit display.
Stores 128 days of data.
Cons:
For normal features, you have to buy accessories.
3. Renogy Rover 40 Amp 12V/24V DC Input MPPT Solar Charge Controller
Looking for something great and budget-friendly? The Renogy Rover 40 Amp 12V/24V DC Input MPPT Solar Charge Controller got you covered. It not only supports both 12V and 24V batteries but many more.
The Renogy Rover system is built to automatically detect the voltage of the battery and work accordingly. It supports AGM, GEL, Flooded Cell, and Lithium-ion batteries. One thing you have to do is, you have to select the type of battery you are using and it is permanent for the one-time setup.
There is a number of protections like overcharge, overload, over current, short circuit, and over-discharge. This controller can also charge an overly discharged lithium battery. Which is a cool feature to have.
One neat thing is that it can identify the battery temperature and charge them from that data. So there is no heating issue with the batteries from continuous charging. 
The Rover controller comes with a Bluetooth module that lets you know all the info from your smartphone. And a display is also present with the unit.
Pros:
Inexpensive worthwhile solar charge controller.
No restriction to the size of the solar panel and setup.
Cons:
The display is not backlit.
4. EPEVER MPPT Solar Charge Controller 40A 150V PV Solar Panel Controller
Last but not least, a great solar charger from EPEVER. The EPEVER MPPT Solar Charge Controller will handle and charge your batteries of both 12V and 24V.
This MPPT solar charge controller comes with negative grounding. This gives the charger an advanced level of control over the charges it collects and is more efficient than other solar charge controllers.
The controller works with any Lead Acid Batteries, AGM/SLA, GEL, or Flooded Cell batteries. It doesn't support lithium-ion batteries. You have to select the type of battery you are using from the first time installation and you are all good to go.
A temperature sensor for batteries is also included in this solar charge controller. So it understands what rate of charging to supply when the batteries are heated up. This allows continuous charging without any interruption even though the battery is heated up for some time.
Another great function of this controller is that it can take on any number of solar panel sizes. You can turn off any of your solar panels and turn them back on and it will adjust the charging rate by itself.
You get the RS-485 communication interface and a direct PC monitoring output to know the charging status and other information. This allows you to monitor the controller from its own interface and also from your PC. Neat!
Pros:
Solid solar charge controller.
Works great in any given load.
Onboard and PC interface controlling option.
Cons:
Sometimes shuts down the system if overheated without any notice.
Frequently Asked Questions
What is the advantage of an MPPT solar charge controller?
An MPPT solar charge controller can capture the excess module voltage to charge up the batteries that are 20-25% more than a PWM controller. Thus you get more charge on your batteries.
How do I get the best voltage from a solar system?
To get the most out of your solar system, placing the modules over 30 meters apart with adequate sun exposure gives you 24-48 volts
How many amp-hours does an off-grid solar charger give?
A typical off-grid solar charger of 24V or 48V gives out about 600-800 amp hour.
Conclusion
In the end, everything depends on your solar panel's size. The bigger panels you have, the more solar charger you will need. But the MPPT solar chargers that are mentioned here will cover most of the solar panels out there. Even if it is industrial. Choose them according to your need and each one of them will serve its purpose.