Do you want to mirror your Apple product like iPhone, iPad, or iPod to a large screen through an AV adapter, but are in dilemma about it? This Apple Lightning Digital AV Adapter review would be your solution.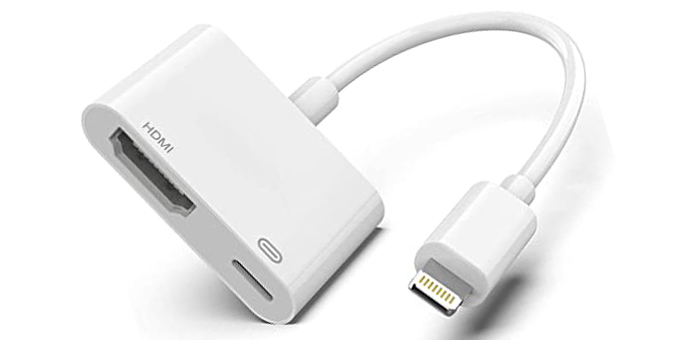 Imagine the adapter works properly, then the adapter might be worthy though the price is too high despite the little tiny adapter.
Experts' View on Apple Lightning Digital AV Adapter | Features and Specification
The adapter is a possible device if you want to mirror your screen of iPhone or iPad onto a large screen for official or casual purposes. It is looking good for a kind of place where there is no internet access. Either it can be a rural area or anywhere. 
You can mirror your devices on a large screen like a TV, or projector. Here is a piece of information for you that you cannot connect any screen device without an HDMI port.   
Type of Phone Activity Show on Screen
You may have a question like, what type of phone activity can you mirror on the large display by using the adapter? The answer is- you can operate all kinds of phone activity like running apps, presentations, websites, slideshows, etc. 
But apps like Xfinity & Comcast could not work at all. Some users also have faced problems while running the apps like Criterion, Amazon Prime Video, ESPN, NFL, etc. These all are happening for DRM (Digital Rights Management) copy protection issues.
Resolution Adaptability
The adapter supports a 1080p HD quality screen. According to the criteria, the image is slightly hazy on your 4k resolution screen. 
Audio-Video
The adapter supports both video and audio output so that audio-video synchronization can place perfectly. You can also use headphones instead of a speaker. 
But, in some cases, you might not listen to the same thing according to the playing video on your screen. If so, you need to restart the program. 
Available Ports and Connectors
The adapter has three ports- HDMI, Lightning, and a charging point. You will get a lightning connector with the adapter, but you need to buy an HDMI cord. 
You can easily install the adapter and mirror the devices properly on the large screen without any tech disturbance. To do that, you need to inject the lightning connector into the devices and use an HDMI cord on the other end for mirroring onto the large screen. 
You also need to connect the charger to the adapter if you mirror the devices for a long-time.  
Compatibility
The adapter is compatible with iPhone 5 to iPhone 13, iPad mini (1st generation) to iPad (9th generation), and iPod touch (6th and 7th generation). But in some cases, iOS 13 users have complained that the adapter did not work for their devices. 
Netflix Availability
You can mirror your phone while running Netflix. But if you are trying to operate other activities on your phone while running Netflix, it might not be working.  
For your kind information, you cannot record any Netflix content for having their HDPC (High-bandwidth Digital Content Protection) issue.
Playing Games
Generally, you can play games while using the adapter, although many gaming apps do not work on the mirrored screen. 
You may face a problem here that suppose you command something on your phone but find the happening delayed on the mirroring screen. It could be a barrier to playing the game, especially for the fighting game. 
Critical Issue to Remember 
From some users' experiences, the lighting connector sparked and burnt out after using it only a few times. In some cases, the adapter turned to dead after 2-3 months of usage. 
Pros and Cons
Pros
Perfect solution for mirroring iPhone, iPad, or iPod on a large screen
Easy to connect 
Can be carried anywhere because of its lightweight
Cons
Final Words
In the entire Apple Lightning Digital AV Adapter review, I have attached out-of-the-box info based on in-depth research. In my opinion, it is not a must-need product but a valuable resource of entertainment.