Adapters and Converters cover significant yet non-complimentary roles. An adapter is used to fit the electronic device into the wall socket. While a converter is used to adjust the voltage required for the device. But the one thing common in both is, depending on where you are traveling you may need both of them.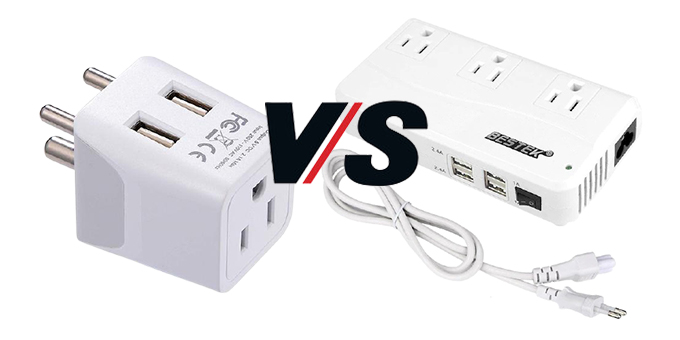 Since the outlet often differs from country to country, an adapter is necessary for traveling to another country (Given it doesn't use the same standard outlet as yours). The same can be said for voltage. If the country uses a different voltage than yours, you will need a converter to run your device safely.
Adapter vs Converter | The Differences
In our day-to-day life, we often use the converter and adapter interchangeably. But these two means two very different things. A converter deals with the voltage of the current where an adapter makes sure you can plug into the outlet.
Adapter and Its Use
The outlet standard of a different country oftentimes doesn't match with each other. This is even more true if those countries are located far from each other. Some countries use rectangular outlet other use circular outlet and so on.
So if your country uses a vertical rectangular outlet as standard then you cannot plug in your device in some Asian countries because of their circular outlet. This problem is overcome using the adapter. All you have to do is plug your rectangular tooth into the outlet on the adapter. Then plug the adapter into the wall outlet.
Converter and Its Use
Just like the adapter and outlets, different countries use different voltage of current to power their country. Some countries use a voltage between 100-120V while others use 220-240V. This voltage difference is a problem when moving between countries that have different voltages.
So a converter is used to higher/lower the voltage to match the device. Without the proper voltage, there is always a chance for a safety hazard. So making sure the device is at the right voltage or using a converter is a must if there is a voltage difference.
Needs of an Adapter || Outlet Type Depending on the Country
Different countries have different types of outlet that is common to the area. Here are some basic and popular outlet types you may need to know for your travel.
Outlet A & B
Countries like Japan, the US, Canada uses the same type of outlet which looks like a flat vertical rectangle or a rectangle with a circle for an earthen line.


Outlet C, E & F
But if you want to India or some countries in Asia then you need an adapter that can transform your plug to a round shape. It goes without saying if your plug already has a round shape then you won't need the adapter. Here is how the round outlet looks.


Outlet G
Again, the UK, Ireland, Singapore, Malaysia, and some of the African countries also use a rectangular outlet as a standard. But these are not the same rectangular as before. They use a horizontal rectangular outlet for the outlet. So if you are traveling to those countries then you need to find an adapter that works with those outlets.


Outlet I
Lastly, China, Australia, New Zealand uses the rectangular shape also. But their outlet uses this shape as a diagonal on the outlet.


Needs of a Converter || Voltage Type Depending on the Country
Unlike outlets, there are mainly two types of voltage that are used by countries across the world. These are 100-120 V and 220-240 V. So it is less complicated to figure out which one you need. 
To make things even easier, modern devices often feature dual voltage support. Which means it will work across all voltages. Such as, most of the old hair products use 240 V to work properly. But newer hair products are labeled as 100-240 V which means it has dual voltage support. It will work on both 100-120 V and 220-240 V.
Here is a picture outlining all the countries that use the same voltage. As you can presume, the dark blue areas of the world use a 220-240 V electrical outlet while the red area uses 100-120V. You should always check the voltage usage before traveling to the country to avoid any safety hazards.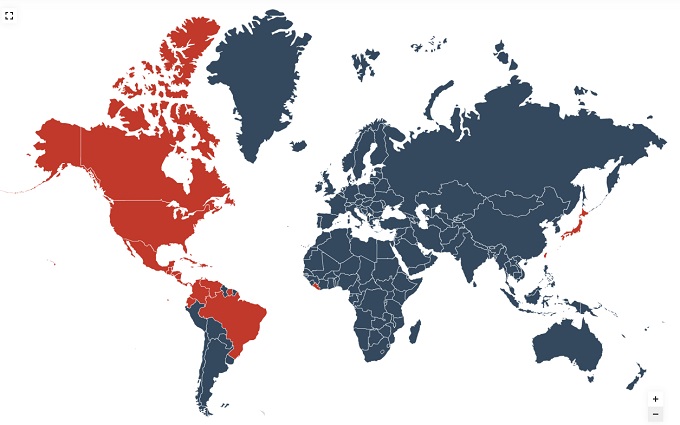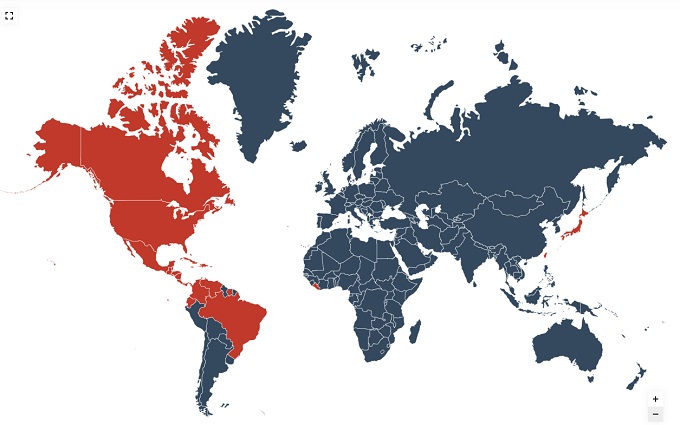 Using a 110 V Device on a 240v Outlet and Vice Versa
If the device doesn't support a certain voltage, you should not plug it into that voltage. Plugging into the wrong voltage can cause a safety hazard.
For example, suppose your device only supports 110 V. If you plug this device into a 240 V outlet, then more current will flow through the device than it is supposed to. As a result, if lucky only the fuse will get burnt. But there is also a chance that the device will get burnt and it will cause power out for the whole building.
When you plug a 240 V device into a 110 V outlet it will not have enough power to power the device. As a result, the device will not run well or take a long time to do whatever it needs to do. Other than that, it also has a chance to burn the fuse by draining more current than the line used to.
Frequently Asked Questions
Can iPhone take 240 volts?
Ans: iPhone charger is rated 100-240 V. So it can take 240 V as long as you have the right adapter to plug it in the outlet.
Can you convert a 240V outlet to 110V?
Ans: By using a step-down converter it is possible to lower the voltage from 240 V to 110 V.
What happens if you plug a 120V appliance into a 230 V outlet?
Ans: In short, more than intended current will flow through the device burning the fuse and possibly the device.
Conclusion
If you travel frequently, you should know which adapters and converters to use. Not having a proper adapter can become a very annoying thing to deal with. Without it you can't even charge your phone. At the same time knowing about the voltage usage and converter will make sure you don't get into a hazardous situation.