The plug adapter helps you to connect your plug to a socket when the outlet does not match. Whereas the converter converts the voltage to match the voltage of your device to the voltage of the outlet. Here, the plug adapter is a more important tool if you are traveling. However, carrying a bulky converter might not be great for you while traveling.
Plug Adapter vs Converter
The plug adapter and converter are two different things used with two different characteristics. First of all, the plug you use at your home wall socket might not work when you are abroad. Because different countries have different plug shapes. In that case, you will need a plug adapter to connect your plug to a socket.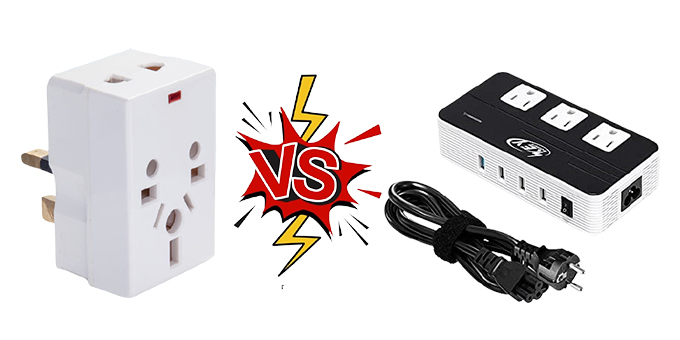 On the other hand, your non-dual voltage electric devices might need a converter while traveling. Now when it comes to the plug adapter vs converter, do you need both of them? If not, which one do you need the most when you are on a trip to a foreign country? Follow this article for a simplified explanation.
Plug Adapter 
No products found.
The plug adapter simply lets you plug your device into a socket that is not compatible with your default plug. As the plug shape varies a lot, some of your devices might need a plug adapter when you are traveling to a different country. Usually, your device like a smartphone, tablet, laptop requires an adapter to plug into the wall socket to charge.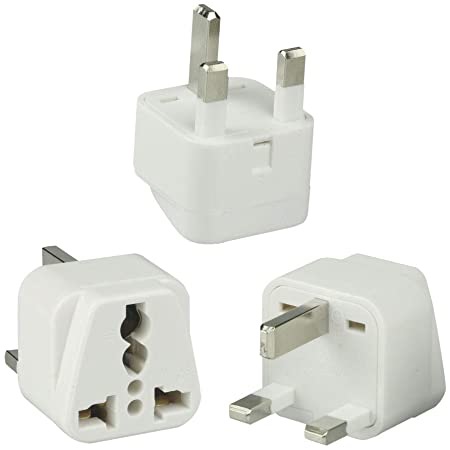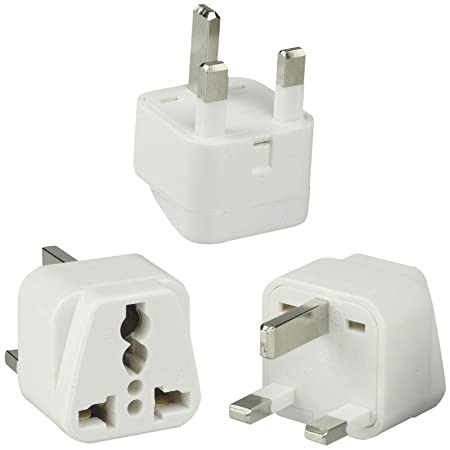 Since you have two flat pin sockets in the US and your devices are designed to fit into your wall. These might not work in a wall socket in the United Kingdom. So you will be needing a plug adapter to charge your device.
However, it would be smart if you buy a plug adapter before you travel. Because the item you can get from the airport is usually overpriced. Also, finding a good tech shop in a foreign country can be troublesome. 
How To Choose The Right Adapter
There are dozens of types of adapters out there in the market. But which one do you need out of them? It depends on where you are headed to. But if you are often traveling to different countries, it would be best if you have all in one universal travel adapter. 
But if you are not willing to spend much on this tool, and you do not need a universal travel adapter, then try a more specific one that works on a single type of socket. And to buy such a plug adapter, you have to know what kind of outlet matches your destination.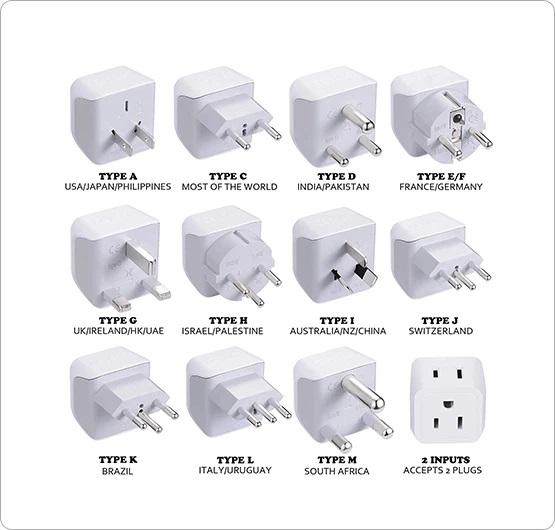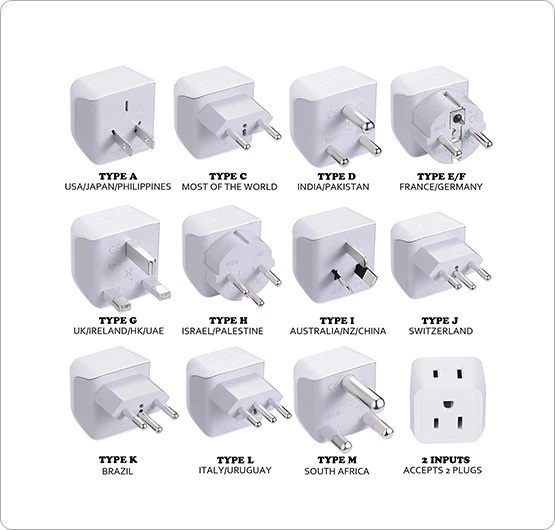 Outlet Types A and B
You will see this type of outlet in the US as well as in Canada. And if you are having a trip to central or south America, Japan, or the Caribbean, you might be in luck. As these countries use type A and B outlets, you will not have to buy an adapter.
Outlet Types C, E, and F
In most European countries and some Asian countries, C, E, F types of outlets are used. So if you are traveling to these countries, you will need this type of plug adapter.
Outlet Type G
In the United Kingdom and Ireland, you will see this type of plug adapter. Besides, some Asian countries like Hong Kong and Malaysia use outlet type G as well.
Outlet Type I
Now if you are traveling to China, Newzealand, or Australia, you have to pack this I-type outlet.
Converter
No products found.
A converter or voltage converter usually converts the voltage, as the name suggests, to match the voltage between your device and the source. Usually old electric tools like iron need such type of converter if you are traveling to a different region.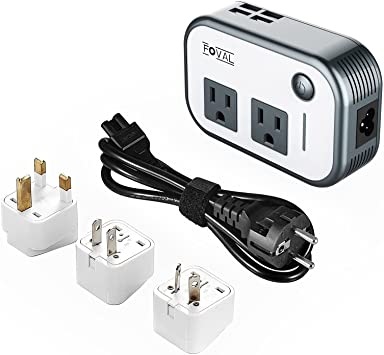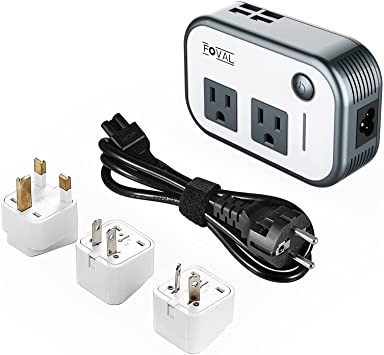 Also, the non-dual voltage devices or the single voltage devices require these converters to the plugin as well. So if your device is not dual voltage, then you might need a universal voltage converter. Some devices of older models like hair dryers, flat irons are of non-dual voltage.
However, these types of converters are sometimes too heavy to carry on a trip. So in that situation, you can avoid taking such electric tools that require a converter. Nowadays, all-electric hair dryers or irons come with multi-voltage functions. As a result, they can withstand any voltage type you might have while traveling.
What is Voltage?
Voltage might be considered as electricity that varies from region to region. It means if you buy an electric tool from a country, it might not work in another country if the voltage does not match. For example, the US operates on 110 to 120V electricity, whereas some European countries use 220 to 230V electricity. 
So if you want to plug your hairdryer into a wall socket that operates on 220V electricity, you might blow up your dryer and hurt yourself. Most devices like smartphones, laptops, tablets operate on dual voltage. So you will not need a converter for these devices. 
Different types of voltage
Single Voltage 
The single voltage varies from 100 to 120V. Some common tools of older versions like a hairdryer and irons operate on this single voltage. So if you want to keep them with you while traveling, you have to carry a voltage converter.
Dual Voltage
Electric devices like toothbrushes, hairdryers of the latest models, electric razors, or trimmers support 120V to 240V. And these are called dual voltage devices. So you will not need a voltage converter.
Multi-voltage
Most cellphones, tablets, laptops, cameras work on multi-voltage electricity that varies from 100V to 240V. So, if you are traveling anywhere, you will not need any converter as well.
Wattage
Wattage simply refers to the amount of electricity required to run an electric device. So while you are buying a converter, you must know the wattage of your appliance or device. Also, you will require a converter that can withstand the wattage of your device plus 25% more to be safe.
You can be sure about the wattage of your device by checking the device itself or the box sometimes. But if you can not find it anywhere, do a simple calculation and you will have the wattage. To find the wattage, multiply the amperage(Amp or A) to the voltage(V).
For example, if the amperage is 1A and the voltage is 110V, then the wattage would be 110watt
Frequently Asked Question
Is My Device Dual Voltage?
If your device is of newer models, it should be dual voltage or multi-voltage. But if you are talking about some old irons or hair dryer or straightener, it can be of single voltage. To know for sure, check the device's box or search the specific model online. If your tool is of dual voltage, it will say Input AC120/240V 50-60Hz 1300W or 110-220 VAC.
Is It Safe to Use a Plug Adapter?
Even though using a plug adapter regularly is pretty common. But it might not be safe always. In the older sockets, there are two slots. The wide one is a neutral slot where the narrow one is hot. If you use a plug adapter, it withdraws this feature and makes them vulnerable. So it might cause damage when you are not using it properly.
Conclusion
The plug adapter and converter have quite different functionality. As the plug shape varies a lot in different countries, carrying a plug adapter might be a good idea. However, the converters are a little bit bulky and it would be best if you don't carry them with you. In that case, buying a newer version of that particular device would be great.