Until recently, each of your devices had to be charged separately with its own charger. When on your way away from home, you must always keep an eye on your charging device. Because you might not be able to charge your gadget without its own charger. Thankfully, the invention of the Universal Serial Bus (USB) charger has resolved this issue. Recharging your devices is no longer a concern. With a USB charger, you can do it quickly and conveniently.
When it comes to purchasing such incredibly beneficial products, it is important to do proper research. In this informative article, we've covered all to inform you about different types of USB chargers based on the results of our exhaustive research. We'll discuss them in more detail in the next part of this article.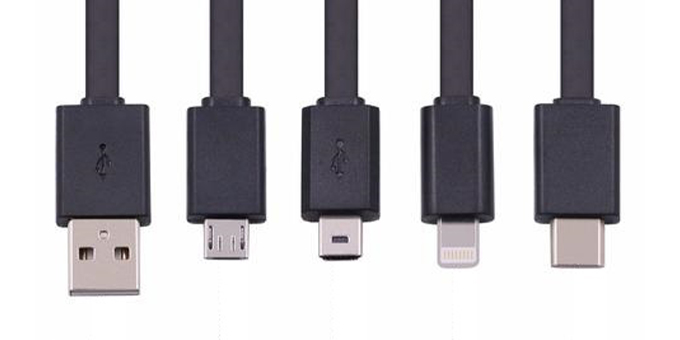 What Is a USB Charger?
A USB charger is a charging module that is used to charge an electrical device using a USB port, such as laptops, computer mice, smartphones, printers, and keyboards, etc. Universal Serial Bus (USB) was invented in the 1990s. It was designed and maintained by a trade organization known as the USB Implementers Forum (USB-IF). 
USB became popular because of its low cost of installation on any device and its compatibility with multiple platforms. Later in this write-up, you'll learn more about USBs including their benefits and drawbacks.
How Does USB Charging Work?
A USB charger's charging method is fairly simple. There is a host and a device in a USB charger. The charger's power module is usually the host. The device receives power from the host.
There are four pins on a USB socket that connect with four wires. The USB socket's pins provide a 5-volt power supply that comes from the power module.
USB Charger Versions and Ports
When selecting a USB charger, you should consider two factors: the type of USB port that is compatible with your device and the USB version.
Versions of USB- At a Look
Over the years, USB has gone through several developments. Each time, they evolved into a new physical form with faster charging or data transfer speeds. You should pick your USB chargers carefully, depending on the version of your gadgets. Otherwise, it may cause harm to your devices. Up to now, there have been four USB versions, they are USB 1.1 USB, 2.0 USB 3.1, and USB 3.2.
| | | | |
| --- | --- | --- | --- |
| Year Discovered | Version | Also known as | Transmission rate |
| 1998 | USB 1.1 | Full Speed USB | 12 Mbps |
| 2000 | USB 2.0 | Hi-Speed USB | 480 Mbps |
| 2008 | USB 3.1 | SuperSpeed | 5 Gbps |
| 2013 | USB3.2 | double SuperSpeed | 10 Gbps |
USB 1.1
It was built in the year 1998 and was the first version of USB. It's called a full-speed USB. And its charge or data transmission rate is 12 Mbps. Meaning, it can transfer 12 megabits per second.
USB 2.0
It was developed in early 2000. It's a high-speed USB. Its charge or data transmission rate is quite higher than USB 1.1. Therefore, it can transfer 480 megabits per second.
USB 3.1
It's a USB 3.0 device. It operates at the SuperSpeed level. The discovery of USB3.0 was a milestone in USB history. And it can operate in the gigabytes range. Moreover, it has a 5 Gbps data transmission rate.
USB 3.2
USB 3.2 is known as the double super speed version of USB. It has an almost 10 Gbps data transmission rate. It's still fairly high & it's the latest edition that's been upgraded until now.
Types of USB Ports
The physical shapes and sizes of the USB plug determine its type. According to the physical design of the connectors of any type of USB charger, USB cables are found in five main varieties. They are USB type-A, USB type-B, USB Type-C, USB micro-A, and USB micro-B.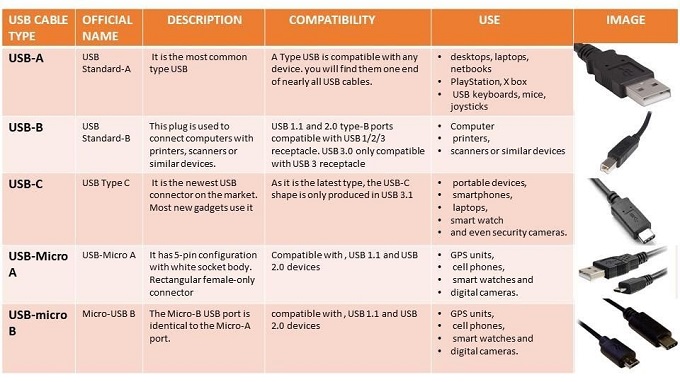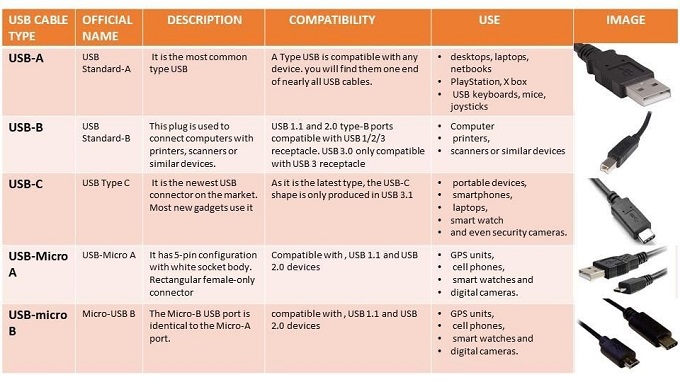 USB Type-A
It's a classic USB plug, and we are all familiar with it. It has a flat, rectangular surface. A type of USB connector is widely used all over the world. Various changes have been made to accommodate different versions, but the plug is still the same.
As a result, A Type USB is compatible with any device. You don't have to be concerned with their version. Rather you will find the type-A port on practically every modern computer-like device, including desktop computers, laptop computers, netbooks, PlayStation, Xbox, smart televisions, streaming players, and many more.
USB Type-B
A Type-B connector is usually the other end of an A-type USB port. They are square in shape and have rounded corners on the top and bottom ends. This is an outdated adapter that is no longer in use.
USB Type-C
USB Type-C is known as the king of all USB ports. It is the newest USB connector on the market. Consequently, most new gadgets use it, and it provides higher data transmission speeds than earlier versions.
USB-C is reversible, which means it can be plugged into any type of USB-C device using either end.USB-C has a data transfer rate of up to 10 Gbit/s, which is nearly double that of USB-A. It can deliver up to 100 watts, 20 volts, and 5 amps for recharging your smartphone or any other device.
USB Micro-A 
Micro-A USB has a 5-pin configuration with a white socket. It has a rectangular female-only connector. It's small in size. However, it offers a very high data transfer rate of up to 480 Mbps.
Micro-A USB is now used by modern mobile devices such as GPS units, cell phones, smartwatches, and digital cameras.
USB Micro-B
The Micro-B USB port is identical to the Micro-A port. Its data transfer rate is the same as Micro A's.
Types of USB Chargers For Your Gadget
Power is valuable. If you've ever rushed out of the home with your phone's battery dying, you know exactly what I'm talking about. In this article, I will give some of the best USB chargers so that you can recharge your dead batteries without any hassle.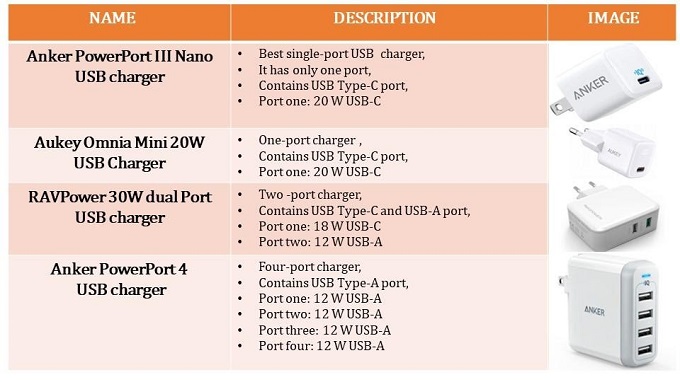 Anker PowerPort III Nano
"Anker PowerPort III Nano" is the best single-port USB charger for your smart devices. It comes with a USB Type-C port. It can charge your phone battery to more than 50% in less than half an hour. Any phone, including iPhones, Samsung Galaxy phones, and Google Pixel phones, can be charged rapidly with this small and inexpensive charger.
Aukey Omnia Mini 20W USB Charger
The Omnia Mini from Aukey is a single-port charger. It allows a Type-C port. Plus, it offers a high-speed charging experience at a reasonable cost. Using this charger, you can charge iPhones, Samsung Galaxy phones, Google Pixel phones, and other devices that allow a type-C port.
RAVPower 30W Dual Port USB Charger 
It's called (RP-PC132). This charger contains both USB-C and USB-A ports to ensure maximum power flow no matter what cable you use. USB-C can offer up to 18 watts of electricity, and USB-A can deliver 12 watts. You may use this charger to charge both your smartphone and your smartwatch at the same time. Overall, it's a reliable charger at a reasonable price. 
Anker PowerPort 4
Anker PowerPort 4 is a complete power solution for all of your gadgets. If you carry a lot of stuff, such as a phone, a smartwatch, a power bank, and Bluetooth headphones, this is the best charger for you. Each port can handle a 12-watt power drain. Four devices can be charged at the same time using this magnificent USB charger.
Frequently Asked Questions 
Q: Is It Possible to Use USB-C With Other USB Devices?
Ans: Yes, you can. You have to use a suitable adapter to transfer data from USB-C to another type of USB port.
Q: What's the Difference Between USB Type-A and USB-C?
Ans: The USB-C connector is newer, smaller, and more powerful than the USB-A connector. Moreover, USB-C has the capacity to handle faster data transfer rates. You can use USB-C cables in both directions; however, USB-A cables cannot.
Q: Can My USB Device Be Dangerous?
Ans: In general, authorized USB devices are very safe to use. But you have to ensure that they are utilized correctly and according to the manufacturer's recommendations.
Q: What Are the Differences Between a Smartphone USB Charger and a Tablet USB Charger?
Ans: The capacity to provide output power is the main difference between a smartphone USB charger and a tablet USB charger. It's important to examine the chargers' ratings to ensure that the output is appropriate for your device. Your device may be damaged if you charge it with an incorrect port.
Conclusion
There are a variety of critical factors and important elements you should consider before going for a USB charger. In this article, we've discussed all you need to know about various USB chargers and their uses, as well as answering some of your common questions. We hope the pieces of information provided in this post will assist you in purchasing the finest USB charger for your smart devices.