Every day we spend our daily life with different devices. We don't have a day without gadgets like smartphones, tablets, laptops, music players, etc. Each device works differently. But we find one thing in common in all devices. Those are the charging ports, which you know as a USB cable.
Do you ever wonder, what exactly is this USB cable? How does it work? What is its specialty? How many types of charging ports are there? No worries; you will get all of the answers in this article.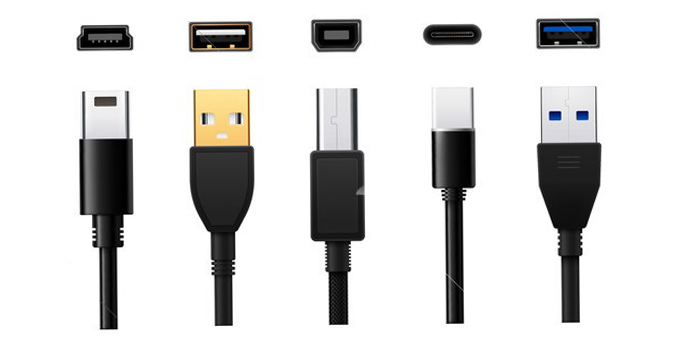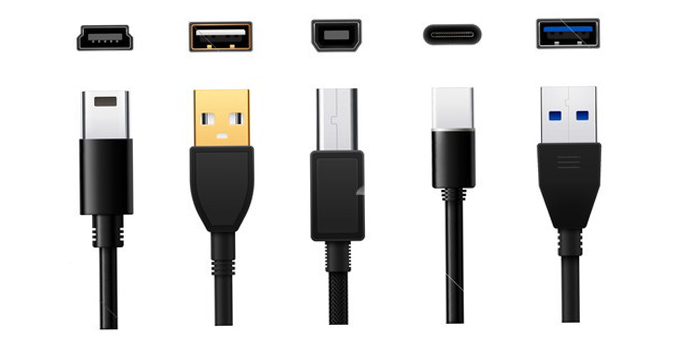 The Acquaintance of USB Cables
The word "USB Cables" refers to universal Serial Bus cables. It is currently in an irresistible position in the world of technology. Due to the huge demand, every year a huge number of USB cables are manufactured and supplied all over the world. A USB cable is required for every electronic instrument in your home and your hand. We use USB cables to transfer data from one device to another, sometimes we use them for charging.
With the advancement of technology, the USB cable has also been updated daily. We have seen different types of USB cables. And the mixture of so many USB cables may naturally cause us to become confused. We would like to explore what cables are used for, what types of cables there are, what are the advantages and disadvantages of cables in this article.
Types of USB Charging Ports
We see different types of USB cables on the market. For example, you may have heard the names USB 2.0 and USB 3.0 at different times. These are the types of USB cables depending on speed and function. Again you have heard the words USB A, USB B. These are also types of USB cables. However, this type is based on the design of the physical connector and port of the USB.
Receptor and Port 
Since we know the variation between type A and type B cables, we need to know what are ports, hosts, and receptors? The opening where a single edge of the USB cable is attached to the computer (or any other legion device, like a tab) is named the port. And the device you expect to charge is called the receptor. Hopefully, we understand the definition of a port and a receptor.
USB Type-A 
Currently, the most traditional USB cable is USB A. You can see this cable anywhere in the world. This is the common rectangular USB cork and socket. You will find this type of USB cable on all types of desktop computers. Earlier, this cable was also used in mobile phones, laptops, and tabs. Now, of course, USB B or USB C is used.
USB Type-A Uses
Are USB Type-A ports just utilized in earlier computers? No. Modern computers now use the USB Type-A port. You can also use USB Type-A on your home laptop, netbooks, or some tablets. Your keyboard, mouse, joysticks, etc also carry this type of cable. USB Type-A is often found in computers also. So, it is evident that USB Type-A is completely involved in our daily life. Notably, this cable only inserts in one way.
USB TYPE B 
Type B connector is a more advanced type of USB cable. This cable is normally used on devices such as printers, hard drives, or smartphones. It is also recognized as a USB standard B connector. This port is usually expended on vast, perishable devices. You can see this port on many of the devices you use, even after it is quite slow. This USB B cable is also used in the scanner. Plus, USB Type B plugs are typically found at one end of a USB A / B cable.
USB Type C
USB TYPE C is also called Standard C. Today's most modern, fastest cable. Most people use it around the world. All modern smartphones, iPhones, MacBooks run on this Type C cable. Even now popular laptop brands are using Type C cables in their devices. So here comes the question, is there anything in Type C that makes it so special? The answer is, reverse plug functionality. Below we will learn more about it. This is the newest type of USB cable. It's also competent at juggling multiple functions.
The functionality of reverse plug and USB C
There is not much difference between a physical type C and a micro B USB port. You will think of them as the same port with the naked eye. Both are 8.4 millimeters and 2.6 millimeters in size. This small port suits our smartphone or MacBook very well.
But one thing has taken the Type C cable to another level. That is, type C is the only one that Enables reverse plug exposure. This means you can easily plug the charger into your port. There is no possibility of it being misplaced and there is no problem of moving up and down. There is no need to move your USB C cable during charging or file transfer and there is no anxiety of being disconnected. This is also one of the reasons behind the unimaginable popularity of Type C.
Technological Data of USB C Cables
Let me share some technical issues of type C. Your favorite Type C favors USB port 3.1 and it ensures the utmost speed of data transfer. How much is that? The rate is 10 Gbit per second !! This cable can transfer a huge amount of data in the blink of an eye. Now the question may arise in your mind, how is it possible to exchange so much data in such a short time? The answer is, through power consumption. It consumes a huge amount of power.
It is worth mentioning here that regular laptops in the market consume 40-70W of power to charge. This means that the Type C cable can handily charge your laptop.
Now find out what is the biggest surprise of your Type C cable? The biggest surprise of type C cable offers a bi-directional energy supply. Sounds too hard to hear? Okay, let me be simple. A bi-directional power supply means you can supply power in both directions with this cable. That is, you can give a charge to your smartphone from your existing laptop if you want, and you can also charge your laptop from your smartphone if you want. This is the main reason behind the vast popularity of the USB C port. 
And in current years, the Type C customer reviews have been so good that the world's biggest tech giants have decided to add a Type C port to their devices. Brands like Chromebook, Pixel, and Nokia have also announced their transfer to Type C.
Some Common USB Cable Types and Their Uses
Mini USB A: A smaller connector type that was basic for mobile phones a few days ago. Although this charging port is no longer apparent, you can still see it on Sony's mobile phone. You will see the use of this cable not only in mobile phones, but also in cameras, the PlayStation 3 controller, MP3 players, and related devices.
Micro USB: The popularity of this cable is also declining. This cable made for your mobile or portable device is even minor than mini-USB. This Micro USB became very popular in the early market. But with the advent of the USB C cable, this cable started to lose popularity. This cable may still be used on some devices.
Lightning: It may not be called USB Standard, but this cable proprietary connector made by Apple for the iPhone, some iPad models, iPods, etc. It's more like USB C. Like the C Standard in size and shape, this cable is assembled on Apple's technology. The data transfer rate of this super-fast cable is much higher and this cable will be much more durable for you. So, if you are an Apple user, you can choose Lightning Cable for you.
In most cases, you will see USB Type-A and USB Type B cables concurrently in the same kind. The type-A edge powers the gadget, while the type-B verge accepts power. The technology will conserve your computer from possible damage. Will make your data or power transfer more smooth.
You will no longer find a Type B USB cable on the market. The connectors named Mini and Micro are available instead. This mini and micro connector is a small form of type B cable.
USB Speed ​​Standards
So far we have talked about the physical type of USB connection. Now we will talk about the functional type of USB connection. First of all, why do we use USB cables? To transfer data or power. Now, is the transfer speed of all data cables are same? Of course not. Rather, the data transfer speed of each USB cable is diverse. Let us now learn about the data transfer speed of USB cable:
USB 1.x was the original standard. This was the first excavated USB port. The data transfer rate of this cable was very slow. However, the new, modern, superfast USB cable that we are using today, all started with USB 1.x. This charging port is no longer on the market.
USB 2.0 is inducted into many modern USB norms. It supports mini cables, micro cables, OTG cables simultaneously. Although this cable is currently available on the market, its speed is also quite slow. You will see some cheap flicker drives, such as mice, keyboards use this cable. Although, most of the devices no longer use USB 2.0.
USB 3.x is the recent criterion for USB speeds. It can be said that it is currently the most popular and widely used USB port. Several times quicker than USB 2.0, this USB cable is now being used on almost all devices. The ability to transfer data in seconds has taken this cable to a different level. You can use this cable on your hard drive without any hesitation.
USB 4.0 is the newest standard, now this cable is not generally available. This cable is still in the experimental stage. Hopefully, this cable will become mainstream in the next few years.
You can operate a USB 2.0 appliance on a USB 3 pier or you can use a USB 3 gadget on a USB 2.0 pier if you want. But this way you will never get the full speed advantage. When using a USB port you must use a combination of models and generations.
What Is USB On-The-Go?
USB On-The-Go (OTG) is a basic accessible feature on most Android phones that enables portable devices to act as USB ports.
Suppose you own a smartphone, an external hard drive, and a laptop. Now if you want to transfer any data from your external drive to your smartphone, what do you do? The answer is very simple. First transfer data from external drive to laptop, then transfer data from laptop to a smartphone.
But if you have a USB OTG, you will no longer need a laptop. You can transfer data directly from your external drive to the smartphone. Not only this, with the help of a USB OTG cable you can do many more things. To use USB OTG, you must first have a suitable adapter. Although not all smartphones support USB OTG. So, be sure to check the phone manual carefully at the time of purchase, whether your phone is USB OTG enabled or not.
The biggest tragedy is that Apple Mobile does not support USB OTG. As of now, we do not know if such a policy will be implemented in the future.
Guidance When You Buy USB Cables
Before buying a USB cable or charging port, you need to see which gadgets you use the most or especially which model of smartphone or laptop you use. Again, if you use lots of gadgets at once, keep this in mind when buying a USB port.
Usually, those of you who have bought plenty of gadgets have a bundle of assorted USB cables along with their devices. Because you get one USB cable in each device packet.
But when it comes to buying a new cable, we usually choose the economical option. This is an awful idea. Why? Because, whenever you use a very low-cost cheap cable, these can cause damage to your device. Heat-related problems, damage-related problems, and power supply problems can all be created by it. Even faulty cables can pose a fire hazard.
Recently, this has been affecting USB C cables especially. In the market, there are a lot of cables configured incorrectly. A bad cable can damage your device within seconds.
Another thing to keep in mind when buying cable. That's how long the cable is. Short cables are convenient to carry, but cannot be used away from the charging socket. Again, if you buy a long cable, it will be difficult to carry, and sometimes the cable will be patched. You can however also charge your device using a distant socket.
Frequently Asked Questions 
Are all Type C Cables Similar?
No. Not all USB C cables are the same. Different USB C covers different speeds of data transformation. Again, not all USB C supports the same type of protocol. 
Why are USB-C Cables so Costly? 
The first reason is quality. Updated components are used to manufacture USB C. As a result, its price goes up. Another reason is supply and demand. The demand for USB C-type cables is now high on the world market. This is also a reason why USB C is more expensive.
Which Is Better? USB-C or Lightning?
It is difficult to answer this question directly. But by comparison, lightning is smaller and thinner than Port C cable. At the same time, the Lightning port is more durable than the C cable. Apart from these, there is no difference.
Final Words
Finally, ensure that you take a cable that is at least three feet long. What will result from this decision? You can work on important matters while your device charges. Plus, if you want, you can charge your phone by keeping it away from the socket. However, if the distance of your socket from your desk is more, then you should buy a cable of 5-6 feet in length.
Among the all charging ports, USB C is the newest and the fastest one. Another charging port, called Thunderbolt 3 is also available in the market. Though it looks like USB C ports, it's not USB C, it's a subset of USB C. Don't be puzzled with it.