Do you know almost four billion people are using smartphones around the world? And you surely are among those lucky people, congratulations!
The question about how you can recharge your phones is a very common, yet important one. Can you use the previous cable or should you buy a new one? Anyway, one thing is clear: you can charge your devices using USB cables. But, what type of USB cables should you use?
Depending upon the type of USB charging cable, you can use different features. But, all of them do not work with every device. That's why you need to know about the charging cable types.
In that case, this guide will help you with the information you need. We discussed the types of charging cables here, focusing on their characteristics.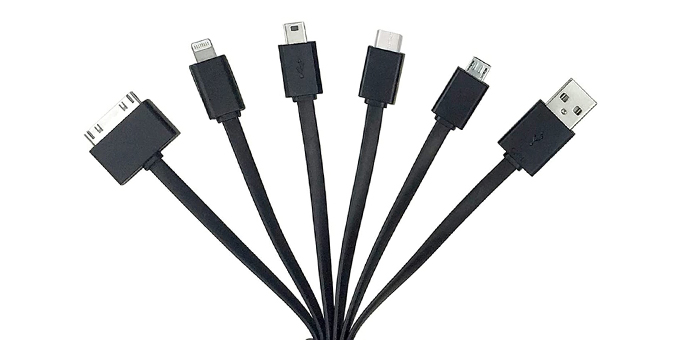 USB Cable Types
There are mainly six types of USB cables. Aside from these, there is another charging cable type called lightning, which is only used for Apple devices. Let's have a look at these cable types now.
1. USB-A
This cable is the most common input cable type you will find on the market. Usually, the USB-A cable is used in computers or power outlets. In most chargers, you will have to plug the USB-A connector into the laptop or the adapter.
2. USB-B
The USB-B ports are commonly used to connect printers or external hard drives to a computer. You will not see them often if you don't use a printer or that type of device. So, they are comparatively uncommon in cable type.
3. Mini-USB
There was a time when this was the most popular way to charge devices. The Mini-USB is used to charge mobile phones and other devices like cameras, MP3 players, smartwatches, etc. Because this USB cable has a comparatively slower connection speed, it is becoming less available day by day.
4. Micro-USB
Still, the Micro-USB cable is the most common charging cable. All older model devices use this cable for charging. Good to know, this type of cable allows data reading without a computer.
5. USB-C
The USB-C is the most recent addition to the list. And, almost every new model phone is coming with USB-C charging ports. This cable allows high-speed data transmission as well as high power flow. Hence, cable C has the highest charging speed to date.
6. USB-3
A cable type like this is extremely uncommon, and it isn't a charging cable. You will find it in a different shape because of its dual connector. The USB-3 is compatible with earlier versions of USB cables and ports.
7. Lightning-USB
It is a unique cable type that can only be found with Apple products. Nevertheless, if we ignore the looks, the lightning cable is almost the same size as USB-C.
We hope you have got a good understanding of the cable types. As we can see, four of them are used as outputs for charging devices. Excluding the Mini-USB, now we will discuss broadly the other three- Micro-USB, USB-C, and Lightning cables.
Micro-USB Charging Cables
Considerably, the Micro-USB is one of the most common and popular charging cables. In the past, it was considered the standard connector. Its small size gives it excellent value, even though the cable is not that popular now. And, this is the reason why it is still usable for phones and other gadgets.
On the positive side, the Micro-USB cable can directly connect to your device. You don't need a computer to do this. As a result, you can easily connect a Micro-USB flash driver or other devices of the same type.
Micro-USB was the standard cable and port for older phones that came in 2015 or before. When you are buying an old or used phone, check for the Micro-USB cable. Otherwise, you may find a problem searching for a Micro-USB charger that fits on your phone.
The most common objection about this cable is its one-way entry. You cannot insert a Micro-USB cable upside down. Additionally, forceful wrong entry can damage the port or cable.
Current devices come with various USB cables or have different compatibilities. So, there is no guarantee that the new Micro-USB cables will fit on old phones.
USB-C Charging Cables
If you check the history of charging cables, you will see that tech companies adapt fast to new technologies. Because people want the latest things and more comfortable solutions for their smart devices. In the same way, new charging cables are coming, and the old ones are fading away.
The Micro-USB cable came after the Mini-USB. It has become common for tech companies to move from Micro-USB to USB-C in recent years. Since it has more benefits than the Micro-USB, people also prefer USB-C more.
Firstly, the USB-C cable has more speed than the Micro-USB. And, no other reason is needed to move from Micro-USB. Similarly, USB-C is considered more potent than the previous cables.
This cable is also more flexible. You don't need to worry about its entry. Either upside or downside, you can use the cable in both ways. As a reversible cable, any kind of entry does not reduce the power of the cable. So, you may like it if you are not fond of Micro-USB's one-way entry.
Surprisingly, Apple is also adopting USB-C for their devices. You know that Apple didn't adopt Micro-USB for a long time. Instead, they used their own made lightning cable, which made Apple products incompatible with other chargers. But, they are now using USB-C in some devices because of its noticeable benefits.
With the same trend, most companies are choosing USB-C ports for charging. If you are going to buy a new phone, most probably you will get a USB-C charging port on your device. And, because of using USB-C, Apple products' chargers will also be interchangeable with others.
Lightning Charging Cables
Lightning cable is one of Apple's own technologies. Apple used the connector in every iPhone before iPhone 11. Besides, the cable was used in iPods, MacBooks, and other products from Apple.
As this connector was Apple's proprietary, you will not find this cable anywhere other than Apple. Additionally, the cable can be used with a variety of Apple products. Even so, there are complications associated with such use.
The biggest drawback of this cable was its incompatibility with Micro-USB products. If you are an Apple product user, no one knows the hassle of finding a compatible charger better than you. When you forget to take the lightning cable with you, you will have to struggle a lot to get a lightning cable.
Though Apple is now more interested in UBS-C than lightning, the lightning cable is not disappearing very soon. Because Apple has numerous products with lightning ports from 2012 to 2019.
The lightning cable was the best charging cable for its time. The connector is reversible. That means you can insert the cable in both ways, like USB-C. Although lightning has fast charging, it is dimming now due to the quicker charging of USB-C.
Frequently Asked Questions
Is USB-C Faster Than Micro-USB?
Obviously, it is. The micro-USB comes with USB 2.0 technology, where the USB-C is a USB 3.0 cable, which is relatively faster than a USB 2.0 cable.
Which Charging Cable Do I Need?
Always try to get the original manufacturer's charging cable. If it's not possible, then check the box for the requirement. Generally, you will need USB-C cables for new devices.
Are All USB-C Charging Cables the Same?
No, they are not the same. USB-C refers to the shape or type of the charging cable. But, that doesn't mean that every USB-C will have the same speed and functionalities. It is possible that two USB-C cables have different speed rates and protocols.
Conclusion
We have discussed a variety of charging cables today, along with their functionalities. As they don't work the same way, you should understand what kind of cable you need for your device. However, after the invention of USB-C, other charging cables are becoming outdated. Though wireless charging technology is not broadly used now. In the near future, the charging cable will become a thing of the past if all companies adopt this exciting technology.