If your Nintendo Switch won't charge, check the charger's port or force reset the switch. Undo modifications or hacks if you've done any.
You can also try cleaning the USB ports or leave the console to charge for a few hours to check if that works.
What To Do if Your Nintendo Switch Won't Charge 
You're just about to hit the high score, and suddenly there's a low battery notification pop on your favorite console Nintendo switch. You do what you gotta do, quickly plug in the console to the charger but it won't charge. Charging issues of consoles don't occur that often but it's not so rare either. 
Here we'll talk about reasons and what to do if your Nintendo Switch won't charge. 
Reasons Behind Nintendo Switch Not Charging
There can be several reasons behind this problem. Such as,
Damaged or twisted charging cable.
The charger might need a reset.
The battery might be completely dead.
There might be a problem in the Dock's port if you charge with the Dock.
The charging port might be clogged with dirt and debris for long-term use, resulting in not properly connecting with the contact points.
Your electric outlet might be damaged or fused.
Using a third-party adapter that is not supported by Nintendo can cause problems like this.
Modifications or changes in the core program of your Nintendo Switch can alter many default operations.
The Solution to Nintendo Switch Won't Charge
Firstly, you have to detect the source of the problem. There are several ways to fix the issue since the Switch might have multiple reasons to stop charging. Consider these methods: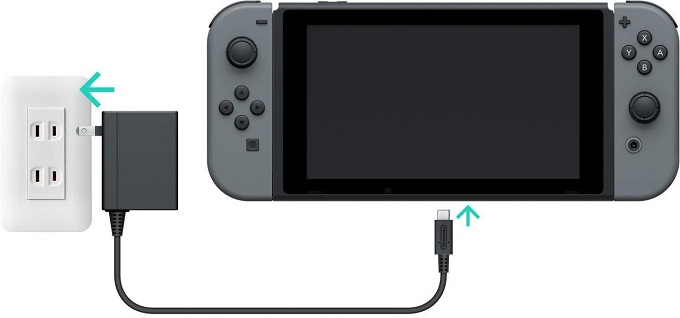 Check the Outlet
Examine if it's a faulty electrical outlet by plugging another device's cord. A burnt-out fuse might be the reason. In this case, move the Switch to another outlet to charge back up, call an electrician. 
Leave it to Charge
It is normal to show nothing when you plug in to charge the Switch after completely draining the battery. Not using the device for a long time may take even longer to resuscitate. At this point, your console does not have enough power even to display that it's charging.
Do not panic, leave it to charge for a few hours and restart. Make sure that the Switch is properly connected to its dock or USB-C charger. You may need to charge overnight and see if this fixes the issue.
Inspect the Dock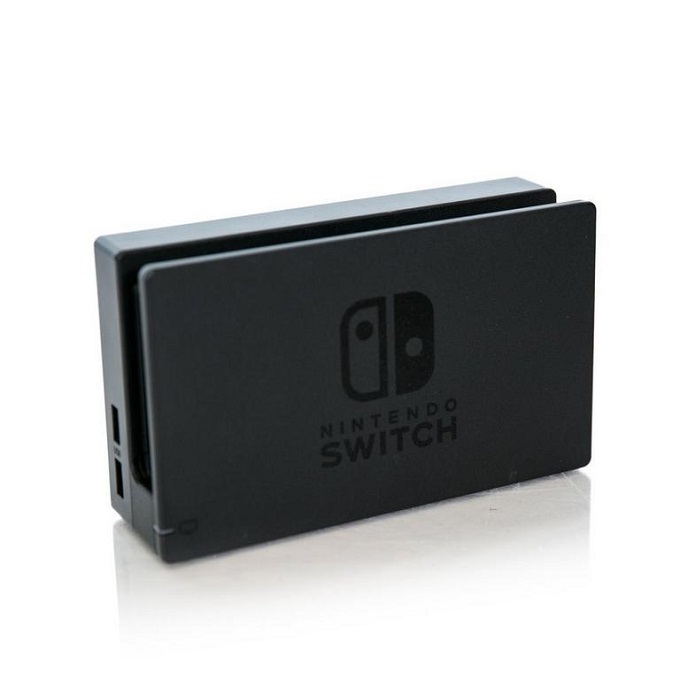 Make sure to check all of the cables are securely in place while charging your Nintendo Switch using the dock. It's possible that the wires or the connection came loose. Otherwise, the dock itself might have gotten damaged and require repair. 
Reset the Charger and Outlet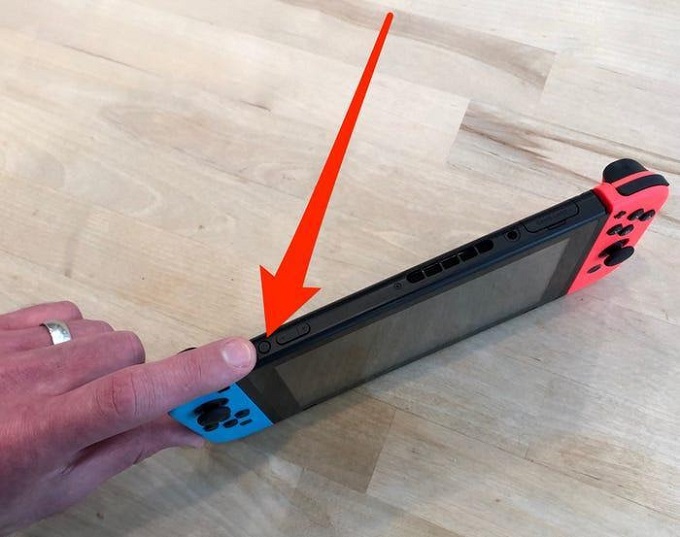 Give your AC adapter a reset before sending it for repairs or purchasing a new adapter. Follow the step by step instructions below: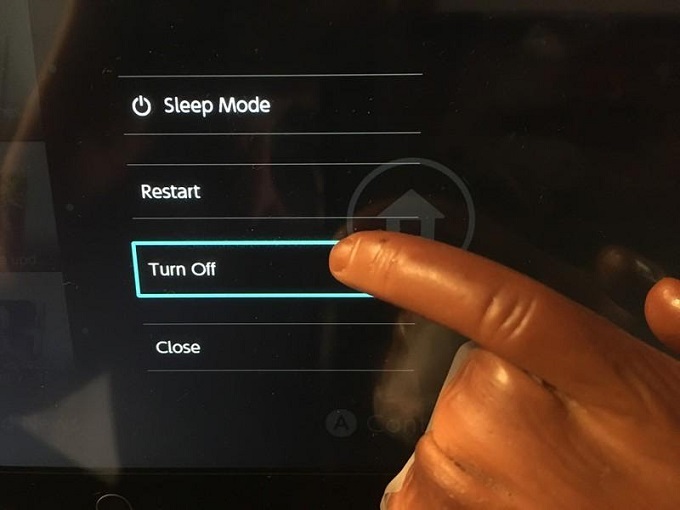 Step 1
Firstly, power off your console by long holding the power button for at least three seconds. Select Power Options and press Turn Off. 
Step 2
Unplug the charger from both the outlet and the Switch and wait at least 30 seconds. 
Step 3
The outlet you're using has a reset button. Now, push the reset button. Plug the adapter back. 
Step 4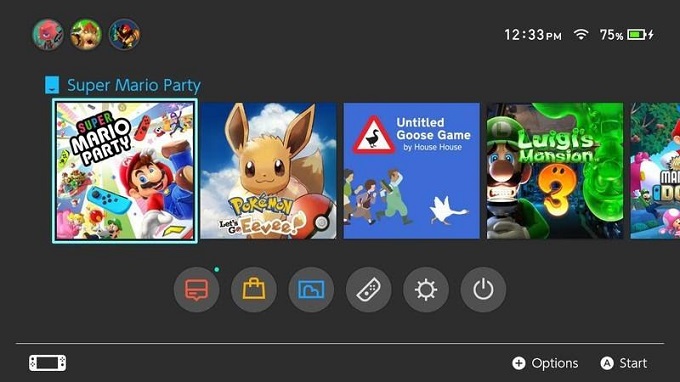 After that, plug the charger directly into an outlet. The indicator will turn green on the screen's upper-right side of the battery has some charge left. The charging indicator will show up on the upper-left side on a blank screen the battery is depleted.
Try TV Mode
You can try testing the console in TV mode by connecting the AC adapter directly to any wall outlet. After that, connect your HDMI cable directly to the TV screen.
Clean the USB Port & Pins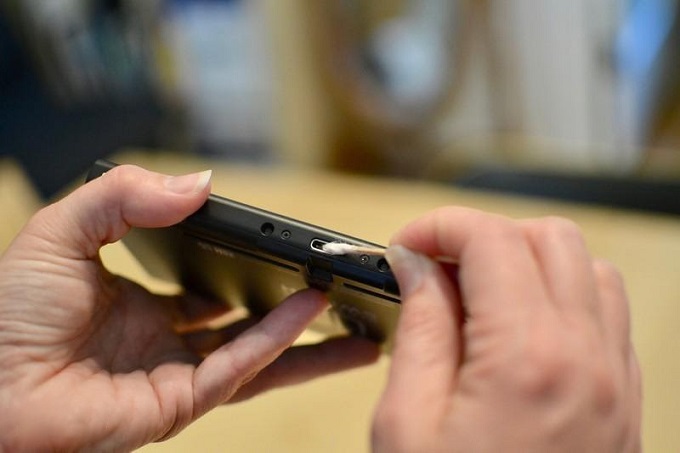 A clogged charging port with dirt and debris might prevent the console's USB-C port or Dock's USB-C port from making contact with the charger.
Clean the USB-C port carefully with a can of compressed air and a shaved toothpick or plastic dental pick.  First, shake loose dirt by blasting the USB-C port with compressed air. After that, clean out with the toothpick very carefully. 
Do not put metal objects like safety pins, needles, and knives into the USB-C port. Therefore, this can damage the tiny contact points and permanently damage your device.
Undo any Mods
If you modify, hack or jailbreak the core program of your console it may no longer charge when plugged into an outlet. So, undo the customizations asap to see if that fixes the issue. 
Note that hacking or modifying the console voids any active warranty of Nintendo. Also, official Nintendo repairs are declined by customizing it to permanently messing things up. 
Use an Official Nintendo Switch Power Adapter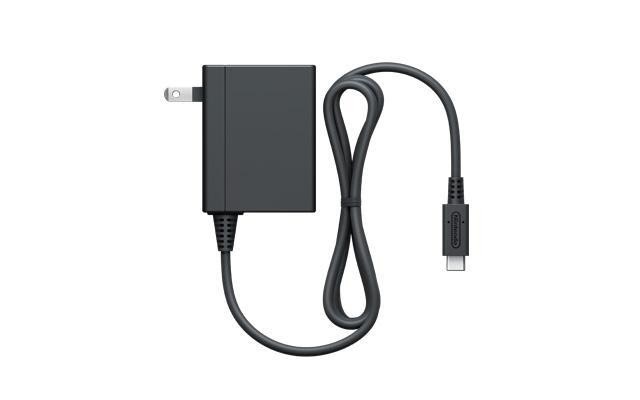 Using third-party charging adapters may be where issues arise. The Switch charges using a non-standard protocol, and third-party solutions are not much reliable or safe. However, using an official Nintendo power adapter can be safer than anything else.
Seek Professional Help
If nothing works out, your last resort is to create an official ticket through Nintendo's Customer Support and potentially send your Switch in for repair. Call the professionals in the customer support of Nintendo and seek professional help.
Frequently Asked Questions
How long does a Nintendo switch battery last?
A serial number is included in every Nintendo Switch. If that starts with "XK", the battery life is approximately 4.5 to 9 hours. Additionally, for Nintendo Switch consoles with a serial number that starts with "XA", the battery life is approximately 2.5 to 6.5 hours.
Is it okay to leave your switch charging overnight?
There's a common myth that charging devices overnight cause problems, but it's not entirely true. If you directly plug in the AC adapter or charge the battery overnight, or beyond the point of full charge, it will not harm the battery significantly.
To Conclude
Before throwing out your old charging dock or adapter, try out all those methods mentioned above if your Nintendo Switch won't charge. Charge your console regularly to avoid charging issues. Finally, if nothing works, don't think that you can repair the console by yourself. Let the professionals take good care of it.