If you are an iPad user, we hope you are familiar with the Apple 12W USB power adapter. Identically, this adapter is the sequel to the Apple 10W USB power adapter. And, these adapters are generally made for iPads. Both adapters are the same in size, look and shape. Nonetheless, the latter version is actually better for its higher power and overall build quality.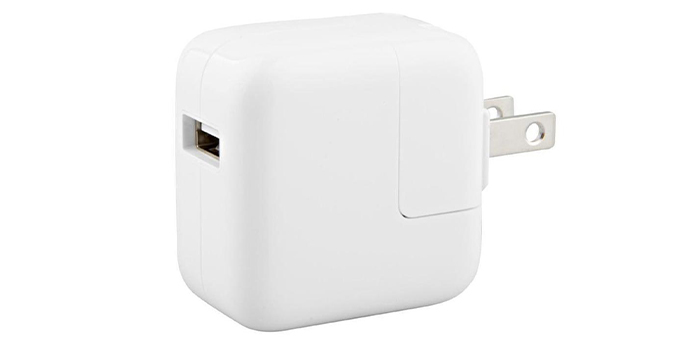 Usually, you will get an Apple 12W USB adapter with a fourth-generation iPad. However, you can also buy a separate one. In both cases, you will have to purchase extra cables as they won't provide any with the adapter.
In our review today, we will show you everything you need to know about the Apple 12W USB power adapter.
What's in the box?
The 12W Apple adapter comes with a cardboard box that contains-
A 12W Apple Power Adapter
A User Manual
A Warranty card
Features of Apple 12W USB Power Adapter
Easy To Use
The 12W USB power comes in the same size, just like the 10W adapter. So, you are getting more power-packed in the same-looking product. Furthermore, its covered design makes it easy to store in a bag. And importantly, whenever you are not charging with this adapter, the plug remains folded under the cover. Furthermore, the curved and smooth surfaces make maintaining the product very easy.
Great Value 
It is common knowledge that Apple's products price higher than other companies. The same holds true for this product. Despite this, you are getting a more powerful power adapter than the 10W USB adapter at almost the same price. Besides, the 12W adapter is comparatively faster than the adapters of the same capacity from other companies. And even the most expensive universal chargers are also not of the same quality and power output.
Beautiful Design
It is unnecessary to brag about the premium look of Apple products. You can quickly identify the Apple manufactured products for their unique and attractive look. Anyway, this excellent USB charger comes in a curvy square shape. While you are getting the feature of taking out the plug from the adapter, you may also like its folded design.
In terms of color, the white adapter matches the white iPad perfectly. However, it will always appear standard outside.
Portability
Though the 12W adapter is made to charge the iPads only, you can also charge your iPhones using it. Using it does not pose any danger. To be specific, the Apple adapter is compatible with the iPhones and is not harmful at all. 
Moreover, if you use the adapter to charge your iPhone, you can charge more quickly than a regular iPhone charger. So, you can buy a 12W adapter when you need an extra charger to charge your Apple devices. However, if you own a working charger for the device, it is recommended to use it.
Another pleasing feature of the adapter is its ability to charge via both outlets and USB ports. In some cars, you will only find an outlet port, and you cannot charge via a USB port. At that time, this adapter will come in handy for you. Additionally, you can use any USB or lightning cable with this adapter, which is impossible to do with an 18W adapter.
Faster Charging
Currently, iPhones come with 5W adapters. Due to this reason, the 12W adapter is popular with iPhone users. Using the 12W power adapter is incredibly fast, and most likely, you will never use the 5W charger again. 
Particularly, there is no better option than a 12W USB adapter for iPhone 11 and other older iPhones. On the positive side, you can also charge the latest iPad and Apple smartwatches without any issue. In fact, the power adapter reduces the charging time at a high rate.
Reliability
As far as reliability goes, Apple never fails. There is no doubt that Apple is one of the most trustworthy and reliable companies in the world. This Apple product is no exception. Original products are of outstanding quality and offer excellent service. It is certain that you won't be frustrated with the power adapter too.
You can't just break the hard plastic outer cover due to its robust construction. So overall, with the plastic shield outside, the adapter is very durable and mechanically strong.
Pros
Genuine Apple adapter with official warranty
Premium look and design
High charging rate
Nintendo Switch compatible
Considered as a better option than a regular charger
Supports previous Apple cables
Cons
You will not get any cable with the Apple 12W adapter
Conclusion
With the Apple power adapter, you will get the maximum output without any safety concerns. Additionally, the adapter will be extremely quiet and won't overheat. Overall, the product is highly effective and can be used with all Apple devices. Therefore, you can disregard its price tag to charge your smart Apple devices flawlessly.