Both batteries and capacitors store and release electrical energy. However, there are differences between them as capacitors use electric fields to store so. While batteries, on the other hand, mostly store energy chemically. These differences in the inner workings of capacitors vs batteries affect how and where they are used.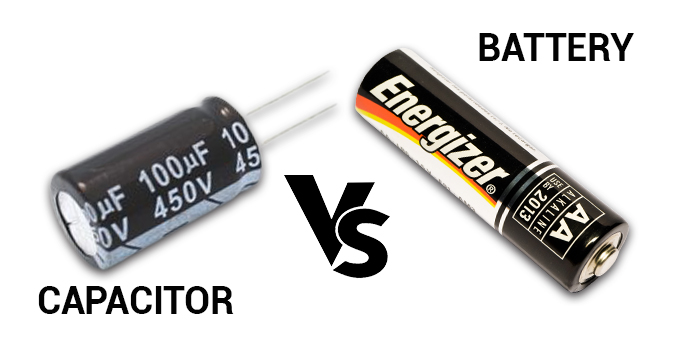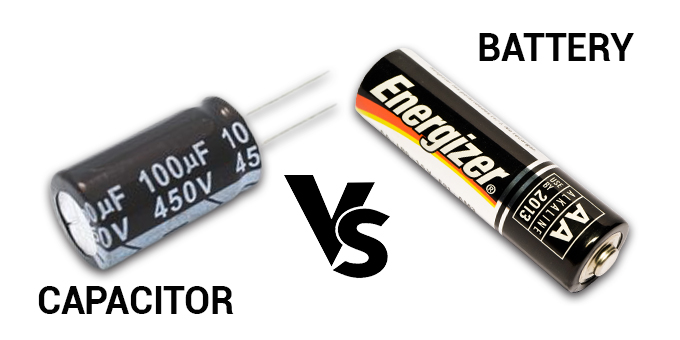 Capacitor vs Battery | Comparison
There are a lot of things to consider on the topic of batteries vs capacitors. Let's look into some of the factors so it's easier to compare them on different levels. 
Where The Energy Comes From
A capacitor is a passive electronic component that stores electrical energy in an electric field. On the other hand, a battery is a set of one or more electrochemical cells that produce electrical energy from chemical energy. So, in short, the battery stores energy in chemicals, and the capacitor stores energy in an electric field. 
No products found.
However, in either case, the stored energy is utilized in the form of electrical potential or voltage. In both devices, the electric potential causes the electron to create a flow which is called electric current.
Construction 
There are some similarities between the construction of both components. Both of them are constructed by two metal plates separated by an insulator. In a capacitor, the insulator is generally any dielectric material such as air, glass, paper, plastic, etc. 
Similarly, batteries also consist of two metal plates. Lead is mainly used as metal plates. The positive plate is generally covered with pulp or paste of lead oxide and the negative one is made out of sponge lead. As for the separator, any insulating material can be used.  
Utilization
Being able to store a large amount of electrical charge, a battery is commonly used as a power source for a stable and unvarying power supply. On the other hand, capacitors are apt to work with high voltage applications and thus substantially used for high frequency uses.
Charging/Discharging Rate
Charging and discharging rates highly influence the field in which capacitors and batteries are used in. As the capacitor stores and releases, electric energy directly, the charging and discharging of a capacitor is much faster than that of a battery.
Generally, there's a slight latency observed in a battery due to the time required for the chemical reaction to take place. 
Furthermore, capacitors can self-discharge and lose energy. Batteries, on the other hand, have a much better leakage current figure compared to capacitors. This allows a battery perfect for work that has no nearby charging place.
Purpose
While the capacitor and the battery both have the same purpose of supplying electric energy, how they do it is very different from each other. In the capacitor's case, the electric energy is stored in an electric field. Whereas a battery produces electric energy from a chemical reaction.
Energy Density
However, chemical storage still yields greater energy densities. Energy density refers to storing energy per weight. This means, that even though capacitors can charge and discharge faster, they cannot store much power. Thus, work that requires more power is still vastly dependent on batteries.
Advantages And Disadvantages
Although batteries have larger storage and don't need to be changed frequently, they have a limited life cycle. In contrast, capacitors have a longer life cycle and can be used for a longer period. Moreover, capacitors have excellent temperature performance while batteries are very sensitive to temperature.
While there are many differences between a capacitor and a battery, they both have some overlapping applications. Batteries have a better energy density that they can supply in a steady, dependable stream. But they can't provide energy as quickly as capacitors.
Supercapacitors
The increasing demand for faster portable energy has led researchers and engineers to the invention of supercapacitors. Supercapacitors can be called a hybrid of a capacitor and a battery. In short, it is more like a capacitor with two conducting surfaces. 
However, there is no non-conducting gap in supercapacitors. Rather the gap is filled with electrolytes, similar to the gap between the electrodes in a battery. This increases the surface area which can now store even more electrical charge.
By increasing the surface area, the supercapacitors can store far more energy than a regular capacitor. However, it still cannot match the power density of a battery. But with the progress of technology, we might soon see supercapacitors replacing the batteries in our daily life.
Can A Capacitor Replace A Battery?
As it stores energy, a capacitor can behave as a battery for a short time. This can be useful if you want to temporarily turn something on. 
No products found.
However, the voltage and the current decrease as the capacitor discharges across a load. So, for a capacitor to last for a long time would require very large capacitors and a light load. This means it wouldn't be a practical long-term replacement for a real battery but rather an emergency option.
Frequently Asked Question
Is a capacitor better than a battery?
Ans: Batteries provide higher energy density for storage, while capacitors have more rapid charge and discharge capabilities. So, which is better depends on the requirement of the device.
Is a capacitor a battery?
Ans: A capacitor can be used as a battery for a short time but a capacitor is fundamentally different from a battery.
Can we use a capacitor as a stable power source?
Ans: Capacitors cannot deliver a large amount of energy as they have less energy density than batteries. As it keeps discharging, the voltage keeps decreasing as well. Thus, work requiring stable power over a long period cannot be done using a capacitor. Batteries are more suited for such work.
Conclusion
Both capacitors and batteries are used for portable power supply. Depending on the necessity, either a battery or a capacitor can be used to achieve the best result. So, assuming one is better than the other is a bit vague and can only be determined by the requirements of the application.