Being in the market for a long time might deteriorate in quality and performance. But not for DieHard. This battery legend has been in the business for over 50 years and still going strong. 
One of the reasons people go for a DieHard battery is because of their Gold AGM batteries. These batteries come with a high Cold Cranking Amp (CCA) and a higher Reserve Capacity (RC). both of these are dream options for vehicle owners in the winter region.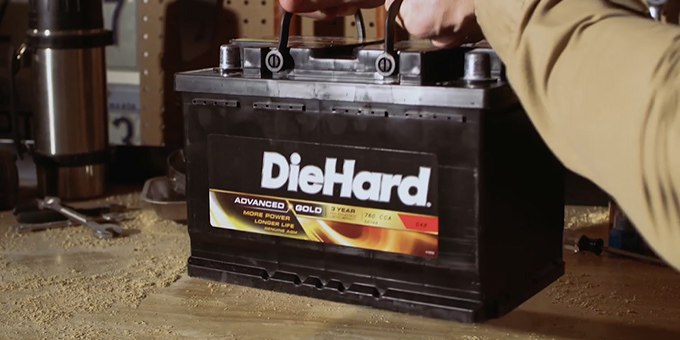 So with that in mind, we have brought together the top Gold AGM batteries in this DieHard Gold Battery Review. 
Top 4 Diehard Gold Battery With the Best Cca and Rc
Here are the top-ranking DieHard Gold Batteries you will find in the market. They are high in CCA and RC for your winter region rides.
1. DieHard 38217 Advanced Gold AGM Battery – Group 49
We are going to start with a powerful battery that will keep your vehicle at full power throughout the winter. The DieHard 38217 Advanced Gold AGM Battery is powerful in both Reserve Capacity and Cold Cranking Amps.
This battery has a Cold Cranking Amp of 850. An impressive number for cold regions. If you particularly live in a cold region, this will be the battery to go for.
Also, the Reserve Capacity is a whopping 170 minutes. So you get more time for your accessories without the engine even running.
The DieHard 38217 battery is a Gold series AGM battery. Absorbed Glass Mat batteries require no maintenance and are sealed. So you get protection and performance with less care possible.
In addition, the battery has twice the life cycle of a traditional battery. This is a necessary factor for any car owner as you invest a lot in a battery.
The spill-proof design gives you the opportunity to mount it in any possible way. At the same time, it ensures that it doesn't cause any harm to other parts of the vehicle. 
Another great thing about this battery is that it is 20 times vibration-resistant. So you get to go offroading at ease.
2. DieHard 38188 Advanced Gold AGM Battery – Group 34R
Another great battery from DieHard is the DieHard 38188. This battery comes with all the benefits that DieHard has to offer and some more.
The battery has a Cold Cranking Amp of 775. Really necessary for your car, truck, RV, or van if you live in a cold area. 
Also, this battery has an RC of 120 minutes. Enough to run your accessories if you are going camping on the weekend. 
As for the AGM build and DieHard Gold series features, you get a maintenance-free, long-cycle battery. It will work to its fullest form throughout its life. 
Its build quality ensures it is 20 times vibration-resistant. So you don't have to worry about the battery being compromised in rough terrains.
The battery belongs to the BCI Group 34R. Even if the battery group fits with your vehicle, make sure you check the dimensions before ordering it online.
Spill-proof, impressive CCA and RC, vibration-resistant build, what more can you want?
3. DieHard 38232 Advanced Gold AGM Battery – Group 34
This DieHard 38232 is almost the same as the last battery. Both of them have the same specs, but a little bit of change in performance here and there.
The battery has a high-performance CCA of 775. Great for any cold region. You can leave your worry about your car not starting in the morning if you have this battery.
Also, a good Reserve Capacity of 120 minutes makes it a great companion for the extra essentials of your car. Blast the stereo at a party if you are thinking about it and the battery will power it all up.
The DieHard Gold series AGM build is also present with the battery. So you won't have to check the battery anytime soon. Only if it is out of use, you might have to charge it a little.
Also, the AGM build ensures it is spillproof. So you can mount it in any possible way. Especially good for vehicles that have a tricky mounting position.
DieHard Gold series batteries are rugged and can withstand 20 times more vibration than any other battery. The life cycle is also great for the Gold series.
4. DieHard 38275 Advanced Gold AGM Battery – Group 35
The last DieHard batter we are going to talk about is the DieHard 38275. It is a Group 35 battery. If you are looking for a good battery on a budget, this would be it.
It comes with a Cold Cranking Amp of 650. Good for any vehicle that runs in cold states. It will start your engine on cold windy mornings.
You will get a Reserve Capacity of 100 minutes with this battery. Impressive for a Group 35 battery, and in some cases more than enough.
The AGM is spillproof, no maintenance is also present. It is a DieHard Gold series after all. So quality is at its prime.
It is resistant to vibrations and lasts longer than any other traditional battery.
Check out the battery from here.
Frequently Asked Questions
Who makes DieHard batteries?
Advance Auto Parts bought DieHard batteries in 2019.
Do DieHard AGM batteries require different chargers?
No. Any smart charger will charge a DieHard AGM battery.
What is the warranty for DieHard Gold batteries?
Normally, a DieHard Gold battery comes with a 3-year warranty.
Can I use an AGM battery out of the box without a charge?
It is always good for the battery's health if you charge it out of the box before using it.
Conclusion
The DieHard battery is one of the oldest batteries on the market. The DieHard Gold series is the most prominent and AGM build makes it even better. But they differ in size and longevity. So it is necessary to check the battery thoroughly before you buy it online. Another thing you should be clear about is the warranty. Make sure you get the proper documents and the way to avail of your warranty when you buy the battery.