Where flooded lead-acid batteries are the most cost-effective option, but require regular maintenance. AGM batteries are more expensive but do not require regular maintenance, resist vibration, and can handle higher charge/discharge rates.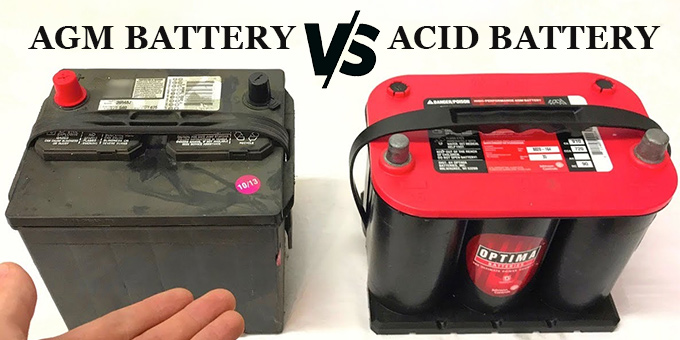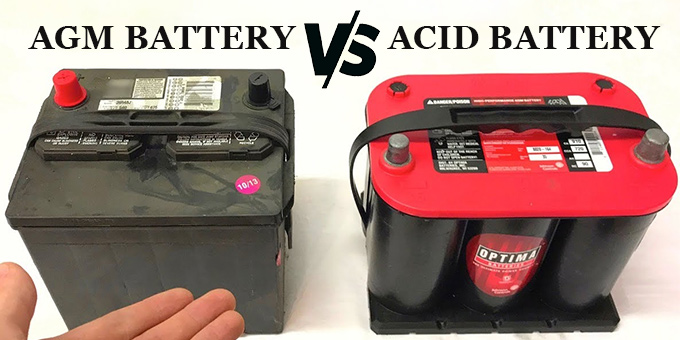 AGM Battery vs Lead Acid Battery
One common debate in the automobile communities seen recently is whether or not AGM batteries are better than their flooded Lead Acid batteries. Many car companies are taking interest in lithium-ion-fueled battery products. However, the majority of the vehicles running on the streets use either flooded or AGM lead-acid car batteries.
Both AGM and wet cell or 'flooded' batteries are mainly labeled as lead batteries. Also, these two contain an electrolyte solution that causes a chemical reaction and produces electrons. When put in contact with a reverse current, these batteries get a recharge.
It might be a little difficult to jump to conclusions whether which one is better as each has its pros and cons and these variations should be considered. AGM batteries are significantly more expensive than flooded lead-acid batteries. 
What Is An AGM Battery
Absorbed Glass Matte, also known as AGM batteries are alternative to traditional flooded lead-acid batteries which don't need any maintenance. Most prominent AGM battery manufacturers use 99.99% pure lead, which helps the batteries perform better in all temperature ranges and last longer than their flooded counterparts. 
Also, to upgrade fuel economy, many automobile manufacturing brands are now shifting to AGM batteries to manage the increased starting demand for these vehicles with smart start/stop technology. 
How It Works
AGM batteries contain a certain glass mat separator. The separator of fiberglass between the plate and wrappers holds the electrolyte in its place with a capillary mechanism. The fiberglass is saturated with electrolytes – and to store them in a "dry" or suspended state, rather than in free liquid form.
As Ohm's law suggests, the lower internal resistance increases the output voltage. As well as decreases charging time, and reduces heat loss as power flows through the system. In case of any exposure,  the capillary mechanism holds the liquid inside the glass matting spill proofs the battery.
Pros
Spill-proof through an acid capillary mechanism in matting technology
Doesn't require maintenance
Very low internal resistance, high specific power, and responsive to load
Faster charging than with flooded technology
Better cycle life 
Water retention system
Vibration resistance due to sandwich construction
Adjustable to cold temperature
Cons
Over and undercharging can affect their lifespan and performance
Best use is limited to the discharge of no more than 50% of battery capacity.
Flooded Lead Acid Batteries
The flooded lead-acid battery is arguably the most traditional battery used in automobiles for its stand-alone energy system and constant power supply. It uses lead plates immersed in liquid electrolytes. The gases produced during its chemical reaction are released directly into the environment.
How It Works
To trigger a chemical reaction flooded lead-acid batteries use a liquid electrolyte-containing medium. When the battery is connected, the battery acid creates bonds to the lead plates. As a result, a reaction forms that send an electric current through the attached circuit. 
A double sulfate chemical reaction generates electricity. The active materials on the battery's plates such as lead and lead dioxide, react with sulfuric acid in the electrolyte to form lead sulfate.
Pros
A great choice for backup power applications
Good grid energy storage.
 Most cost-effective 
Quite tolerant to overcharging 
Cons
Requires periodic inspection and maintenance
Can be accidentally damaged in a sudden dynamic movement
Extreme climates can have a greater effect on the battery life, such as freezing in the cold 
More prone to corrosion than the AGM battery
Frequently Asked Questions
What Is the Lifespan of Agm Batteries?
The average lifespan of an AGM battery is around six years if it's used and charged correctly. After a few years of use, the battery still retains around 80% of its original capacity.
Is an Efb Battery an Agm Battery?
No, they're not. EFB stands for Enhanced Flooded Lead Acid Battery is a type of flooded battery designed as an improvement over conventional batteries. EFB batteries are generally used in basic start-stop vehicles.
Are Lead-Acid Batteries Rechargeable?
Yes, lead-acid batteries are also known as lead storage batteries which are crucial for cars.
Is a Gel Cell Battery an Agm Battery?
No. As both are sealed battery types, the AGM battery is often confused with the gel battery. AGM battery uses a glass mat to hold its electrolyte, the gel battery uses a silica agent.
To Conclude
AGM batteries are a quite better option to choose if you consider spill-proof, high power, low maintenance option, and budget is not a concern. However, there are some cases where flooded batteries are a more suitable choice, like when you find yourself replacing your battery all the time and don't want to spend more on batteries.