To be on the street in the drying heat and the freezing cold is no easy business. And if you are frequent of both or any of the weather states, this article is for you.
Car batteries have a lot to do with the weather. They die fast or give low output depending on it. But Champion AGM batteries tend to have a reputation of dealing with both, in a smooth but powerful manner. Meaning, they can deal with both hot and cold weather at the same time giving out the best for your engine.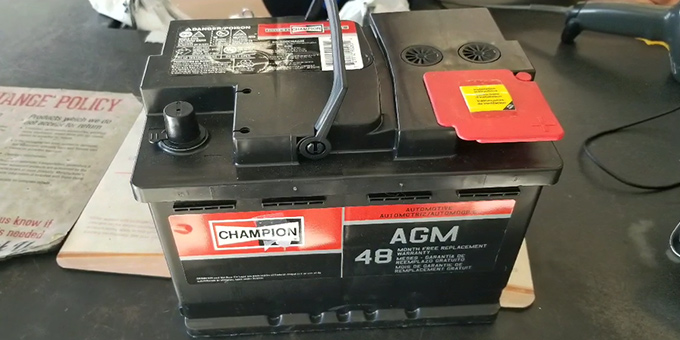 That is why we have brought out the best batteries Champion has to offer in this Champion AGM Battery Review.
Top 3 Champion AGM Battery Review
Here are the best Champion AGM batteries that will perform in any weather condition.
1. Champion AGM Group Size 24F Battery
We start with the absolutely magnificent Champion AGM Group Size 24F Battery. It can perform great under any given weather condition.
The battery comes as a 12V battery with 885 Cranking Amps. Which is enough for any vehicle. No matter the engine size, it will crank it. 
It comes in even handy in hot climates. When the scorching sun drys up other battery fluids and the vehicle won't start, this battery will keep your engine running with ease. As the battery built is an Absorbent Glass Mat (AGM), it requires no liquids from the outside and can perform in the hot climate efficiently.
If you are wondering how it will perform in the winter regions, this battery has a Cold Cranking Amp of 710. So say goodbye to your worries and get yourself a Champion AGM Group 24F battery for your vehicle. It will run your vehicle through any snowstorm there is in the freezing temperatures.
Apart from that, the battery also has a huge Reserve Capacity of 120 minutes. So if you have a lot of electrical accessories, not talking about the things that already came with the vehicle like the navigation system and cameras, but also other stuff like extra stereo speakers, a fridge, TV, and even an oven, this battery will run it. You don't need an extra power module to go camping if you have this battery.
With all of those excellent features, it is hard to let go of this battery.
2. Champion AGM Group Size 65 Battery 
If your car requires a Group 65 battery, then you are in luck. This Champion Champion AGM Group Size 65 Battery will let your engine cruise in any weather condition in any state.
This battery has a no-maintenance AGM build that allows you to go worry-free with fluids. And as it comes as a sealed battery, you get to mount it in your vehicle in any position. So if you have a tricky battery setup, this is particularly best for you.
Now comes the powerful part of the battery. You get a Cranking Amp of 935A with this battery. All your complaints about your car not starting in the blazing heat will be gone. It will crank your engine in any heat temperature.
The Cold Cranking Amp also doesn't fall behind. It comes at 750A. Enough for a battery of its size. This will start your vehicle on any icy morning. 
Talking about Reserve Capacity, this Champion battery has 120 minutes under its sealed body. Now you can even cook dinner inside your car. All you need is an oven and you are good. It has the power to run all your accessories with no fail.
3. Champion AGM Group Size H7 Battery
Looking for a battery that will last for your SUV? Or RV? Check this Champion AGM Group Size H7 Battery out. It's not only powerful but also mighty inside.
The battery has an AGM build, which needs no explanation. It's a no maintenance, no-spill, and no worry battery. Just install it once and go riding. It's that simple and elegant.
Let's come to its powers. The Cranking Amp of this battery is a whopping 1000A. Now that's what we call power! Take it to the driest of desserts in the hottest climates. It will still run like a beast and keep your engine in full performance. As there is no liquid in it, there is no worry of getting stranded in the middle of the road in any hot climate.
Don't think that it won't perform great in the winter regions. The Cold Cranking Amp of this battery stands at 850A. This is particularly handy and powerful in any freezing temperature. So if you are thinking of getting a battery and living in a winter dominant state, this battery is for you. Pack your bags and go out anytime to have a bonfire in the snow or ice fishing in the evening. This battery will be by your side keeping you and the engine warm.
Talking about keeping you warm, the Reserve Capacity of this battery is 140 minutes. So bring out all you want from the accessory shop and install them in the vehicle. It will run everything you connect with it. And don't forget, it will run the engine along with the accessories. A true performer indeed.
Frequently Asked Questions
Who makes Champion batteries?
Johnson Control makes Champion batteries.
Do I need a special charger for AGM batteries?
You can use any smart charger that states it charges AGM batteries. For other ordinary chargers, it should be mentioned that it is an AGM charger. Otherwise, it will fry the battery cells.
How long does a Champion AGM battery last?
Normally a Champion AGM battery lasts up to 5-6 years. But depending on the care and health, it can last even more.
Conclusion
Champion batteries are known for their reliability and excellent performance. Specially Champion AGM batteries. If you haven't tried an AGM battery yet, you should check them out. They are a great alternative for AGM batteries and worth the money.