Ever wondered, why your car isn't functioning properly? Or why doesn't it start on the first go on a winter morning or under the LA heat? Are your lights a bit dimed or is the stereo isn't giving the same boost?
Statistics suggest that 7% of car problems happen because of a bad battery. It is because less attention is paid to the battery than other parts of the car. And this caused the car to be towed to the workshop frequently to get a checkup. Most of the vehicles are heavy ones, which require a lot of power but have a fewer power ones. This is where the Group 27f battery comes in.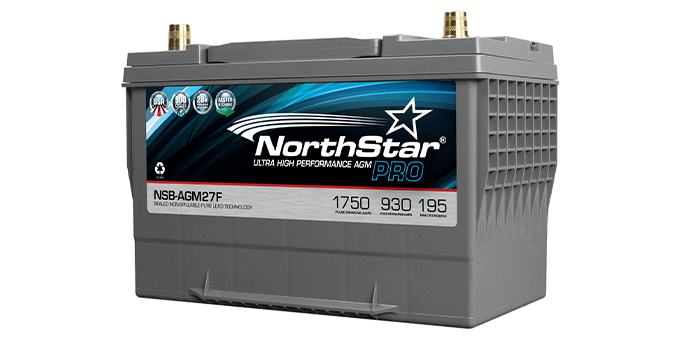 If you have an RV, boat, or a heavy-duty off-grid vehicle, and need a battery change, the group 27f battery is for you. It is known to be heavy, full of power, and has a high reserve capacity. 
The Group 27f batteries have a CCA of 600-1000, 150-22 minutes of RC. The weight depends on how it is built. But mostly stays around 31 to 70 pounds. 
Some of the best 27f manufacturers are Optima, Northstar, and Megavolt. Let's not waste time and jump into them.
Editors Choice
Best Buy
Nice Pick
Optima Batteries 8037-127 D27F YellowTop Starting and Deep Cycle Battery
NORTHSTAR Pure Lead Automotive Group 27F Battery NSB-AGM27F
NORTHSTAR Pure Lead Automotive Group 27 Battery NSB-AGM27
Editors Choice
Optima Batteries 8037-127 D27F YellowTop Starting and Deep Cycle Battery
Best Buy
NORTHSTAR Pure Lead Automotive Group 27F Battery NSB-AGM27F
Nice Pick
NORTHSTAR Pure Lead Automotive Group 27 Battery NSB-AGM27
The Very Best of 27f Batteries
1. Optima Batteries 8020-164 35 RedTop Starting Battery – Best for car
The Optima 35 RedTop battery is AGM built battery that is used in offroad cars, RV's, and boats. It is built with high vibration resistance, spill-proof, and a fast recharging battery. It has a Cold Cranking Amp (CCA) rate of 720 Amps and a Marine Cranking AMPS (MCA) of 910 Amps.
In addition, it has a high Reserve Capacity (RC) value of 90. But it is built as a starting battery. So if you are thinking about using it as a deep cycle battery, forget it. As a starter battery, the AGM built helps it to create large bursts for a shorter period. 
Optima 35 RedTop battery weighs 31.7 pounds. Its dimensions are 9.3 L x 6.8 W x 7.6 H inches. It is one of the lightest lead-acid batteries. It comes in a polypropylene case with a dark gray outer shell and a red top cover. This is why it is called a RedTop battery. The best part about it, it is maintenance-free. 
This battery is trusted for its cranking power. Meaning it won't let you down in the morning or any time. As it has a high CCA rating, it doesn't mean it will perform badly in hot weather. It works perfectly fine in both kinds of weather. 
Pros
The low resistance of 3 mΩ, thus ensures a high CCA of  720 Amps and MCA of 910 Amps.
Reserve Capacity (RC) of 90 minutes.
15 times more vibrations resistance.
Cons
If left unused, sometimes the charge goes off. Even dies.
The warranty policy differs from the seller's point. 
2. Optima Batteries 8037-127 D27F YellowTop Starting and Deep Cycle Battery
The Optima Yellowtop 27f battery comes with both deep cycle and cranking power capability. It is one of the best dual-purpose batteries on the market. It has a CCA of 830 Amps, and an RC of 140 minutes, which is huge. The Cranking Amps is 1025. It is one of the best 27f batteries out in the market.
This battery is made for the power-hungry gadgets and accessories we put into our cars. With an Optima YellowTop 27f battery, you can play games, do your navigation, listen to your stereo system, and many more at the same time. If you are an offroader, this battery also has 15 times more vibration resistance than any other battery out there. No wonder some call it the military-grade battery.
It weighs 53.2 Ibs. The dimensions are 12.16″L x 6.76″ Wx  8.61″H. You can also mount it in any position you want. It is spillproof and requires no maintenance. It comes with a 36-month of warranty.
The Optima YellowTop is known for its long-lasting quality. It is because it is a dual-power battery. I checked from time to time, it might even last more than it says. Usually, a YellowTop goes from 5-6 years. But will care it might even extend. Works excellently on freezing temperatures and melting hot states. 
Pros:
3x longer life.
Faster recharge rate.
Dual power (Deep cycling and cranking power) in one.
Cons:
Bad warranty policy depending on sellers.
3. NORTHSTAR Pure Lead Automotive Group 27F Battery NSB-AGM27F
NORTHSTAR says it all in its name. The NORTHSTAR Pure Lead Group 27f battery uses pure lead plates, which gives more surface area for the active components. So the reaction is twice and twice means more power output. It has a Cold Cranking Amps (CCA) of 930 Amps and a Reserve Capacity (RC) of 195 minutes. All thanks to the pure lead thin and large plates. 
NORTHSTAR batteries are made with AGM technology, which also makes them recharge faster, resistant to vibration, and boost battery life. It can cycle over 900 times, making it more efficient than any other battery in the market. You can also mount it from any side you want.
The housing is made out of advanced plastic which is heat resistant and durable. The dimension of the battery is 12.44 L X 6.77 W X 8.74 H inches. It weighs 68 pounds. Northstar has a heat cranking rate of 1430 Amps. 
This battery is made to withstand a huge load. Offroad riding, electronics, and accessories are like walking in the park for a Northstar battery. It lasts longer in battery life. Normally a Northstar battery lasts for 5-6 years. If taken proper care and done checkups regularly, it lasts more than that. Because of its high CCA rate, it can perform both in a cold and hot climate. 
Pros:
Super fast starting every time.
Pure lead plates for better power output.
Low maintenance. 
48-month warranty.
Cons:
Unfriendly to the environment as lead is toxic.
4. NORTHSTAR Pure Lead Automotive Group 27 Battery NSB-AGM27
Another one is from the NORTHSTAR batteries. It also rocks the pure lead plates that help chemical reactions better than other plates and materials. Unnecessary materials are excluded in NORTHSTAR batteries, so they tend to have more power output. 
NORTHSTAR Pure Lead group 27 also has a CCA of 930 and an RC of 195 minutes. Its dimensions are 12.44 L X 6.77 WX 8.74 H inches. It weighs 67.9 Ibs. It also has a heat cranking rate of 1430 Amps. MCA is 1165.
It's a dual-purpose battery, so you don't have to worry about cranking power or deep cycle. It can take on heavy loads like extra focus lights, fog lights, and electrical accessories. Even trucks that have a kitchen set up can use it without worrying about draining the battery as it has a deep cycle option.
Taking care of your Northstar NSB-AGM27 goes a long way. Normally Northstar batteries last for over 6 years. The warranty period is 48 months, which is convenient. Keeping your battery in check will make it last longer than it is mentioned. Also remember, the left terminal is positive and the right is negative. So don't mess up or your vehicle might get a short circuit. 
Pros:
Faster recharge rate.
Vibration resistance.
Left positive terminal in Group 27 batteries.
Cycle rate of 900 times.
Cons:
Unfriendly to the environment because of lead.
5. Megavolt Lead Acid Flooded Car Battery BCI 27R 27F (27R-70-700)
Megavolt can be called a true American battery. As it is built in the USA, it is made to withstand pole-to-pole conditions. Meaning they can withstand heat and cold weather at the same time. 
The Megavolt Lead Acid BIC 27F has a CCA of 710, which is more than enough for any car. The CA of the battery is 880. It weighs around 44 Ibs and the dimension is 12.01 LX 6.57 W X 9.02 H inches.
Moreover, it is a fully recyclable battery which makes it more environmentally friendly. It ensures maximum output and zero maintenance. 
Megavolt 27R-70-700 is one of the lightest batteries on this list. Because of its build quality, it is more efficient to be carried and installed without any hassle. The company provides a 6-month warranty from the date of purchase. Which is not a lot if you imagine other batteries on this line. 
Pros:
Made in USA
Sustainable for the planet
No maintenance required
Cons:
Very limited warranty period. 
Frequently Asked Questions
1. What happens if my car sits unused for over 5 days to a week?
If your car sits idle for a week or so, make sure you use a charger to charge up your battery before you start the car. because chances are your battery wont have any charge. it is a normal thing for any battery.
2. What can I do if a battery doesn't fit for just an inch or so?
On the occasion, if your battery doesn't fit in your vehicle, there is a converter that might come with your battery or you can find it in the store. If there is no option, you have to get another alternative. 
3. Will my battery die on its own? Why?
Yes. Your battery has a limited recharge/ discharge cycle. Once it is over, your battery slowly dies. And if you leave it unattended for a long time, it might die on its own without being ever used. 
4. What things should I look out for while buying a new battery?
Always check what kind of battery your car uses. There are different kinds of batteries on the market, and you don't want something different in your car. The size, cold-cranking amps, reserve capacity, and life span should be considered first while buying the battery.
5. Does weather play any role in battery life?
Yes. Weather plays a vital role in battery life. Too harsh conditions, be it cold or hot, may lower the battery life. And different weather conditions require different battery requirements. These are called Cold Cranking Amps and Heat Cranking Amps.
Conclusion
So, I strongly hope that you got the information to choose the right one for you. If any query pops up in your mind further, don't hesitate to let us know through the comment section. We are waiting for you.