Various misconceptions about batteries abound, and it's very easy to get confused with the theories of different battery types. One of the most popular categories of batteries in the industry is sealed lead-acid batteries. Taking this category apart results in two types called AGM and Gel.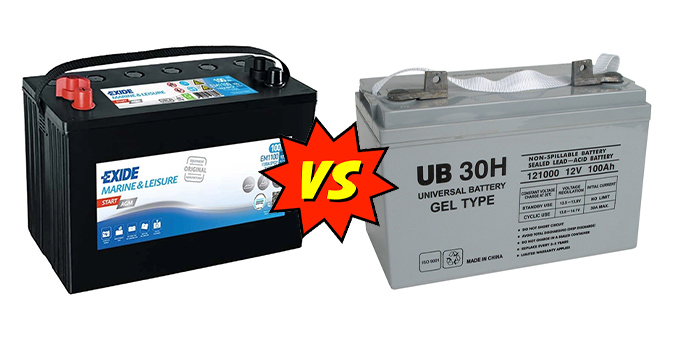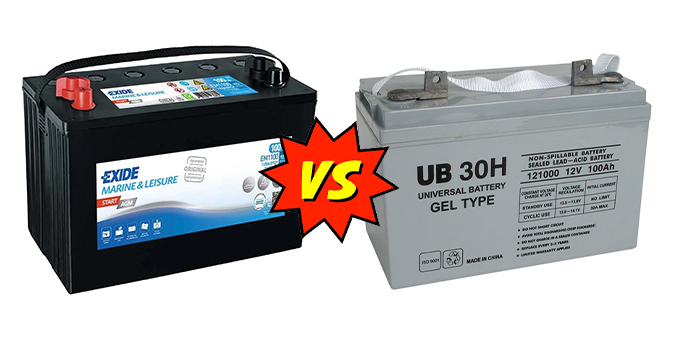 The battle between AGM and Gel batteries has been raging for years due to their unique designs and purposes. It is therefore imperative that every battery user understands these types of batteries. Now let us examine each type's benefits and uses.
What Is A Sealed Lead-Acid Battery?
In structure, a sealed lead acid battery comes with a sealed compartment of battery chemicals. This compartment contains an electrolyte that can move around the compartment freely. And, the lead plates and battery acid creates reactions according to the electricity.
In the case of a flooded lead-acid battery, you need to add distilled water into the battery compartment routinely. Opposite to that characteristic, the sealed lead-acid battery is fixed with the electrolyte inside. As a result, the number of battery cycles was permanent when it was built in the first place. Sometimes, you may hear another name of this category called valve-regulated lead-acid battery because of a small valve to allow escaping of excess gas.
What Is An AGM Battery?
AGM batteries, also known as Absorbent Glass Mat batteries, are among the most commonly used sealed or valve-regulated lead-acid battery types due to their versatility. If you observe the inside materials, the lead plates hold the electrolyte and suspend it in a thin fiberglass mat.
For this reason, the battery becomes resistant to vibration. In this way, the AGM battery perfectly suits mobile applications like RV. And, as a matter of fact, you can mount an AGM battery in any orientation when using it for various applications. However, this battery is mostly mounted on its side so that you can conveniently wire it by placing it anywhere.
Despite being more expensive than the flooded lead-acid battery, you cannot get a more extended output from an AGM battery. But, the best benefit here is that you don't need to maintain your batteries very often. Besides, there is no need for inputting distilled water regularly. Moreover, the gas released from the battery is handled automatically.
What Is A Gel Battery?
Identically, a gel battery is an AGM-like variation of the VRLA (valve-regulated lead-acid) category. If you look at the inner structure of a gel battery, it doesn't have a fiberglass mat inside like an AGM battery. Instead, it comes with a thick paste where the electrolyte is suspended.
The charge and discharge rate of the gel battery is not as fast as the AGM battery does. On the positive side, this slow discharge rate allows the gel battery to handle deep and slow discharge applications. And, on the negative side, you need to pay more for a gel battery than the AGM battery.
Another mentionable benefit of this battery is its compatibility in hotter weather. So, you can use it at a high ambient temperature without being worried. Not to mention that people often mistake the gel battery for the AGM battery and misuse it. In order to avoid such mistakes, identification of this specific battery type is heavily necessary.
Comparison Between AGM Battery Vs Gel Battery
You already know that both batteries have come from the same category, mentioned as sealed lead-acid or valve-regulated lead-acid. Anyway, they are not the same when compared as a whole. Still, people get confused because of their similarities and almost the same outer design.
In characteristics, both of them are non-spillable sealed batteries, and you can discharge both using deep cycles. Besides, there is no risk of transporting them safely. Now, let's focus on the distinction below in many aspects.
Structure
If you look at the outer parts, both are the same. But, the AGM has a different mechanism on the inside compared to the gel. The electrolyte is suspended in a thick paste on the gel battery, whereas the same happens in a thin fiberglass mat. As a result, the place of the fiberglass mat is also filled with a thick solution giving more space for chemical reaction.
For the same reason, the gel battery produces charges at a slower speed, and the AGM can discharge faster. Although this may be true, the gel battery is safer due to such structure and is easier to handle.
Battery Life
If you store an AGM battery for later use, it can last for years without even any kind of maintenance. This is because the AGM battery is designed to store the energy for a more extended period so that you can use it in the future when needed. On the other hand, the gel battery cannot be stored for a long period. Buying this battery is suitable only when you need to use a battery very frequently.
Discharge Rate
Definitely, an AGM battery can be useful when you need a burst of amps. Because, this battery can discharge at a very fast rate and is suitable for higher applications like starters. Specifically, the electrolyte can create a quicker chemical reaction to produce higher output. However, the AGM battery can discharge up to 50% of its stored energy.
On the contrary, the gel battery discharges slowly, and the acid resistance is higher. As a result, you cannot use this battery as a starter. Of course, it creates such an impression that the gel battery is a loser in this area, but that's not all about its mechanism. For the same feature, the gel battery can discharge 90% of its stored energy without any significant issue.
Recharging Capability
Gladly, you can easily recharge an AGM battery, whereas the gel battery faces difficulties in recharging if the protocol is not maintained perfectly. Besides, the AGM battery can be recharged five times faster than the gel battery. So, the gel battery lacks in the recharge section.
In most cases, you can never incorrectly recharge a gel battery. Doing such can drastically reduce the battery life, and the battery becomes unusable quickly. In that case, the AGM can recover simple misconnections at the time of recharging.
Battery Capacity
When considering the battery capacity, both the AGM and the gel have large capacities ranging from 10Ah to 60Ah. However, the AGM is primarily used with a higher power capacity than the gel battery. Because, the rate of use in higher applications is more remarkable for the AGM battery. And, that's the situation where larger capacity is a major concern. In contrast, the gel battery comes with comparatively lower power capacity for slow discharging applications, despite having the ability to utilize more stored capacity.
Temperature Resistance
Usually, the AGM has a low internal resistance. For this reason, the inner part of an AGM battery can be damaged easily compared to the gel battery. In that case, the AGM battery cannot perform well when the temperature is higher than 32 degrees. So, this battery is not suitable for critical weather conditions.
On the other hand, the gel battery can do well in warmer environments. That means, you don't need to worry even if the temperature is higher than 32 degrees. However, you need to spend more on the gel battery compared to the AGM battery. To add more, the only situation where this battery gets weak is freezing temperatures, and you should avoid using it in such weather.
Frequently Asked Questions
How Are AGM And Gel Batteries The Same?
For the main category, both of them are from the same sealed lead-acid battery group. So, if you consider the characteristics of a valve-regulated lead-acid (VRLA) battery, both batteries are the same, and the inside compartment is sealed permanently.
Which Battery Should I Choose For A Starter?
Basically, a starter requires a burst of amps, which a slow discharging battery cannot provide. As the gel battery comes with a slower discharge, you cannot use it for a starter. Instead, go for the AGM, which can handle higher applications with a higher discharge rate at an early state.
Final Words
Under no circumstances can you say that one battery is better than another. Each battery performs better in its own way. So, you should choose according to your applications. Typically, the AGM batteries come with better recharging capability, longer life, increased outside durability, and cannot work in warmer weather conditions. Gel batteries, on the other hand, have an entirely gelled composition, leak less, and operate well in hotter weather conditions with low discharge rates.