So you want to learn the differences between Exide battery and SF Sonic battery? That's great. It seems you are a wise user and curious to know the thin differences to decide best. First of all, let us ensure that you have landed on the right page.
Today we are going to uphold the differences between SF Sonic battery and Exide battery. Let us start with knowing what SF Sonic or Exide battery actually is. It is always better to begin with the basics. Agree?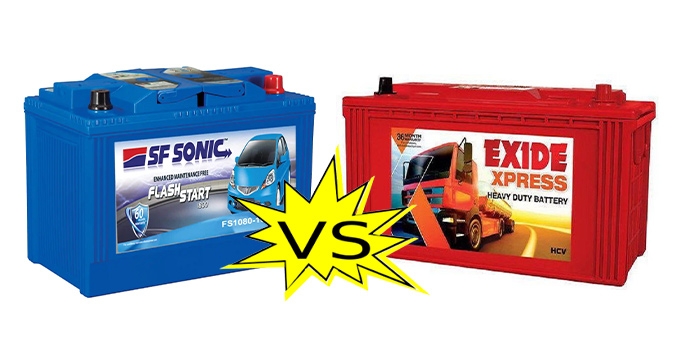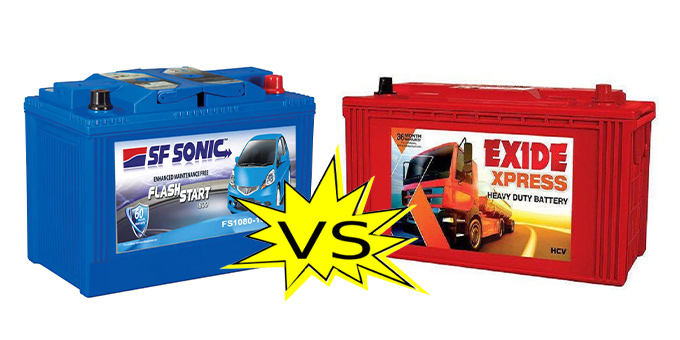 Okay, first we will go for Exide Battery, then SF Sonic Batteries.
Exide Battery
Exide Industries Limited is the largest selling battery company in India.
No products found.
At the same time, it is a global leader in batteries. This brand has achieved a reputation for the highest quality and advanced technology. You may regard this battery as 'sufficiently good'.
Image: Exide Battery, Source: Ubuy
SF Sonic Battery
These are car batteries. The SF Sonic batteries are a fabulous combination of Japanese technology and Exide's expertise. SF Sonic is the sister brand of Exide. And you might have heard that Exide is the top battery manufacturer in India. SF Sonic batteries are prominent for providing reliable power for cars.
Image: SF Sonic Battery, Source: Mypowekart
SF Sonic vs Exide Battery
These are undoubtedly one of the top two batteries available in the global market. Here we will pick up two models for the sake of our discussion. Are you ready?
Here we go!
History
Exide is an Indian multinational storage battery producer. As an automotive and industrial lead-acid battery, it is the largest in India and the fourth-largest in the world. Its foundation dates back to 1916.
And since SF Sonic is a sister brand of Exide, you can obviously assume the origin and youngness of this battery.
Capacity and Dimension
An SF sonic battery weighs 2 kg. And it features 12 V. Generally, the capacity of a valve-regulated lead-acid (VRLA) battery or sealed lead-acid (SLA) battery is 65 Ah.
On the contrary, the capacity of an Exide battery can be 100 Ah, or 100-150 Ah, or even 180-200 Ah. It also features 12 V. For example, an Exide Inva Tall Tubular 150Ah Battery weighs 59.8 Kg.
Use of Electrolyte and Sensor
Experts use distilled water in both the Exide and SF Sonic batteries. You need to maintain the maximum level. And yes, you cannot include any acid. This type of battery features a Battery Electrolyte Sensor. When it is needed, a red LED will remind you to top up the battery with distilled water. That means you don't need to worry when electrolyte level goes down, alright?
On the contrary, an SF Sonic battery generally doesn't feature a sensor. You have to check the electrolyte level indicator caps manually.
Lifespan
Usually, an SF Sonic battery lasts for around 3 years, particularly the tubular batteries. However, this lifespan will be a bit longer if it is a flat plate battery.
On the contrary, if you go for an Exide battery, you can use it for 4 to 6 years before discharging! It won't bother you during its entire lifetime.
Application
Often people search sf sonic near me to meet their daily communication needs. And as one of the best lead-acid batteries, one can seriously rely on an SF Sonic battery. You can employ this for your –
On the contrary, the Exide battery provides the Industrial market with lead-acid batteries. On the other hand, this brand manufactures lithium-ion batteries for –
Motive Power material handling (forklifts)
Railroad
Mining and
Submarine applications
Apart from these, Exide is widely popular for fast charging solutions for –
Material handling usage
Modeling and
Real-time monitoring solutions
Price
Let's assume you need a battery for car, and you want to know its average price. Then let us share the average price range for Exide BAT0122 12V 100Ah. It costs around $250. 
And an SF Sonic battery cost ranges from $170 to $260.
Eco-Friendliness
Exide has designed its premium batteries in a way so that they can't cause any harm to the environment. This type of battery features a slick new black design along with recycled components. Such a design helps minimize environmental issues. You would be glad to know that this battery design saves 2,700 tons of CO2 and 8 million liters of water every year! Moreover, its carbon boost 2.0 permits up to 2x faster recharging than traditional batteries.
On the other side, we see, SF Sonic batteries are also good. However, as a typical acid-lead battery, it is less eco-friendly than Exide premium ones.
To Wrap Up
Now you know a solid contrast between SF Sonic battery and Exide battery. We have discussed here in terms of origin, capacity and dimension, electrolyte-sensor, lifespan, application, price, battery charge mode, and eco-friendliness. Hopefully, this brief yet crucial article shall be handy for you.
Exide has two dealers in the United States of America. So you will get them in need just beside you. Have a good day!