If you are a summer person and love the wild old desert, chances are, you have a Jeep, Ram, or a Mustang. And these vehicles are power-hungry. They require high-energy batteries. And in that climate, one battery outstands from any other. It is Exide Sprinter Max.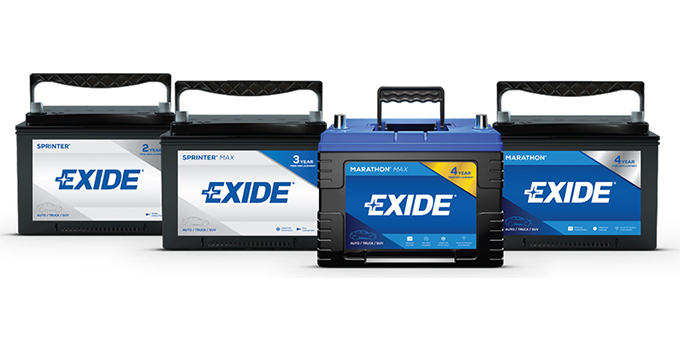 There have been complaints about people having a bad summer because their battery broke down. And the reason is simple, your battery is not compatible in the summer weather. Batteries are made different in summer and winter weather. If your state is summer-dominated, your batteries are made to work in that weather. And if your state has a bad winter, then you need a high CCA-rated battery. Easy as that.
We are going to elaborate on the Exide Sprinter Max battery in this article.
How Good Is an Exide Sprinter Max Battery | Review
Exide batteries are known for their reliability and long lasting life. They don't break down on you. One of the perks of having an Exide battery is that you get a high heat tolerating battery. Where other batteries discharge faster and spill their electrolyte, Exide does a happy dance. 
Exide's Sprinter Max series are flooded cell batteries. Though they have AGM batteries, the flooded cells deal greatly in warm climates. As heat drys up the cell quickly, the lack of power is inevitable. This is where Exide shines. 
The Best of Exide Sprinters
There are a few different Exide Sprinters out in the market. Here are the best of them. 
Exide Sprinter Max Automotive Battery SX78-EX
This battery has an RC of 120 with a 25 Amp draw. It is one of the finest flooded lead batteries on the market. Although it is highly recommended for hot weather, it comes with a CCA rating of 800. So it can also be used in a cold climate state. The cold cranking amp is 960 in this battery, which is a huge package. It has a 36-month replacement warranty. If you are having any trouble with the battery, just get it replaced pronto. 
Exide Sprinter Max Automotive Battery SX34-EX
Another worthwhile mentioning battery is the Exide Sprinter Max Automotive Battery SX34-EX. This guy has a CCA of 800 and a CA of  960. With an RC of 120, your ride will be bliss. Especially if you are a dirthead, your vehicle will thank you for having this battery. Although a flooded cell battery, it requires very low maintenance to be almost free. 
Frequently Asked Questions
Q. Does the Exide Sprinter Max battery die faster than other batteries?
A. A battery's life depends on its use and care. The more it is used, the faster the recharge and discharge rate. It also depends on how you maintain it. Although Exide batteries require low maintenance, it is always a good practice to check on them monthly.
Q. Is there AGM batteries from Exide?
A. Exide makes both flooded lead batteries and AGM batteries. Always make sure what kind of battery best fits your car and climate before buying one. 
Q. Is it okay to use Exide Sprinter batteries in winter?
A. As Exide Sprinter Max batteries have high Cold Cranking Amps, they can be used in winter climates too. 
Conclusion
Exide Sprinter Max batteries are built to last. It totally depends on how you use it. Any battery will die fast if you don't check it from time to time. The lifespan depends on how it is used.
Your electronic aftermarket items heavily depend on the battery, which discharges the battery fast. And a battery has a limited recharge and discharge rate. But luckily Exide Sprinters have a high recharge and discharge rate. So you can go worry-free for the next 5-6 years.