Depending on size, form, rechargeability, chemical composition, or any other factor, batteries can be classified into many types. Depending on their rechargeability, the cells are of two types, primary and secondary batteries. And in the case of form, the types are coin, cylindrical, prismatic, and pouch battery.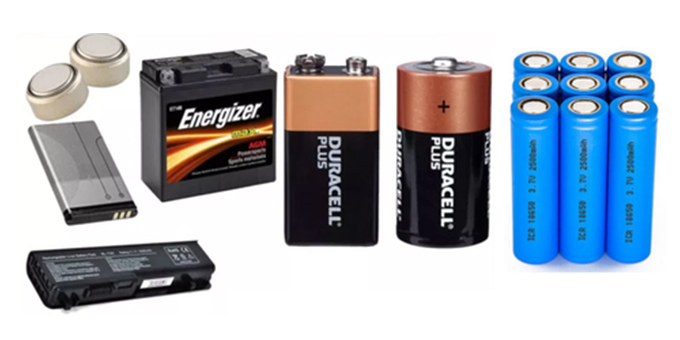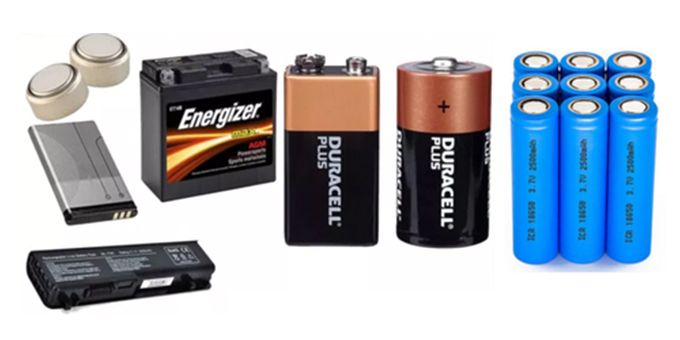 Types of Battery Cells 
There are some major categories of battery types depending on many factors. However, these major types can also be classified under other factors. In this section, you will learn about these classifications and their uses. To understand and visualize better, you can watch the video from the link below.
Primary Batteries 
Primary batteries are the electrochemical cells where electrochemical reactions can not be reversed. This is why these batteries can not be recharged. Primary batteries can exist in different forms. Depending on the chemical composition, they can be categorized into 8 different types. Let's see their characteristics below.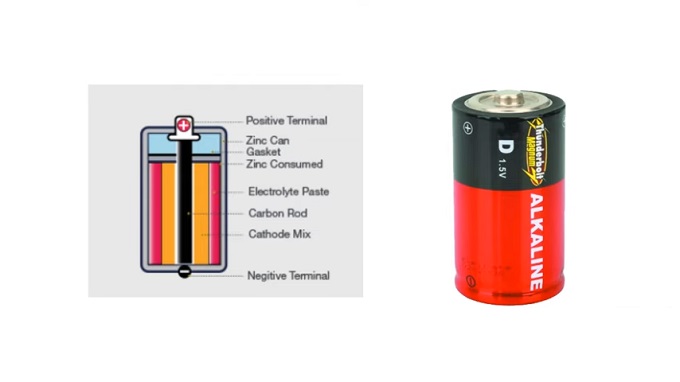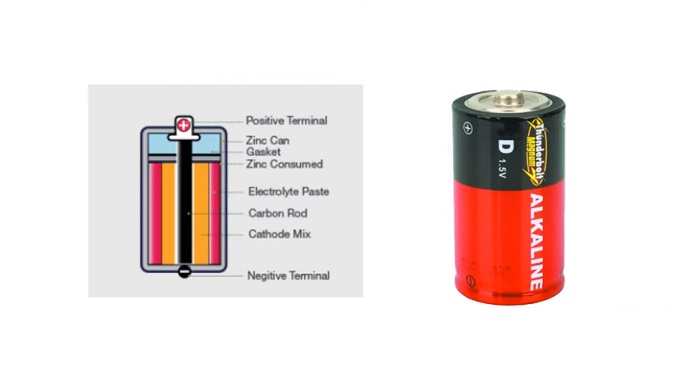 Zinc-Carbon 
Zinc-carbon batteries are very common and they don't cost much. They are usually used in radios, toys, and instruments. You can find this battery type having multiple sizes. 
Magnesium 
Magnesium (Mg/MnO2) batteries have a high capacity as well as a very long shelf life. They are usually used in important applications such as military and aircraft radios.
Mercury 
Mercury (Zn/HgO) batteries also offer a very high capacity and longer shelf life. For this reason, they are used for very crucial medical purposes, such as in pacemakers or hearing aids.
Alkaline 
Alkaline (Zn/Alkaline/MnO2) batteries are very popular because of their high performance. Though they come with a moderate cost, you can find them in many common applications.
Silver/Zinc 
Silver/Zinc (Zn/Ag2O) batteries are very expensive primary batteries. However, they have the advantages of having the highest capacity and flat discharge. These batteries are usually used for hearing aids, photography, and pagers.
Lithium/Soluble Cathode  
Soluble cathode lithium batteries are used in a wide range of applications due to their broad range of capacity and temperature, good performance, and high energy density.
Lithium/Solid Cathode 
Solid cathode lithium batteries also feature high density, long shelf life, and performance in low temperatures. They are usually used as a replacement for button and cylindrical cells.
Lithium/Solid Electrolyte
The lithium battery of solid electrolytes offers an extremely long shelf life as well as good performance in low temperatures. This is why they are normally used in medical electronics and memory circuits.
Secondary Batteries 
Secondary batteries are the electrochemical cells where electrochemical reactions can be reversed by applying specific voltage. For this reason, these batteries are rechargeable. There are mainly 4 types of secondary battery cells.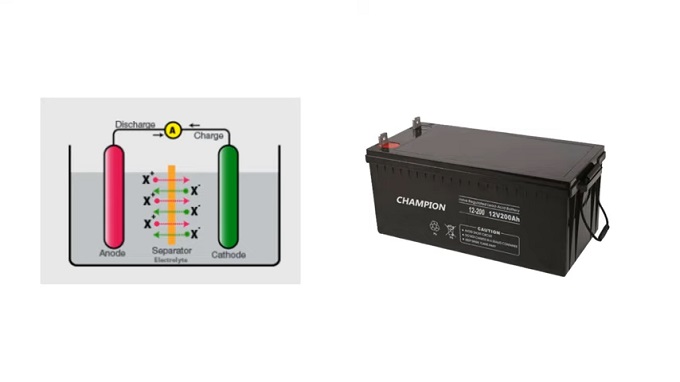 Lithium-ion 
Lithium-ion batteries are the most used battery nowadays since more than 50% consumer market has adopted the use of this type of battery. Specifically, smartphones and laptops are mostly dependent on lithium-ion batteries now. 
The advantages of a lithium-ion battery are very high energy density, high specific energy, longer life, slow self-discharge rate, and a broad range of operating temperatures.
Nickel-Cadmium 
Nickel-Cadmium (Ni-Cd) batteries are one of the oldest types of batteries featuring a very long life and sturdy product. Other positive sides of this battery type are high discharge rate, a wide range of operating temperatures. The drawbacks are higher cost and the memory effect that affects battery capacity.
Nickel-Metal Hydride
Nickel-Metal battery is a comparatively new type of battery that is exclusively used in satellites or other aerospace applications. This type of battery has higher energy density and higher specific energy. For commercial usage in portable devices, a nickel-metal battery is available as a small cylindrical cell.
Hydride Lead-Acid
Lead-acid batteries are the most used rechargeable batteries used in the automotive industry. They are also used in emergency applications and have been successfully performed for more than a century. 
You can find this battery in different shapes and sizes and at a low cost. The lead-acid battery features a wide voltage range, high electrical efficiency, and requires simple maintenance.
Coin 
A coin or button cell is a battery that is shaped like a small disk or coin. This type of battery is mainly used in low-powered devices to consume a minimum amount of power and enable the battery to last longer. 
Cylindrical 
Cylindrical batteries are the most common form of both primary and secondary batteries. This shape is advantageous as it provides high safety by minimizing high internal pressure without deforming. 
Prismatic 
Prismatic batteries resemble a box of wrapped packages of thin and rectangular shape. This battery saves up space and that's why they are used in lightweight electric devices such as smartphones and laptops. They can also be large enough to power vehicles.
Pouch
Pouch or polymer batteries have the same shape as the prismatic cells, but they don't have any hard exterior package. This type of battery is good for moderate charging and has extremely high efficiency.
Battery Application 
As it's the age of technology, we are more dependant on battery-powered devices. The scope of battery application is abysmal. Some of the areas of battery energy consumption are portable electric devices, entertainment devices, household applications, etc.
Some of the tools that require a battery are, cameras, phones, laptops, calculators, watches, radios, toys, keyboards, all infrared remote controls, clocks, emergency lights, portable power tools, hearing aids, pacemakers, blood pressure monitors, electric toothbrushes and many more.
How to Choose a Battery
Usually, you don't have many options when getting any battery you need for a job, because it will only accept a battery with a certain shape and voltage. But the same type of battery can have different characteristics. When choosing a battery, the first two things you need to notice first are its performance and cost. 
However, if you want the perfect battery for any specific job, you need to dig deeper. Look for the features of rechargeability, energy, shelf life, battery life, recharge rate, and battery temperature, and decide which one suits your criteria.
Frequently Asked Questions
What is the smallest battery?
Nano batteries are the smallest type of battery with 150nm width. They are a hundred times thinner than a human hair. If we can use them commercially, life will become easier. 
What size battery does a watch take?
In a watch, we need to put a button cell. The size of the button battery can vary with different types of watches. Silver-oxide battery is the most common watch battery with a voltage of 1.5V.
Is fast charging a battery bad?
The fast charging of a battery doesn't affect the battery itself. It's the heat that is bad for the battery's chemical composition. When charging rapidly, heat will be generated and affect the battery by reducing battery life. Slow charging is more preferable since it doesn't generate much heat.
Parting Words
Types of battery cells can be so many, but they are all made with chemical compounds. That's why you need to be cautious when using or disposing of. Do not puncture or throw away the battery. Contact to legitimate recycle authority and hand over the battery when you no longer need it.