Changing batteries often are very tedious. And if you have a lot of devices, that means a routine chore. 
There is an easy solution to this problem. Get yourself some rechargeable batteries. But not all devices fit the same battery. And that is why we have brought you an EBL rechargeable battery review.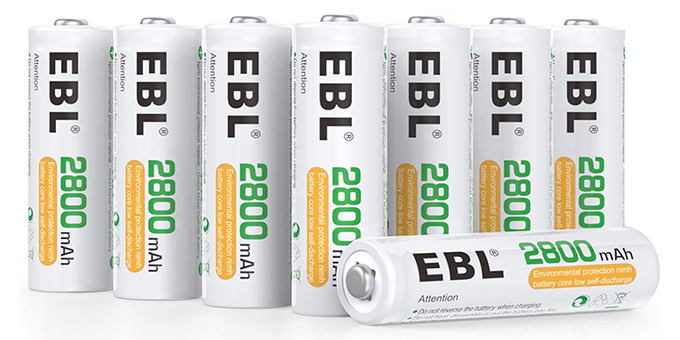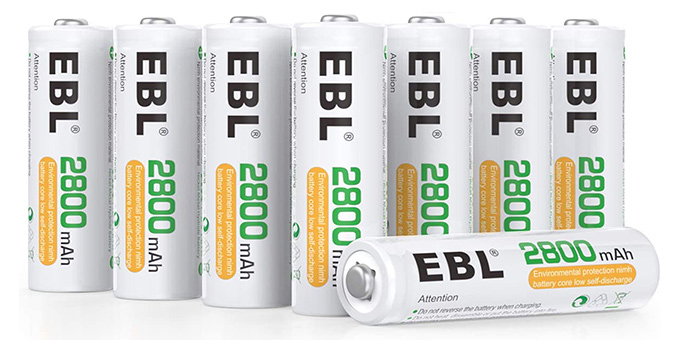 You will not only find that their AA rechargeable batteries are best, but their AAA, C, and D size batteries perform great than other batteries in the market.
Top EBL Rechargeable Battery Review, the Types to Go For
Here you will get an in-depth review of the types of EBL batteries that are top-notch.   
1. EBL AA 2800mAh Ni-MH Rechargeable Batteries
One of EBL's top-notch batteries would be the AA Rechargeable battery. They come in different quantities depending on your need both online and in shops.
If you are looking for some powerful AA Rechargeable batteries, then look no further. The EBL AA rechargeable batteries come with a 2800mAh capacity. Which is huge for a AA battery. It will last you for a few days to weeks depending on your device and usage.
You get to use the batteries in a whole lot of electrical devices and components. Doorbell cameras, digital cameras, fire alarms, toys, remote controls, toothbrushes, and so on. 
These batteries come with the ProCyco Technology which makes them give out more power than expected. They will definitely outperform any other rechargeable batteries and obviously Alkaline batteries. 
The batteries have a recharge discharge cycle of 1200 times. So you get a lot of time to use them.
One thing to keep in mind though, rechargeable batteries are a slight bit bigger in dimension. So check the size of the device you intend to buy. If they have enough room in the battery box, then you can go for them without a problem.
Another great thing about the battery is that you can store them for a long time without use. And they will still hold their charge up to 70% of their capacity.
You can check the batteries out from here.
2. EBL AAA 1.2V 1100mAh Ni-MH Rechargeable Battery
A lot of devices in our household use AAA batteries. And buying and putting them often is a big hassle. Also, it costs a lot in terms of long time use. 
If you are looking for a reliable solution to your AAA batteries, the EBL AAA rechargeable batteries can be at your service. They come in 1100mAh of capacity and run like a bullet.
The batteries have a low discharge rate, so you don't have to charge them very often. Put it in and just forget.
You can use them in your game controllers, decoration lights, remotes, toys, and any other devices that require a AAA battery. They will give you the same output as Alkaline batteries, sometimes even more. 
The ProCyco Technology makes the batteries last even longer than other rechargeable batteries. You get a total of 1200 recharge and discharge cycles with them. Which is huge at this price range.
Even if you store the batteries for a long time, they will hold their charge up to 70%. So you get to use them in an emergency without charging them from the start.
Do check the dimension of your device's battery installment area and the batteries before going for them. Rechargeable batteries sometimes tend to be a tad bit bigger than non-rechargeable ones.
You can check the batteries out from here.
3. EBL C Cell 5000mAh Ni-MH Rechargeable Battery
There's a lot of devices that require C-size batteries. And they are not all that popular that you can find them in any store nearby. So a rechargeable C-size battery can put your mind at ease.
EBL not only makes AA and AAA rechargeable batteries but also C sizes as well. And they are mighty! Mighty in power. The capacity of the batteries comes at a whopping 5000mAh. Which is a lot compared to other brands out there.
The batteries also come with ProCyco Technology, making them discharge slowly. At the same time, they get a longer recharge discharge life cycle. That number stands at 1200 recharge and discharges. More than enough for a rechargeable battery.
Sometimes Ni-MH batteries lose their capacity over time. But with EBL C size batteries, you will get at least 4500mAh. Making them one of the best in the market.
They also retain 70% of the charge when left unused for a prolonged period. So you will have enough charge if you need them in an emergency. With their slow discharge rate, one battery will last for months at a time.
You can use them in-game controllers, cameras, camera equipment, lighting systems, and so on. The size is not an issue with the batteries. They are the same standard size as other C-size batteries.
The batteries come in various packs and quantities. If you want to check them out, you can do that from here.
4. EBL 10000mAh Ni-MH D Cells Rechargeable Batteries
If you have devices that require D cell batteries, then these batteries can be your savior. The EBL D cell batteries come at a huge 10000mAh capacity. Making them one of the most powerful batteries in the D cell kingdom. And over that, they are rechargeable!
The batteries are a great addition if you have a baby monitor or any child equipment. They frequently need to be replaced with a new battery sooner than other devices. Also, other electronic equipment like motion sensors, lights, controllers, door cams, toys require a D cell battery. These batteries come in all quantities. So you get more for less and a few handy whenever you need a change.
EBL D cell batteries also come with the ProCyco Technology. It makes them last longer in power and life. The average lifespan of an EBL D cell battery is 1200 recharge and discharges. That makes the worth for your money investment on them.
The Ni-MH battery chemistry is prone to lose some of its capacity over time. But EBL D cell batteries will still give you more than 8500mAh of capacity from the start. Which makes them great for long-term use.
Also, the batteries retain 75% of their power if stored and unused for a prolonged period. So you won't have to worry about recharging them in time of need.
EBL D cell batteries have no fitting issue. They come as same as any other D cell batteries. But with more power inside.
You can check the batteries out from here.
Frequently Asked Questions
Where is the EBL battery made?
EBL batteries are made in China.
Are EBL battery chargers good?
Yes. EBL battery chargers provide the right amount of charging amperage to charge different types of batteries efficiently and safely.
How long does it take an EBL 2800mAh battery to charge?
It takes about 14 hours to charge an EBL 2800mAh battery.
Conclusion
EBL batteries are a great alternative if you are looking for rechargeable alternatives. Their type AA/AAA/C/D and other batteries come with a good amount of power that lasts longer. And they are safer than other batteries in the market. Even their customer care is very much responsive and gives you quick solutions according to your need. So if you are thinking of buying an EBL rechargeable battery, they will be worth your investment.