Batteries are the source of energy for our many necessary devices. As a portable storehouse of energy, batteries are adorable. The most important thing is- finding out the apt battery in terms of performance, cost, duration, etc. Moreover, there are several types of batteries. Which one is to choose and which not- that becomes a question.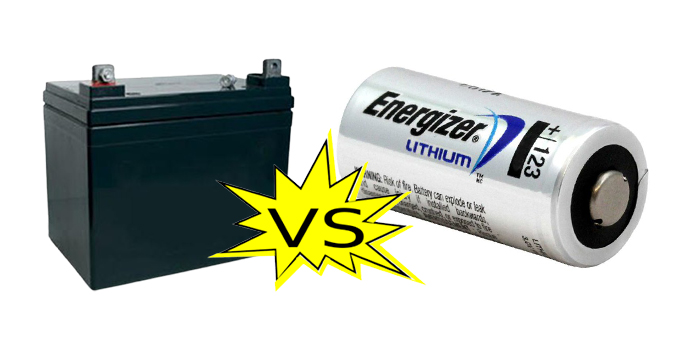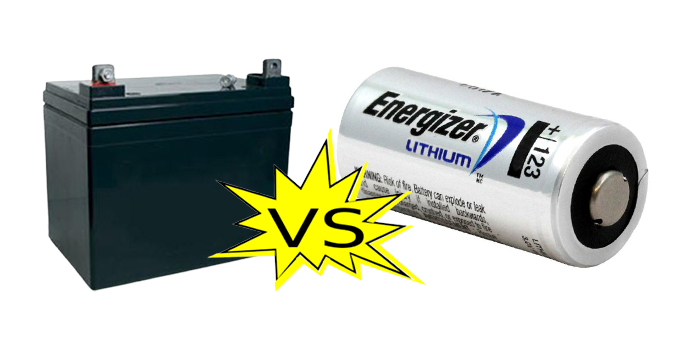 Today, we will be dwelling on two major types- the dry cell battery and lithium battery. We will discuss the differences. This talk will enable you to decide wisely. Rest assured that you have landed on the right page.
Anyway, before we head towards the contrast, it would help best if you got clear of these types of batteries first. Do you know what is a dry cell battery and lithium battery?
It is always wise to learn before a purchase!
What Is Dry Cell Battery?
The dry cell battery is a combination of ions of zinc and carbon. It is also known as the Leclanché cell in the industry. Unlike an alkaline cell battery, it doesn't contain too much voltage. The maximum level is 1.5 volts. Overall, it is a summation of zinc anodes, carbon cathodes, and central rods.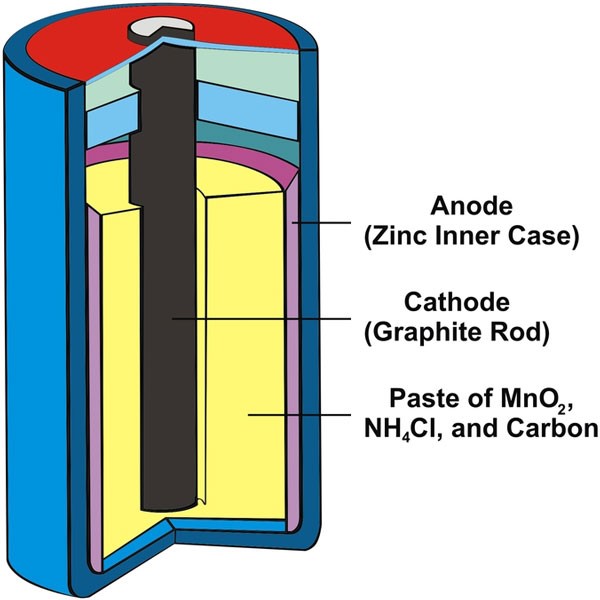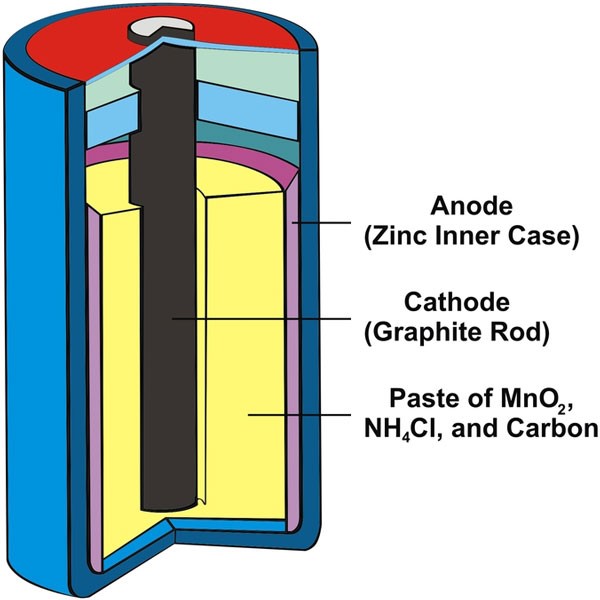 Image: Dry Cell Battery, Source: UPS Battery Center
Its innovation dates back to 1886 and the credit goes to Carl Gassner, a German Scientist. Later a Japanese scientist named Yai Sakizo developed this in the following year.
What Is Lithium Battery?
No products found.
This type of battery contains metallic lithium as an anode. These are also known as lithium-metal batteries. A lithium cell features a high charge density. Typically, the positive electrode of a lithium battery is a metal oxide, whereas the negative electrode is made from carbon.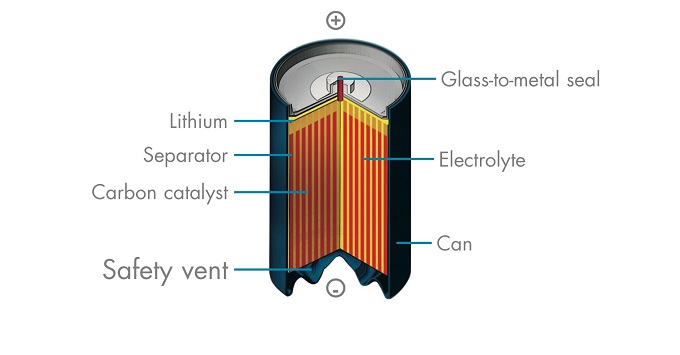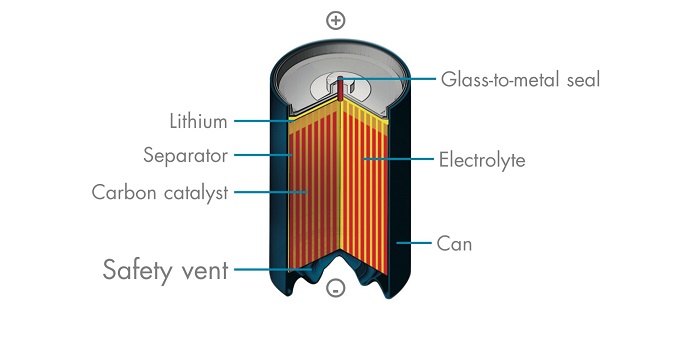 Image: Lithium Battery, Source: Saft Batteries
The base grew up in the 1970s. Later on, Akira Yoshino developed in 1985 significantly. However, the first commercial lithium-ion battery reached the market in 1991.
Dry Cell Battery vs Lithium Battery | Differences
The differences between dry cells versus lithium should matter to a user. We have designed this post on the basis of several criteria. Overall, these will provide you with a crystal picture. Let us get them downright!
Electrolyte
The electrolyte is lithium salt. It is a paste of ammonium chloride (NH4Cl). In a dry cell battery, you will see a zinc anode in the form of a cylindrical pot.
On the contrary, you will find lithium-ion batteries as non-aqueous solutions. Here the lithium hexafluorophosphate (LiPF6) salt gets dissolved in an organic carbonate.
Size
Dry batteries are small. Typically, a dry cell battery is 10.5 x 40.5mm. Because of being tiny in size, these batteries can carry a little amount of charge only.
On the contrary, you will have lithium-ion batteries are of different sizes. Let us share the most common sizes for such cells below! 
18650 (18mm diameter, 65mm length)
26650 (26mm diameter, 65mm length), and
21700 (21mm diameter, 70mm length)
Overcharging
Dry cells cannot endure overcharge. It looks like a dry kettle boiled for a long when gets overcharged. 
And though a lithium-ion battery can take the load of overcharge, it becomes unstable. It results in a thermal runaway due to the increased pressure. Here overcharging may serve you for a while but reduces the capacity to a large extent!
Lifespan
If you ask us to be technically specific, we must count the storage temperature. When you store a dry cell battery at 70°F/ 21°C, it will survive at least 5 years. And the average lifespan is between 5 to 10 years. This way, you can store Lithium Cylindrical batteries for 10 to 15 years.
And generally, a dry cell battery's design life is 8 to 12 years, and the service life is 3 to 10 years. On the contrary, a  lithium-ion battery usually lasts 2 years. You can't expect it to serve you anymore. However, during the whole lifespan, it won't bother you for a single time!
Applications
A li-ion battery is called the 'most prolific battery technology' of the present time. This is one of the batteries that will energize the upcoming days. You can employ this rechargeable battery for different purposes such as –
Cell phones
Tablets
Laptops
E-Bikes
Electric toothbrushes
Pens
Hoverboards
Scooters
USB memory sticks
solar power backup storage
Apart from these, you can use lithium-ion batteries for different vaping devices like cigars or pipes.
Besides, the other necessary daily electronic devices depend on dry cell batteries as their energy source such as –
Toys
Cell phones
Laptops
Flashlights
Audio listening
Wireless devices
Video viewing or recording devices
Automatic answering devices
Radios
Remote controllers
Pagers
Digital cameras
Video camcorders
Personal global positioning satellite units
Gaming systems
Docking stations
Price  
Dry cell batteries are expensive, no doubt. If you are in the United States, you will have to pay around $15 to $17 for the Amazon Basics 48 Pack AA batteries on average.
However, lithium-ion batteries are more expensive than dry cell batteries. You will have to pay around $156 per kilowatt-hour! If you want to buy a 50 kWh lithium-ion battery pack, it will make you pay approximately $7,000.
Market Growth
Hopefully, you don't have any doubt that a dry battery cell is one kind of disposable battery. Did you know that this market is about to grow at a CAGR of 5.20% through 2027?
And experts assume that the global lithium-ion battery market is about to grow at a compounded annual growth rate of 13.0%. It is going to be evident from 2020 to 2027. They predicted that it shall reach USD 87.54 billion by 2027!
Weight
Allow us to exemplify.
If you think of a two-seat electric vehicle, you need around a 15 kg weight lithium battery. And if it features a higher capacity, let's say 60 to 100 kWh, you need around 385 kg to 544 kg battery.
The average weight for a 12V car battery is 18 kg. However, weight depends on the battery's size, BCI group, and age.
Manufacturing Process
Let us tell you the manufacturing process of dry cell batteries first. Here a separator and a bottom paper are inserted. They prevent short-circuit of a positive and a negative electrode. A cathode-can usually contains cathode materials, carbon, a mixture of manganese dioxide, etc. Manganese dioxide and electrolyte are the two most used examples of cathode material.
On the opposite, the manufacturing of the lithium-ion battery includes three steps. These are –
electrode manufacturing
cell assembly and
cell finishing
The ion-conductive electrolyte fill-up the electrode holes. Else, it fills the remaining space inside the cell.
Charging
You cannot charge your dry cell battery since it is designed for use once. On the contrary, you can employ a lead-acid charger to charge your Li-ion battery. Yet, you must know how to set the maximum voltage of the charger. And please ensure that the charger does NOT have an automatic equalization mode enabled.
Directional Usage
You can mount lithium-ion batteries in any direction, even upside down. Why? The reason is – they don't contain any liquid material instead of solid. The battery will work however you mount them. You may please go through the clips below!
However, you cannot mount dry cell batteries upside down. As you have read earlier that they contain liquid electrolytes.
Eco-Friendliness
Batteries are non-biodegradable. They leave toxic to our ecosystem. However, if recycled, the dry cell batteries will be less harmful. On the contrary, lithium-ion batteries comprise less toxic metals than dry cell batteries. So you will have the latter one more eco-friendly for sure.
Popular Brands for Dry Cell and Lithium-ion Batteries
Whether you think of your cell phone, laptop, or any other power tool energy, you can rely on dry cell batteries. Then what brands can you rely on most? Hey, this is important. If you reside in the United States of America, it would help if you go for any of the brands below regarding this. These are –
Energizer
Duracell
Odyssey Battery
Trojan
Optima
Duralast
Rayovac
DieHard
Panasonic
Crown Battery
Now let us share the most reliable brands for lithium-ion batteries. These are as follows!
Tesla
Panasonic
Grepow
LG
Samsung SDI
CATL
BYD
The Ending Thoughts
Now you thoroughly know the differences between dry cell batteries and lithium-ion batteries. We have discussed this contrast in terms of size, chemistry, duration of service, application or usage, market growth, charging, overcharging, weight, price, eco-friendliness, manufacturing process, etc. Hopefully, this post will benefit you in the long run and help you make the correct decision. Have a nice day!