It's fantastic that you are in quest of securing sound knowledge. We have designed this post entitled dry battery vs wet battery to meet your thirst. Here we will be digging deep to inform you about the contrast. Today we will dwell on in terms of some crucial criteria.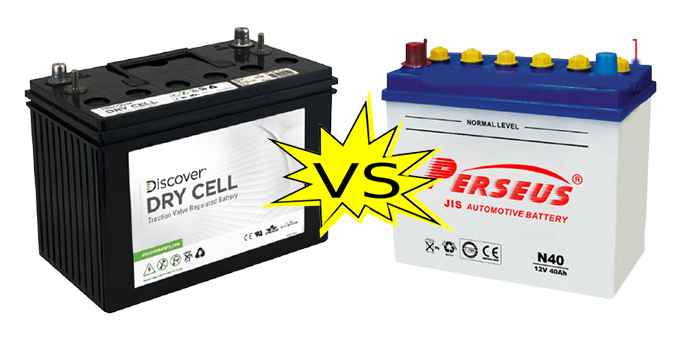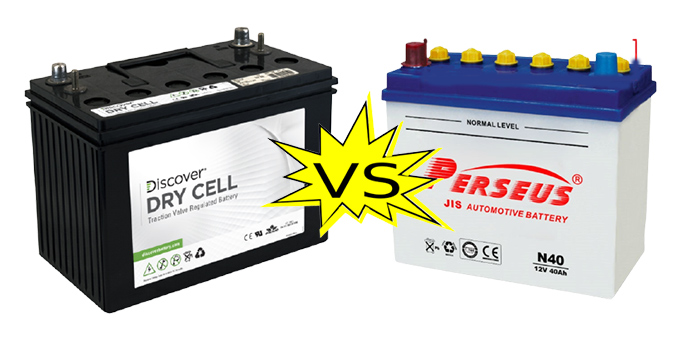 However, are you clear of what a dry or wet battery is? I think we had better be clear of that before we go-ahead for the sake of this topic. Apart from the definition, it would help best to learn about cells.
Only in this way you can secure a good understanding regarding the contrast!
What Is a Cell?
A cell is a combination of electrodes and electrolytes. Depending on their nature, an electric potential arises between them. A battery develops through several this type of combinations. Cells are mainly two types based on their electrical properties. These are as follows!
Primary Cells: Here in these cells, the generation of energy is irreversible. That's why this type of cell is not rechargeable. You have to dispose of it after using it. Since these contain solid electrolytes adsorbed onto a solid material, these are dry cells mostly.
Secondary Cells: Secondary cells are reversible and thereby rechargeable. You can ensure this through an external power source. 
Now it is time to clarify dry and wet cells or batteries. They are classified on the basis of the physical state of the electrolytes in them. 
What Is Dry Battery?
No products found.
One or more electrochemical cells form a dry-cell battery. These cells turn stored chemical energy into electrical energy. And note, these dry cells do not contain any liquid.
Else, this type of battery does not spill and suits portable equipment well. Example: Alkaline battery, Lithium-ion battery, etc. You will see its application in portable electronics like toys, phones, laptops, etc.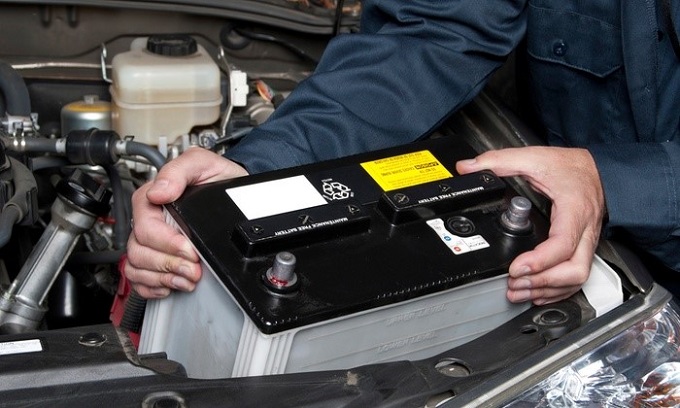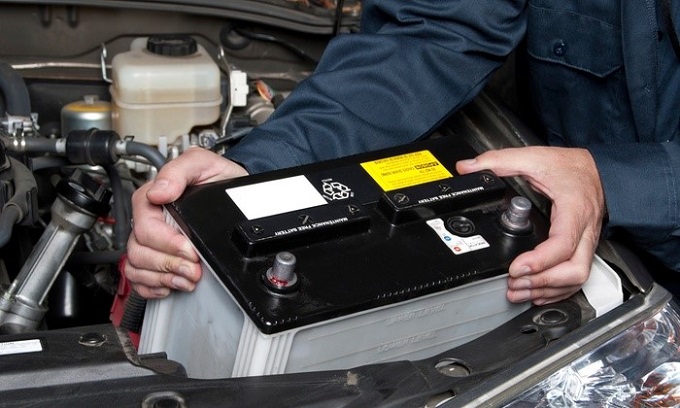 Image Source: CarSpiritPK
What Is Wet Battery?
No products found.
The wet batteries are original rechargeable batteries. These are also known as  "flooded" batteries. Unlike dry batteries, wet batteries contain a liquid electrolyte like sulfuric acid. This acid is a dangerous corrosive liquid. You will see its usage in energy storage, electric utilities, cellphone towers, etc.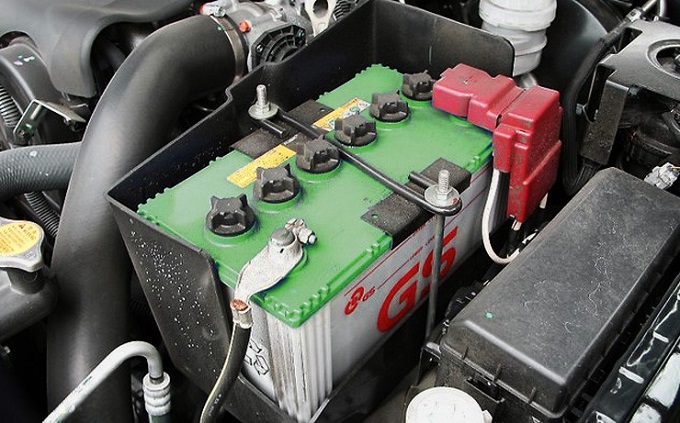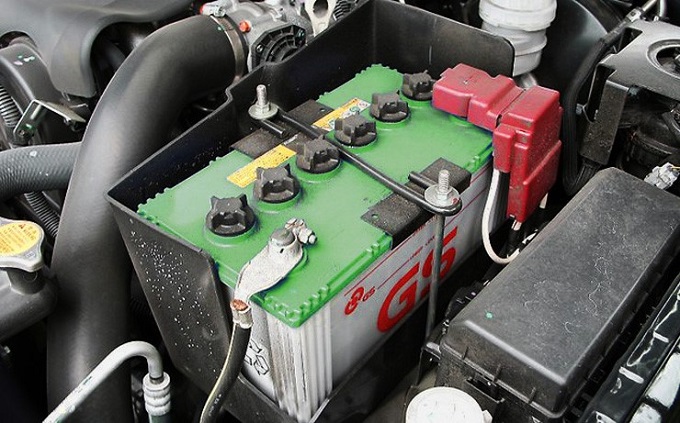 Image Source: CarSpiritPK
Differences Between Dry Battery and Wet Battery | Comparison
Let us move on to get into the core discussion! No matter if you are an ordinary person or a battery business owner, it will be wise to learn the differences between dry batteries and wet batteries. This comparison is set based on the most crucial criteria. Would you mind moving on one by one?
Electrolyte
The first and foremost difference between a dry and wet battery is in the electrolyte. It is a material that generates an 'electrically conducting solution' while getting dissolved in a polar solvent like water. Dry batteries comprise the liquid electrolyte, whereas wet batteries paste electrolyte. 
Leaking 
Over time, the gut lining gets weakened. It lets toxins and harmful bacteria leak into the bloodstream of a cell. However, in dry cells, you won't see any chemicals leaking. On the contrary, the wet cells tend to get leaked for corrosive chemicals. 
Directional Usage          
Typically, you can use wet cell batteries in an upright direction. But anything other than this can only be an incident of acid spilling. 
However, you may feel free in regard to use dry cell batteries. You can operate them in any orientation without any fear of spilling!
Size 
Dry batteries are small in size, whereas wet batteries are large. Being larger means having the capacity to carry a significant amount of charge. Larger batteries aim to get set on larger stuff like aviation, electric utilities, and cellphone towers.
On the contrary, dry batteries are ideal for small usage such as toys, phones, laptops, etc., because they can carry a lesser charge.
Emission   
Wet cells can generate gases. These gases are harmful to health and the whole environment. And that's the reason the California state treats these batteries as hazardous waste after using them.
However, generally dry batteries do not emit any harmful gases. 
Ease of Handling
Dry batteries are easy to handle, but you will find wet cells challenging to handle comparatively. Allows us to tell you why. 
The dry cells contain electrolytes immobilized as a paste. Also, these types of batteries have sufficient moisture in them that permits current to flow. Else, as we mentioned above, you will get them flexible in operating. Thus, it results in easy handling, which is the opposite of wet cells. 
Weight
A dry battery is lighter than a wet battery. But hey, do you know how to weigh? The standard calculation for measuring a dry cell is as follows!
weight of filter + dried residue (mg) – weight of filter (mg)) x 1000 ÷ sample volume (ml) to get dry cell weight (mg /L)
And to measure dry cells, you have to pull through all the liquid from them. For this, you need to rinse the reservoir and drag out any paste adhering to the glassware. 
Manufacture 
You might be thinking of forming up a battery manufacturing company. Then you must know wet cells are easy to manufacture. On the contrary, you will find dry cell manufacturing comparatively challenging. 
Maintenance       
When using a wet battery, you must periodically check its electrolyte level. It needs strict maintenance. However, you don't need to be regular in maintaining dry cells. This type of battery lets you spend time on necessary things! 
Overcharging
Dry cells are not capable of getting overcharged. On the contrary, wet cells can superbly withstand overcharging. And that's the reason you will discover its usage in large-scale facilities like electric utilities or cellphone towers. 
Resistance to Cold Weather  
Suppose you are a resident of a cold country. Them you don't need to worry at all due to the weather! Dry cells have more excellent resistance to cold weather. Unfortunately, you will have wet cells with lesser resistance to such weather. 
Cost
You will find wet batteries quite affordable compared to dry batteries wherever you are. Then why are dry cells a bit expensive? 
Well, since these batteries can provide you with better benefits like higher resistance to temperature, free from permanent damage, etc, they make you pay more. 
Characteristics
Carl Gassner invented the dry cell battery in 1887. This battery is a fantastic combination of zinc and carbon. 
An electrolyte paste covers its metal electrode or graphite rod within a metal container. Here in this cell, the electricity-generating reduction reaction usually occurs in a paste consisting of ammonium chloride (NH4Cl) and manganese dioxide (MnO2). Dry cells can be both- primary and secondary cells.
On the opposite, wet cell batteries produce energy from a pair of electrodes plus a liquid electrolyte solution. Most modern cars use this type of battery to start the engine. It consists of lead plates in a solution of sulfuric acid. Here in this technology, a sheet of insulation segregates the negative electrode from the positive electrode.
To Sum Up 
It was an endeavor to let you know the differences in detail. Now you know the contrast in terms of electrolyte, leaking, manufacture, emission, ease of handling, overcharging, cost, directional usage, weight, and characteristics in detail. Hopefully, you will feel confident to decipher from now on. And this comparison will benefit you in the long run. Have a good day!