Alkaline Battery vs NiMH- what do you think this versus denote? Are we going to arrange a fight? 
Kind of that!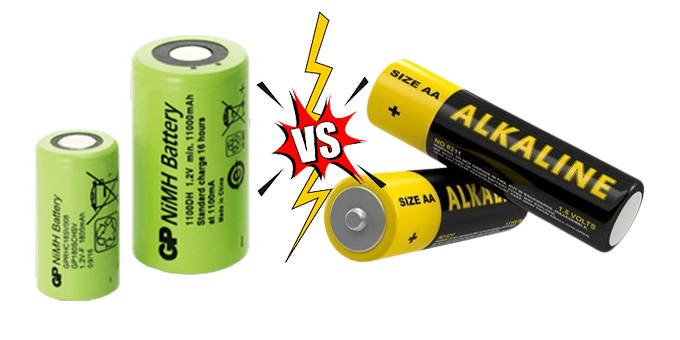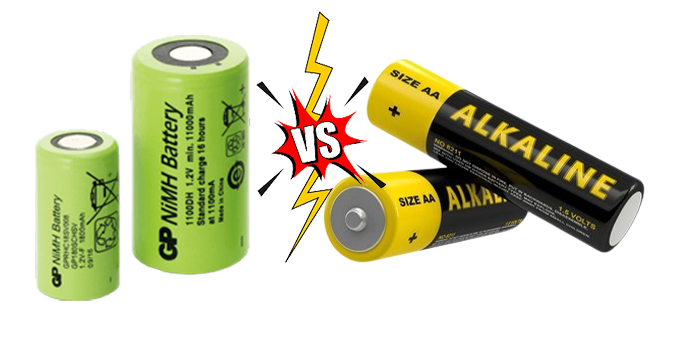 The fact is, it is going to be a comparative discussion. And at the end of the day, you will benefit from it. You will be able to decipher when to choose rechargeable over disposable batteries or disposable batteries over rechargeable batteries.  
Then how about deep diving to get it in detail? 
Alkaline Battery vs NiMH
No products found.
The world market is full of alkaline batteries and NiMH batteries. Each of them has merits and demerits. Unless you compare, you will remain in darkness. So let us delve into the matter. Here we will be comparing based on a few points of view. 
Power
Let us start with the talk of power. Did you know the AA alkaline batteries do produce 1.5 volts electrical charge at a rate of 2,400 milli-amp-hours? For example, with this energy, you can pour a 1.5-oz. cup of coffee 2,400 times in one hour! Despite not being rechargeable, most alkaline batteries possess a slow discharge rate. 
On the other hand, being a rechargeable battery, NiMH features a 25 percent discharge rate per month. Such a battery can produce 1.2 volts with a rate of up to 2,900 mAh. 
You will see the difference in power alkaline, and NiMh is subtle. While NiMH is apt for high power devices like cars, computers, alkaline batteries are suitable for low power devices. 
Longevity
Generally, alkaline batteries can survive better due to their sturdy materials. These batteries last for around 5-10 years, provided that you have to store them in a room. And for not being a rechargeable battery, there is no cycle life for alkaline. Moreover, it depends on the brand of alkaline battery you purchase! So it would help best if you opted for a reliable brand to utilize for around 10 years. Below we will be talking about its brands as well! 
On the contrary, the life cycle for NiMH batteries is 700-1,000 on average. The shelf life of this sort of battery is up to five years. Generally, it is 3 to 5 years. The NiMH batteries contain top-notch capacity. The recharging capability allows them to be equivalent to hundreds of alkaline batteries in the entire service over their lifetime. 
Usage or Applications 
You will be excited to know that alkaline batteries provide more energy than zinc batteries. Hence it will be wise to use them in devices like – 
Toys 
Game controllers 
Toothbrushes 
Also, if you want to be pleased with low-drain applications, you may go for alkaline batteries. As a year-old body in the battery market, we recommend this. You will enjoy its low replacement rate. Such usage includes – 
Flashlights
Portable radios
Alarm clocks,
Remote controls 
Tape/ CD players 
Clocks 
That means this type of battery is a super fit for devices that require continuous use yet do not consume a lot of power. Likewise, these batteries last in the long run in such a device. 
However, if you have high power consumption devices, it would help to go for NiMH batteries. Moreover, the devices using NiCd can adopt NiMH as their power source for sure! The reason is, NiMh batteries contain the same voltage value. You will see a wide range of applications of this. So you may feel free to apply this type of battery in various applications such as –  
Cellular phones
Computers
Camcorders
Shavers
Transceivers
Different digital cameras
Handheld GPS units
PDAs, and 
Anything that has backlighting on a screen! 
Power Consumption
This is another criteria on which you can sharpen your concept. In a regular and even manner, alkaline batteries lose their charge. The more you use this battery, the more you lose voltage and amperage. Gradually, it becomes slower and then expires. 
On the contrary, NiMH batteries are capable of keeping the voltage and amperage at the same level! Unless it is around zero in charge, it works. Therefore you will find it more dependable in terms of power consumption. 
Price
Depending on the state of the economy, the price may vary. Therefore we will give you an average price notion. You can expect to get NiMH batteries at $250–$1500/kWh. And the total price of the battery pack for a hybrid ranges between $600 and $3000 per vehicle. This range is applicable to any part of the world. Also, let us share some package-based price notions with you. If you buy 1 to 5 NiMH batteries at a time, you will have to pay around $8.00 per item. If it is between 6-23, then $7.00, and if it is 24 or more, then $6.00 per item.
And you will find alkaline batteries quite affordable than other types of batteries. The price varies depending on the battery brand. An alkaline battery costs around $10 to $12. Else, if you purchase 2 to 9 items at a time, you will need to pay $11, and if the number is between 10 to 49, you will have to pay only $10 per item! 
No products found.
Eco-Friendliness 
Alkaline batteries are not detrimental to the environment. The elements they comprise are naturally found there on our earth. Do you know what they are? Well, they are – 
Zinc
Cadmium
Nickel
Lithium
Manganese, and
Copper
You will find NiMH batteries more eco-friend. They do not comprise any heavy toxic metals. At the same the existing materials are recyclable. These rechargeable batteries are far better than disposable batteries. However, you have to use them to their utmost capacity, okay! 
Market Growth
Did you know during 2010, the world market for the alkaline battery was worth $6.5 billion to $7 billion? Not merely that, it is going to be enhanced at a compound annual growth rate of 3-4%! On the contrary, the market of nickel-metal hydride batteries is predicted to be $1.95 billion in 2025 at a CAGR of 1%. And it was $0.48 billion in 2019.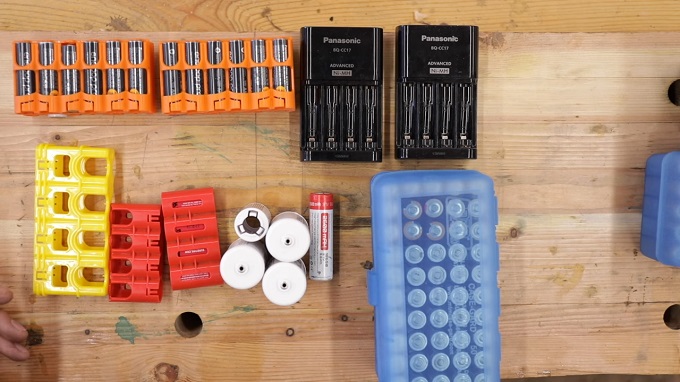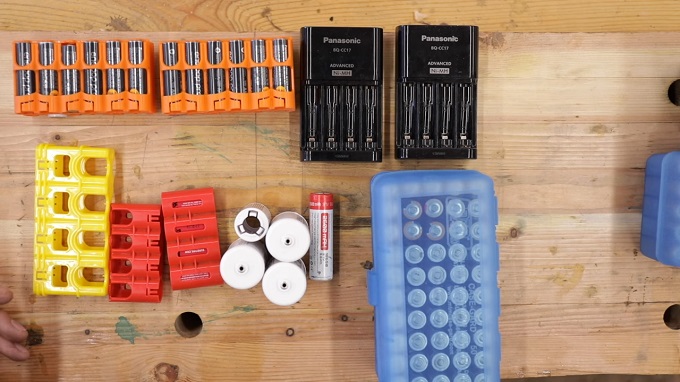 Popular Brands
In the US market, the top three brands for alkaline batteries are – 
Duracell
Energizer, and 
Rayovac
Apart from that, we would like to mention some other brands that are some of the best. These are as follows: 
Energizer 
Amazon
PowerAdd
Varta
And in 2021, top brands for NiMH batteries are 
Amazon
Panasonic
Duracell
Anker
Duracell 
Rayovac
Allmax
Advantages
At first, we will focus on the core benefits of using NiMH batteries,  then that of alkaline batteries. Fair enough?
NiMH
Relatively 30 – 40 % higher capacity than a standard Ni-Cd battery 
Better in the case of memory effect
Superbly portable 
Contain merely some mild toxins 
Potential for higher energy densities
Rarely dependent on periodic exercise cycles 
Hassle-free storage
Nicely recyclable 
Alkaline 
Good fit for potting
Produced in a series to gain higher voltage arrays
Come in a variety of configurations
Least leakage risk
Available in standard size 
Free from serious health risks
To Sum Up
Hopefully, the discussion Alkaline Battery vs NiMH will suffice for you. So from now on, no more confusion! At least in the case of choosing between these two, you can beautifully decide what to choose and what not. Or, apart from a need for contrast, this post is helpful for a good understanding of NiMH batteries and Alkaline batteries. Agree? 
Hope so! 
Have a good day!