Can lithium batteries catch fire?! It might sound uncommon to some people, but yes, even these batteries can catch fire. We can remember the 2017 incidents. There were cases of smartphones catching fire which became headlines in many newspapers. Unless you take necessary safety precautions, chances are very high you may face such an incident.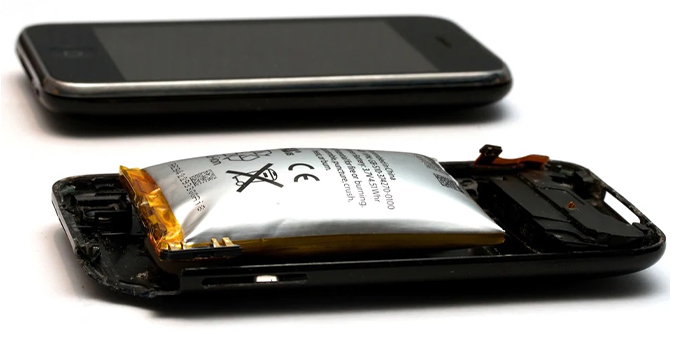 Then how to put out a lithium battery fire that should be our question, agree? But before that, we had better ask- why do these batteries catch fire or what are the reasons behind it. You must have been curious to know that as I was. Okay, then let's start with that. Afterward, we will get into the core topic. 
Why Do Lithium-Ion Batteries Catch Fire?
The lithium-ion battery may fail to function or get damaged. And consequently, it can cause a fire in your cell phone or computer. Basically, we have seen two types of lithium-ion battery failure. These are –
A fault within the manufacturing process and that gets evident when discovered and 
A failure, as a consequence of a stressful event like an electrical short, simple fluke, or vibration 
The second one is hard to discover but a snag might occur due to any of the reasons. Lithium ion batteries release a flammable vapor that is toxic. It can create its own fuel. And fire from such batteries is far more dangerous than typical old batteries. So it would help best to be more cautious and strategic while extinguishing. Though you will need special fire suppressants as a rule of thumb, the style of extinguishment should vary depending on the location and size of a fire. 
Essential Things Concerning Lithium Battery 
There are some essential things you better learn about lithium-ion batteries. These are as follows! 
These batteries are a "Class B" flammable liquid. So you will need dry chemical extinguishers to extinguish.
With a view to skipping a chemical reaction that could cause fire, there is no alternative to taking necessary preventative measures. 
There must be a 'fire suppression system' while transporting lithium batteries. If they are in a place, there should be a protocol to put out any fire. 
While shipping particularly through an airplane or ship, lithium batteries require protective packaging as well as the appropriate HAZMAT labels. 
How to Put out a Lithium Battery Fire
Now let's see how to extinguish the fire when a Li-ion battery causes trouble by getting fired. Are you ready? 
Okay, let's go! 
Learning the Basics to Apply 
Earlier, we talked about damage. Then how it causes a fire? The fact is, such damage creates a rupture in the membrane. It isolates the chemicals inside that cause a reaction. And it results in a dangerous, self-perpetuating fire. It is indeed quite serious since a thermal runaway causes fire and explosion. 
Since the lithium ion battery fires are Class B category flammable liquid fires, you will find a type ABC or BC fire extinguisher worthwhile against this blaze. This type of fire extinguisher bars the chemical reaction and stops the fire.
You can depend on Class D Fire extinguishers as well. These are also known as dry powder extinguishers. Such an agent sets apart the fuel from the oxygen element or detaches the heating element of the fire triangle. Please note that these are applicable to combustible metal fires merely! 
The fire extinguishers are of different formats. Do you want to know why dry chemicals are the most effective in this regard? It is because the extinguisher can horizontally launch the dry powder maximum of 20 feet! You can rely on carbon dioxide (CO2) and foam fire retardants too, but in range, they are half of the dry chemicals. And if you are looking for an eco-friendly extinguisher, you may opt for clean agent extinguishers. 
Apart from these, watering is another effective means to put out a lithium-ion battery fire. Suppose a Class B or Class D is not there to douse the lithium-metal fire. Then instead of getting worried, you had better go watering. It directly interacts with lithium and prevents the fire from spreading. 
Preventing the Spreading of Fire
A lithium battery in fire is dire. It can self-perpetuate and go immensely high even in a closed environment! So it would help best if you prevented the spreading of the fire as soon as possible. Your portion of storing these batteries must have metal fire doors as well as an overhead fire suppression system. Besides, to resist the spread of smoke and fire, you need to shut down the ventilation systems to bar fresh oxygen. 
Separate Consideration for Warehouse, Airplane, and Crago 
Almost all the top-notch warehouses have an ultra-modern fire suppression system. It can drop fire retardants from overhead. Interestingly, instead of dry chemical powder such a system use foam. If you have a lithium battery business, you may think of it. In that case, warehouses will need hazmat labels to mark the batteries. This labeling shall ensure the best way of storage and protection. 
Let's say you have set your goods for an air shipment. Meanwhile, those goods come under lithium fire. Then what to do? 
No worries, airplane cargo comprises a built-in fire suppression system. It will automatically trigger if any excessive heat is there. Else, you will find the crew members well-trained at using fire extinguishers to put out lithium battery fires from your laptop or cell phones. Even if it doesn't suffice, you should let the pilots perform their duty. If the situation is out of control, they will immediately land the plane and call specialized fire trucks. 
Now imagine, you are in a sea cargo along with your goods. Remember, you have to be more careful as previous records are catastrophic. Yet, you will find enough precautions to tackle such a situation. A cargo ship's fire suppression system uses water or CO₂ to spray. Whether you are in a passenger ship or another, the International Maritime Organization has a set of rules. More or less, every cargo ship follows them.
No matter if you choose an airplane or cargo ship, you will need hazmat shipping labels for lithium-ion batteries. Apart from that, you have to mention in your import or export paper about carrying lithium-ion batteries. Unless you do that, you will have to suffer if there is a fire accidentally. 
Regarding Hazmat Requirements
HAZMAT means hazardous materials. Lithium-ion batteries over 100Wh are considered HAZMAT. But if you are about to ship multiple types of batteries, you will have to abide by the HAZMAT law. For example, Hazmat Class 9 rules are for those who ship miscellaneous hazardous items or two or more batteries over 100Wh. Else, if you ship eight or more batteries over 20Wh, you will have to maintain the rules, no matter if you are a distributor or warehouse owner.
One more thing you must note. In shipping, professionals treat lithium ion batteries are a hazard. And it's about their safety. Remember, having your batteries well-padded is urgent. Alternatively, you may prioritize having them foamed, bubble wrapped, or any other typical packaging. We recommend custom-size cardboard boxes for this. And you will need crush resistance for your hazmat-approved battery boxes.
Taking Preventive Measures 
Prevention is better than anything. If you are a producer, then it would be wise to prevent batteries from overheating. And it helps best if you don't ever let your defective batteries get mixed with the normal ones. True that it's not possible for the distributors. In that case, you better be extra careful about the relevant information provided by the respective manufacturer or agency. 
When you consider your lithium ion batteries as fragile or hazardous items, you know that damage is the most potential reason for battery fires. A battery's permeable membrane sets apart chemicals. It absorbs minor bumps but cannot endure far-reaching damage during shipment. So again, securing preventive methods is best. 
Thinking Critically 
Let's talk about limitations too. Whatever preventative measures you take, you are always at risk with your lithium-ion batteries. These can anytime fall victim to damage from heat or physical pressure. You will still face it challenging applying standard BC and ABC fire extinguishers when it starts spreading the fire.
To Sum Up 
However, if you spot out the batteries rightly through the proper suppression method, you can avoid such damage. You can easily ensure safety by means of crush resistance, padding, proper packaging, and so on. 
Lithium batteries are so much handy, no doubt. If the engineering lacks, you cannot blame the battery. You can rely on the devices with lithium ion batteries. And even if it catches fire due to any of the failures as we mentioned above, you know how to put out a lithium battery. So no worries anymore. Have a good day!