Despite having some similarities, Li-ion and NiCd batteries differ in some respects. And the click says that you want to know the differences in detail. That's great!
You might be a new or an experienced person in the energy industry, your needs may be small or big we don't know. Whatever it is, this post will please you for sure. It comprises the best contrast including the latest information to feed your head.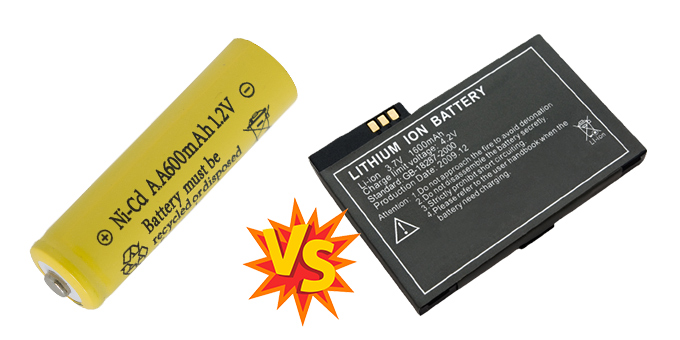 NiCd Battery vs Lithium Ion
NiCad (Nickel Cadmium) batteries ruled over the market for years. However, in recent years, they are getting challenged by newer Lithium-Ion batteries. Why? Well, we cannot tell you that in brief. It indeed requires a vivid discussion.
To make the discussion or contrast evident, here, we shall dwell on various respects i.e. their history, electrochemistry, manufacturing cost, environmental impact, applications, and so on. Let's get them downright!
General Concept
Let us start with the general concept. NiCd batteries are also known as Nickel-cadmium, NiCad, or Ni-Cd batteries.
It is one kind of rechargeable battery. Then what does it comprise as electrodes? Well, it comprises nickel oxide hydroxide and metallic cadmium as electrodes. You will see a wide range of sizes and capacities of this type of battery.
On the other side, lithium-ion batteries are rechargeable. It features metallic lithium as an anode and high charge density. These batteries are also called lithium-metal batteries. Usually, its positive electrode is a metal oxide, and the negative one is made from carbon.
History
Swedish scientist Waldemar Jungner is the inventor of the NiCd or nicad battery. It was 1899. Its production started in 1946 in the United States of America.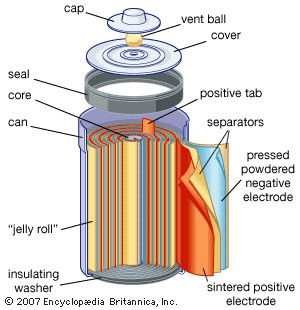 Image Source: Britannica 
And the foundation of lithium was built in the 1970s by British chemist M. Stanley Whittingham. Then after getting developed by the Japanese chemist Akira Yoshino in 1985, we saw the first commercial lithium-ion battery in 1991.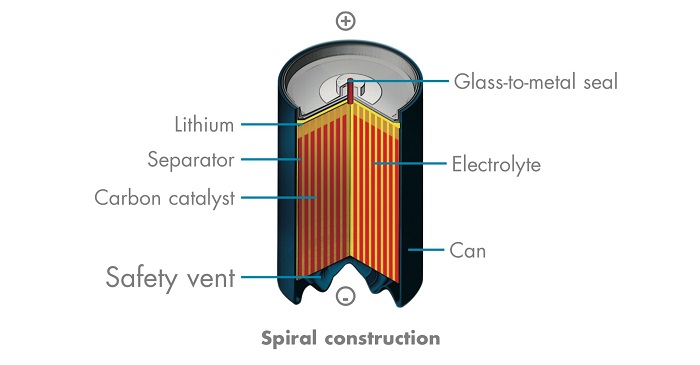 Image: Lithium Battery, Source: Saft Batteries
Electrochemistry
For the negative terminal, the NiCd battery uses cadmium. On the other hand, this battery uses nickel oxyhydroxide for the positive terminal or cathode.
And as an electrolyte, it uses aqueous potassium hydroxide.
For the negative terminal or anode, the li-ion battery uses graphite, and for the positive terminal, it uses lithium oxide. And as an electrolyte, it uses lithium salt.
Interestingly, these ions walk from the negative side to the positive side at the time of discharge and get back while charging. Instead of metallic lithium as the electrode material, these batteries use an intercalated lithium compound.
Manufacturing Cost
The manufacturing cost of a lithium-ion battery is approximately 40 percent more than that of a nicad battery. The lithium ion batteries require additional protection to monitor the voltage and current.
Sizes and Types
Li-ion battery is smaller, more portable than nicad battery because of being lighter. You will have different sizes and shapes in 4 sorts of formats. These are as follows!
Large Cylindrical: These lithium ion batteries have a solid body and large threaded terminals.
Small Cylindrical: This type of lithium battery consists of a solid body without terminals. Example: laptop batteries.
Pouch: This sort of battery comprises a soft, flat body. You will find its usage on cell phones. Since it has no case, it possesses the highest energy density. Although when its state-of-charge (SOC) level is high, it needs some external type of containment.
Prismatic: Such a lithium battery usually contains a semi-hard plastic case with large threaded terminals. You will see its application in vehicles' traction packs.
On the contrary, there are two kinds of Nicad batteries:
You will have these batteries available from AAA to D. Apart from the single cells, you will get up to 300 cells out there in the market. These batteries are a fabulous fit for automotive and heavy-duty industrial usage. And the cell number is below 18 for portable applications.
Voltage
Per cell, the nominal voltage of the lithium-ion batteries is 3.7. However, a battery pack can contain any voltage possible in 3.7-volt steps by using the cells in series.
On the contrary, the nominal voltage of the NiCd cells is 1.2. Compared to alkaline and zinc-carbon primary cells, it is lower than 1.5V. And that's the reason you won't find them as a replacement for them in all usage.
Running Time
The type of battery determines the running time for cordless tools. "Running time" is the amount of work in which a cordless tool can perform void of getting recharged. Some experts measure it by the number of holes a cordless tool can cut before being replugged for charging.
Anyway, in this criteria, lithium batteries are better than NiCd batteries.
Shelf Life
Generally, a li ion battery lasts around two years, and then it will be no more. It is approximately equal to 1,200 cycles. However, it has an excellent quality. It won't fail to perform during its entire lifetime!
And usually, the shelf life for nickel-cadmium batteries is three years. It can carry up to 2,000 charges and discharge cycles. Evidently, it shall serve you more than a lithium-ion battery.
Operation and Performance
You will see a "memory effect" issue with NiCd batteries when you discharge and recharge them to the same state several times. But no worries, it doesn't affect the battery capacity alarmingly. Some devices can, and some devices cannot endure the period of decreased voltage.
Besides, repeated overcharging causes a "voltage depression" or "lazy battery effect". In such a situation, a NiCd battery pretends to be fully charged and gets discharged shortly. Even if the battery keeps its half capacity, it can sustain for 1000 plus cycles.
In addition to that, reverse charging would be a problem. It is also liable for reducing longevity. Also, it causes hydrogen gas that could be a danger. Else, NiCad batteries beget dendrites when they lack regular use. These get into the separator membrane between electrodes and result in internal short circuits and premature failure.
On the contrary, you require minimum maintenance for lithium-ion batteries. Devoid of creating a "memory effect," they can be recharged. They can operate in a wider temperature range too! When we compare, we see its self-discharge is less than half. And thus, it becomes a good fit for modern fuel gauge applications.
However, li ion batteries are fragile. They need a special protection circuit for the sake of safe operation. These are the cons of this battery, no doubt. Additionally, such a circuit minimizes the peak voltage of every cell while charging. Also, it bars the cell voltage from dropping too low on discharge. It compels you to monitor the cell temperature to resist temperature issues.
Applications
NiCad battery– you can either use it individually or as a battery pack. You can use its cells in different needs such as –
flashlights
cameras
drills
camcorders
toys
portable electronics like computers, etc.
Apart from these, you can use this battery in remote-controlled electric model airplanes, boats, cars, cordless power tools, and so on. That means the NiCd battery is an apt choice where you require a high surge power, plus a comparatively low internal resistance. Moreover, you can employ its bigger flooded cells in some crucial usage such as –
aircraft starting batteries
electric vehicles and
standby power
The Li-ion batteries are the 'most prolific battery technology' of today. It is going to dominate the upcoming days too. You can apply this battery for different necessary needs such as –
Laptops
USB memory sticks
Cell phones
Electric toothbrushes
Pens
Tablets
Hoverboards
Scooters
E-Bikes
Likewise, you can use these batteries for your devices like cigars or pipes. No matter the amount of application, you may feel free as it has zero memory effect and a slow loss of charge while out of service. And that's why it became widely popular for consumer electronics. At the same time, there is a growing demand for this battery in –
military
electric vehicle, and
aerospace applications
Price
Let us mention the cost per battery. This would be an average notion. Generally, li-on batteries cost more than NiCd batteries. Where a NiCd battery is $50, the li-ion battery is $100. And when the NiCd's cost per KWh is $7, the Li ion's is around $25.
Environmental Impact
No worries about the lithium battery waste! It is non-hazardous and therefore eco-friendly. On the contrary, NiCad batteries generally have cadmium between 6% to 18%. As a result, they leave a heavy toxic metal. Experts have to give special effort during battery disposal.
Popular Brands
All the brands are not reliable. Moreover, they shine or fall behind over time. Since we have been in the power and energy market for years, it's our duty to suggest to you the best brands. Here we go for the best NiCd battery brands for 2021 below!
Scott's Emergency Lighting & Power Generation, Inc.
Motion Industries, Inc.
HBL America, Inc.
Fastenal
New Pig
Airmatic
EVS Supply
ProTechnologies, Inc.
Exponential Power
Vaz Medical
Rockleigh Industries, Inc.
SAE Manufacturing Specialties Corp
SRI-Supplies For Racing & Industry, LLC
Carson's Nut, Bolt & Tool Co., Inc.
Power Resources, Inc.
And the most notable brands for lithium-ion batteries for 2021 are as follows!
Tesla
Panasonic
Grepow
eCobalt Solutions
Toshiba
LG
Samsung SDI
CATL
BYD
Johnson Controls
LG Chem
A123 Systems
The Final Verdict
Now you know the differences between NiCd batteries and Lithium-ion in terms of their history, electrochemistry, manufacturing cost, environmental impact, applications, shelf life, operation, and performance, voltage, size, and types, price, running time as well as popular brands. Hopefully, you have secured a robust notion by now. And yes, this post will benefit you in the long run.
Stay good, stay safe.