A lithium-ion (Li-ion) battery is a high-tech battery technology that utilizes lithium as its chemical compound or electrolyte. It gets its name from this core material (Lithium). In recent years, lithium batteries have become increasingly popular. If you observe carefully you will find them in every electrical component, including smartwatches, wireless headphones, smartphones, laptops, and even in your cars.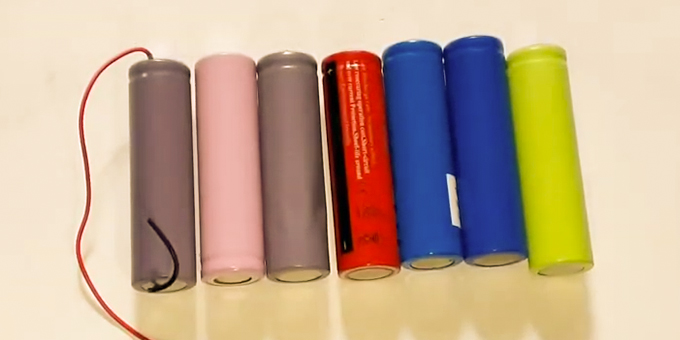 As lithium-ion batteries are so popular and widely utilized in several electronic devices, these batteries are mass-produced with different electrolytes. In this post, I'll talk about the types of lithium-ion batteries depending on their chemical components, forms, and sizes.
Lithium-Ion Battery Types
If you do a little research, you'll discover that there are a variety of lithium-ion batteries available on the market. Different lithium batteries contain different features including power providing rate, energy, safety system, life duration, price, and efficiency.
Though you can classify them based on their size and forms, their main difference is in their materials.
Lithium-Ion Battery Depending On Chemical Material
There are four varieties of lithium batteries available, depending on the chemical component. 
Lithium-ion Cobalt Oxide (LiCoO2, LCO) Battery
(LiMn2O4, LMO) Battery, i.e. Lithium-ion Manganese Oxide b
Lithium-ion Nickel (NCA, NMC) Battery
And, Lithium-ion Iron Phosphate (LiFePO4, LFP) Battery
Lithium-Ion Cobalt Oxide Battery
Lithium Cobalt Oxide Battery is also known as LiCoO2 battery. Lithium carbonate and cobalt oxide are used as the electrolyte in this battery where carbon works as the anode and cobalt oxide as the cathode. When you use an electronic gadget, such as a smartphone, lithium ions travel from the anode to the cathode, generating energy to power the device.
LiCoO2 batteries are well-known across the world for their high energy density and safety mechanism. As a result, this sort of battery is found in a wide range of consumer electronic devices, like smartphones, smartwatches, laptops, and cameras.
Features of LiCoO2 Battery
The minimum voltage of this battery is 3.60V.
The normal operating voltage ranges from 3.0 to 4.2 V.
The average energy capacity is 150 to 200 Wh/kg.
The battery may last around 500 to 1000 charge cycles.
Lithium-Ion Manganese Oxide Battery
Lithium manganese oxide battery was invented in the 1980s. It was specially designed with the intention of high current flow and for providing quick charging as well. It uses lithium manganese oxide or LiMn2O4 as the cathode material.
As lithium-ion manganese oxide batteries are famous for their high voltage and high flow of current you can use them in a variety of power tools, for example, air compressors, grinding machines, hair trimmers, jackhammers, lawnmowers, and even in motorcycles.
Features Of LiMn2O4 Battery
This battery has a nominal voltage of 3.70V with a capacity of 100 to 150Wh/kg.
It has a lifespan of roughly 400 to 750 charge cycles.
Lithium-ion Nickel Battery
This battery is known as a lithium-ion ternary battery among users all over the world. Nickel is used as the chemical component or electrolyte in this battery. We know that nickel is a very toxic material. Nickel is a poisonous metal, so lithium-ion nickel batteries are rarely used in our daily lives as consumer products.
Instead of being used in consumer products, they are usually used in the automobile sector such as on motorcycles, electric cars, and trucks.
 Features Of NMC Battery
NMc batteries are universally recognized for their high energy density and long life cycle.
This sort of battery has a top-of-the-line safety mechanism.
Lithium-ion Iron Phosphate Battery
Lithium iron phosphate or LiFePO4 batteries use phosphate as their cathode material. The internal resistance of this battery is low, and the current capacity is high. Because of the low resistance property this battery is capable of providing a high current rating, and good thermal stability. It also provides a long life cycle.
These batteries are frequently used within electric bikes and other products that need a long lifetime.
 Features Of LiFePO4 Battery
This battery has a low cell voltage of around 3.3V.
Its self-discharge rate is slightly higher than other lithium-ion batteries.
Lithium-Ion Battery Depending On Size
At this time, there are only two types of lithium-ion batteries available depending on their structures.
Cylindrical Battery.
Rectangular Battery.
The Cylindrical Battery
This battery has a cylindrical shape. The anode and cathode remain on opposite sides of the cylindrical tube. This is one of the most used lithium-ion batteries, especially used in Japan and South Korea-based electric devices.
Cylindrical lithium batteries come in several models, such as Li-14650, Li-18650, and Li-26650.
The Rectangular Battery
The rectangular lithium-ion battery is generally known as an aluminum or steel shell battery. The structure of this battery is fairly simple. Its body is made of strong stainless steel, and it has inbuilt sensors and an explosion-proof safety mechanism.
In recent years, rectangular batteries have mostly been used as a power source for smartphones and electric cars.  
Frequently Asked Question(FAQs)
Q: Which Is the Best Lithium-Ion Battery?
Answer: The best lithium-ion battery of all time is a lithium cobalt oxide battery (LiCoO2). They are well known for their high energy density and automatic safety mechanism system.
Q: Is It True That All Types of Lithium-Ion Batteries Are the Same? 
Answer: No it's not true. Though all lithium batteries use lithium as their electrolyte they are not the same. They have different variations of anodes, cathodes, storage arrangements, and chemical components.
Conclusion
If you read this article carefully, you already know the two basic facts related to all types of lithium batteries. The first is that all forms of lithium batteries contain lithium as their primary chemical component, and the second is that all lithium-ion batteries are lightweight, small, and capable of generating large amounts of energy. 
Not to mention, the second feature brings a revolution in almost every sector of technology. As a result, several types of lithium-ion batteries are produced on a large scale to meet market demand. 
With this comprehensive article, I explain all about lithium-ion batteries and their features based on intense research and analysis. It is my hope that, after you read this post, you will be able to distinguish between the various types of lithium-ion batteries.