Remember the time you pressed your key FOB and the door didn't open? Or did the car didn't unlock? An unpleasant situation everyone has come across. And it's almost a nightmare if you don't have spares in your drawers.
Most key FOBs use CR2032 batteries. Which many other household staff uses. They are reliable, powerful, and small. And as there is no leakage from the batteries, the device damage is also low. But which one do you get for yourself?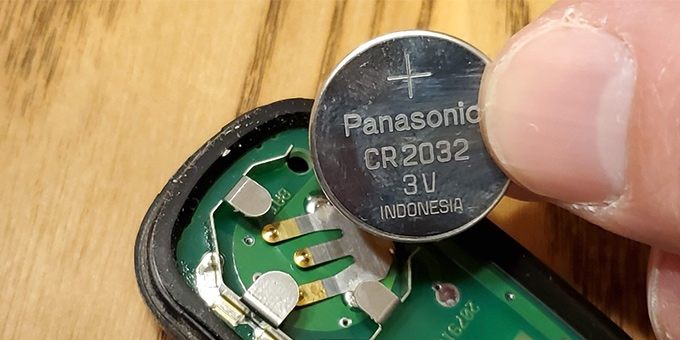 After going through the market, we have found the best 2032 battery for a key fob. They come in different combos, power, and got rechargeable options too. 
Best 2032 Battery for Key Fob, Heart Monitor, Oximeter, Calculators, Candles, and Garage Doors
Here are the best 2032 batteries that you need to check out for your devices. 
1. Tenergy 3V CR2032 Batteries, Lithium Button Coin Cell 2032 Battery, Compatible with AirTag, Key FOBs, calculators, Coin counters, Watches, Heart Rate Monitors, glucometer, and More 
Everyone in their lifetime has gone by the name of Tenergy one way or another. They are known for their batteries. And boy do they perform and last.
That is why we will start with the magnificent Tenergy CR2032 battery. It is a 3V Lithium button battery. This will fit any of your household's cameras, sensors, calculators, heart monitors, and obviously key FOBs.
We know how it feels when you press your key FOB and it doesn't unlock the door. One of the mood stoppers of them all. With a Tenergy CR2032 battery inside your key FOB, there will be no miss. 
It can perform under any weather condition. Be it a -4 degree F or 140 degrees up the scale. The battery will perform to its fullest.
Where other batteries fail to perform, the Tenergy battery will keep pushing onwards.
Talking about pushing onwards, it comes with a 10-year shelf life. Nobody wants to go to the grocery just for one little coin battery. Even if they do, this deal will change their mind. But remember to place them in a dry secure place.
You get a pack of 10 batteries in this package. And that for this price. Which is a steal at this point. 
The batteries are leak-proof and don't contain mercury. So no harm to your device and environment. No more worry about the battery acid leaking after it is dead. And when it is dead, you will have spares to pop one back in. You are back in service.
Check the compatibility of your device before buying them. If they require a BR2032, LM2032, 5003LC, DL2032, CR2032, KT-CR2032 battery, then you can use this without any worry.
Pros:
Powerful battery.
Long-lasting.
Works in a lot of household devices.
Cons:
Sometimes batteries come discharged out of the pack.
2. Bonai CR2032 Battery 3V Lithium Battery 2032 Coin Cell Batteries 3 Volt Button Battery Long Lasting for Car Remote Key Fob 
Looking for value for your money on CR2032 batteries? Look no more. Because the Bonai CR2032 batteries are here to make your dream come true.
With of pack of 30 batteries, you will need more devices in your house to power them up. Not only that, but they also come with a 5-year shelf life.
The 3-volt button batteries can power up any of your heart monitor, motion sensor, car key, garage remote, lightings, and especially key FOBs. No more running out of power when you press the button.
Although they come in a bunch, you might wonder about their performance. But they are a mighty army of power-filled batteries. Every one of them will do great under any device.
And on top of that, they are designed as leak-proof and contain no harmful mercury. So when they are done with their charge, you can throw them in the trash can. 
They are compatible with a lot of devices. And some may call them KL2032, DJ2032, E-CR2032, KECR2032, GPCR2032, KT-CR2032, CR2032BP, CR2032L, and many other names. All of them mean the same thing. This battery is compatible if your device requires any of these models.
If you want to be extra sure, you can also check your device's battery dimensions and compare them with this one. 
The batteries also have a 1-year warranty. So if there is any issue with them, you can contact customer support.
Pros:
Amazing battery.
Performs great out of the package.
Lasts longer.
1-year warranty and 5-year shelf life.
Cons:
3. CT-ENERGY Rechargeable 2032 Batteries 3.6V Lithium-Ion Button Coin Cell Batteries of Key Fob
Any battery that has a rechargeable option, is good for anyone. So if you are looking for some rechargeable alternative to your CR2032 batteries, CT-ENERGYs rechargeable CR2032 is just for you.
Like any other CR2032 battery out there, this one also works like one. The batteries come in a combo of 6, which is nice. You get to put one in your device and one in the charger. No more throwing them in the bin.
The batteries can be used in any blood sugar monitor, heart monitor, lights, sensors, and key FOBs. You can get a bunch of these and go worry-free for a very long time.
They also have a shelf life of 2 years. If you store them on a dry and protected surface, they won't go bad. Which is a bang for your buck because they are rechargeable.
They won't leak and spill the acid everywhere damaging the batteries, which makes them very much friendly to use. Some CR2032 batteries tend to do that. And it's a mess no one wants to deal with.
One thing you have to keep in mind is the nominal capacity of these batteries. They come at 40mAh. Which is a bit of a turn-off. Because traditional non-rechargeable ones come at 210mAh. A lot more power.
But thinking about the recharge cycle, they make up for that. You get to have 500 times recharge cycles. And you have spares to fill its place.
It is really ideal for key FOBs. But not for lighting systems that are in constant use.
Pros:
Rechargeable option.
500 times recharge cycle.
Works on a lot of devices.
2-year shelf life.
Cons:
Low power capacity.
Not for constant power usage devices like lighting systems or sensors.
A bit on the expensive side.
Frequently Asked Questions
What is the standard dimension of a CR2032 battery?
The dimension of a CR2032 battery is 20mm diameter x 3.2mm thickness.
What other names does a CR2032 battery have?
A CR2032 battery can be called an RFA-35, LF1/2V,2032, 5004LC, EA2032C, AWI L14, BR2032, BR2332, CR2032, DL2032, ECR2032, L2032, LM2032, and a few more.
How long does a CR2032 battery last?
On constant usage, a CR2032 battery may last from weeks to months. If it is stored correctly and not in use, it can last somewhere near 10 years.
Is a rechargeable CR2032 battery better than a non-rechargeable one?
Yes, and no. When a rechargeable CR2032 is out of charge, you can charge them and use them again. Not in the case of a non-rechargeable one. The place the non-rechargeable ones are better is in the capacity. A non-rechargeable CR2032 comes with a 210mAh-240mAh capacity while a rechargeable one has 40mAh-100mAh. And rechargeable ones cost a lot more. 
Conclusion
There are a lot of CR2032 battery options for your key FOB. But the thing that counts most is their performance. If you are looking for powerful alternatives, then the Bonai CR2032 battery is great for your key FOB. It not only can power your key FOB for months, but you also get to use them in a lot of other power-hungry devices.
And if you are looking for a rechargeable one, then the CT-ENERGY Rechargeable 2032 will do you wonders. But keep in mind, the rechargeable ones don't have much capacity in them. You have to recharge them often. For devices that require a lot of juice, the rechargeable one is not a good option. But for a key FOB, it is perfect.