Batteries are generally made up of acid as the primary component. On the market, there are various types of batteries that use different kinds of acid. If these acids are released from the battery in any way, they can cause serious harm.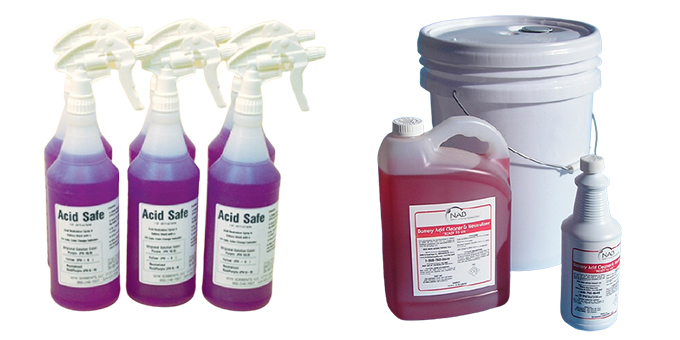 Additionally, an accident is never announced. Thus, you should be aware of what neutralizes battery acid if it leaks. In the same vein, we will present ins and outs about battery acids, the neutralization process, and so forth.
What is Battery Acid?
Battery acid is actually a powerful acid used chemically in the production of batteries. For common household alkaline batteries, the battery acid refers to the alkaline and it is a chemical mixture of potassium hydroxide. If you look at the lead batteries, the battery acid here is sulfuric acid. Additionally, sulfuric acid is known to be an extremely dangerous chemical, requiring a different chemical cleanup process.
Getting a hold of battery acid (known as battery leakage) can be exceptionally hazardous, as it can burn you. Moreover, it may contaminate soil and cause damage to the device where the battery is used.
What is Battery Acid Neutralization?
You already know that there are mainly two types of battery acids, which are alkaline and sulfuric acid. However, these chemicals are harmful to both health and outside use. People don't use these chemicals for general purposes. To prevent the battery from harming people, manufacturers make batteries with battery acids inside. 
However, batteries can sometimes leak. In such a case, it is important to know how to neutralize batteries.
If you want to prevent yourself and your devices from chemical burns, you will have to remove or nullify the battery acid. Even when the battery becomes old, you may need to neutralize battery acid in that case too. 
The neutralization is actually the process of absorbing the acidity of the battery acid. Sometimes, people call it battery acid cleaning too. Whenever your battery has a leak and alkaline or sulfuric chemical is leaking from the battery, you need to neutralize the battery acid. Furthermore, if the dust of battery acids has accumulated on your battery, it may be necessary to neutralize the acid.
Elements for Battery Acid Neutralization
You need different elements to neutralize different types of battery acids. Already, we have discussed the two most commonly used batteries. Now. We will talk about their neutralizing elements.
In the case of an alkaline-made battery, you need a mild acid for neutralization. For example, you can use lemon juice or white vinegar for neutralizing the alkaline battery acid.
In the case of lead batteries, you need baking soda or soda ash mixed with water. Because sulfuric acid becomes neutralized when it mixes with the baking soda type chemical.
Battery Acid Neutralization Process
Now you know what neutralizes battery acid. Nevertheless, that is not all there is to it. If you want to neutralize the battery acid perfectly, you will need to follow a process. Here's how to do it:
1. Protect yourself
Ensure that you have provided your body with enough safety before you start the neutralization process. At the very least, wear gloves and a mask to protect your hands and face. Since battery leaks can cause skin and eye irritation. It can also damage internal organs such as the lungs.
In addition to that, as you will work with dangerous leaked batteries and acids, it will be best to work in a well-ventilated area with a breeze blowing through.
2. Identify the battery type
After wearing protective materials, you should check the battery type carefully. Because, you cannot use the wrong chemicals as it will create a dangerous condition instead of neutralizing the acid. If you are neutralizing a small battery, you can put it inside a transparent plastic bag and check the battery type. 
In the case of big batteries like car batteries or auto batteries, you can take them inside a thick plastic bag and then again put them inside another transparent plastic bag. After sealing the bag, you can check the battery type by seeing the label.
Generally, small batteries are made from alkaline, Ni-cadmium, and lithium. However, some small batteries and most large batteries are created from lead-acid. But, always remember that size and shape should not be the only identification process to get accurate information. Never forget to check the label carefully.
3. Check the cleaning cautions
All batteries are not the same in build materials and structure. So, you should also check whether the manufacturer allows applying chemicals to the battery or not. 
To check this, you can look at another side of the battery. Usually, the manufacturer mentions these cautions near the battery type, sometimes with art icons. Some batteries do not allow contact with water because of electrical reactions. Remember that wrong chemical treatment can result in a big explosion. 
4. Neutralize alkaline acid using a mild acid
Create a mixture of white vinegar or lemon juice and use a cotton swab to mix it. Then, dip the cotton into the mixture and swap the spill on the battery leaks. Simply, it will take care of the basic leaks. For the dried spills, you can use an old toothbrush to dip into the mixture and scrub the spills well.
After scrubbing, you should wet a towel very lightly and wipe the battery smoothly to clean the battery surface. Don't make the towel too wet to ignore corrosion. Continue to repeat the towel cleaning until it's fresh and let the battery air dry for a while.
5. Neutralize Ni-Cad or lead battery acid using baking soda
Batteries with these types of acids are far too strong to eat through clothes, soft fabrics, and even metals. You should work with highly protective gloves and face shields, which are literally covered with baking soda. This baking soda will help you keep safe from bubbles and reactions from the mixture with the sulfuric acid.
Anyway, pour baking soda on the leakage and keep it away from your face as much as possible. When the battery acid reacts with baking soda, you can clean the remaining residue with a thick mixture of baking soda and water. Finally, pour baking soda on the plastic bag where you have put the leaked battery.
6. Clean lithium dust using water
When you need to neutralize a lithium spill, you will just wipe it away using water. And, you should not use a leaked lithium battery as it can cause an explosion or start a fire on the device. Rather, you should pack it immediately in a sealed bag and throw it away. If you want to use your device safely, buy a new lithium battery.
7. Dispose of the damaged batteries
Generally, you will have to dispose of the leaked battery after neutralization. Though you can dispose of them as regular trash, you can look into the local stores if they accept alkaline batteries because of the recycling law of the country. 
However, some manufacturers may offer you a replacement battery for free or at a reduced cost. So, you can also look for this option as well.
8. Finish the cleaning and neutralization process
Having completed all cleaning and neutralizing procedures, we are now ready to move on. However, to avoid any further damage as a result of the leak, you need to examine the device carefully before you start using it again. Be sure to wipe off any battery acid spills from the device.
Final Words
We have covered most battery neutralizing facts in this article. Now that you know what neutralizes battery acid, you can safely clean your battery. Here we have more specifically explained how to proceed if you are unsure what chemical to use for neutralization. As a simple solution, you can simply follow the steps listed above. By doing so, you can keep both your device and your health safe.