The name "NorthStar Battery" may sound familiar to you. Yeah, this is another name for the X2 Power battery since the NorthStar Company is the manufacturer of the product.
A pure lead battery, the X2 Power comes in a thin, flat plate. It's most likely that you've heard a lot about the benefits of this battery for boats, bikes, trucks, cars, etc. In spite of its wide use and benefits, there is a common complaint that the X2 battery does not last more than two years. Therefore it is not a crime to feel confused about the battery, but is that the thing really?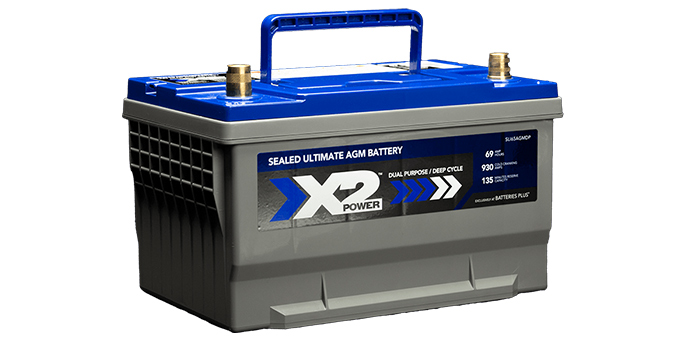 In this article, we will take a closer look at the X2 Power Battery review and talk about its pros and cons, plus more explanation.
Features of The X2 Power Battery
Good CCA Rating
CCA rating is one of the most important things for a battery. Because it defines how much power a battery can carry to deliver to the vehicle engine. In the case of X2 Power, the CCA rating is 840 CCA, which is quite high compared to most manufacturers. In other words, it is unlikely that your battery power will suddenly run out in the middle of a road trip. If we look at other batteries, the rate of such a problem is higher. That's why people prefer the X2 over others.
Comparatively Durable
The thin cover and size of the battery offer maximum durability for the setup, despite the fact that it is not the most durable product on the market. However, NorthStar has pioneered a new approach to making such batteries.
If you look closely, you will see that the battery cover is made of polymer plastic. In spite of being a thin material, it will save your battery by giving the maximum protection that a light material can offer.
High Endurance
Amazingly, the battery can bear a high temperature of up to 120 degrees Fahrenheit. But don't go over that temperature. If you want your battery to be durable, ensure that you do not allow the battery to sustain charging while you are on a trip. If you maintain these simple things, your X2 battery will serve as your long-term partner.
Pros
A high CCA rating increases the charge capacity
Allows better deep cycle performance
Comparatively low price
Durable and heat-resistant (up to 120 degrees Fahrenheit)
Four-year-long warranty service
Cons
Cannot run at temperatures over 130 degrees Fahrenheit
Frequently Asked Questions
Are x2 Power and Odyssey Batteries the Same?
You know that Odyssey is a part of EnerSys Group since 2002. You will be glad to know that NorthStar also became a part of EnerSys in 2019. So, now they are in the same group and produce related products.
If we compare X2 Power and Odyssey, both batteries are almost the same in a category. The build material is the same, and both are pure lead batteries. Similarly, both batteries run on TPPL technology. And, this TPPL tech comes from actually one of the two AGM (Absorbent Glass Mat) battery types.
Both batteries produce sulfation delays inside the battery to extend the battery life. And, they are certified as eco-friendly and non-hazardous by US-Dot and IATA (International Air Transport Association).
However, X2 Power provides more warranty than Odyssey. To add more, Odyssey loses to X2 for a high price. You can get the X2 Power at a lower price but with a longer warranty period. Due to these two factors, X2 Power is the better battery option than Odyssey.
Should I Choose TPPL Supported Battery?
Previously, we have mentioned that X2 Power is a type of AGM battery. And, there are two types of AGM batteries. So, you already know about one of them, which is the pure lead battery.
Another type of AGM battery is the lead-calcium battery. Sadly, the battery is made for single purpose because of excluding the TPPL technology. Though the battery runs with the pulse start, you cannot deep cycle the lead-calcium battery.
Lead-calcium batteries will do less well if they are subjected to deep cycles because they will shorten their lives. Nevertheless, the pulse start is also different because of its different design. If you are not sure enough about what you will do with the battery, it would be best for you to choose a TPPL-supported battery.
Conclusion
In general, an X2 battery is expected to last for around ten years. We believe this is an excellent deal for consumers, considering life expectancy. Note that the TPPL technology is used on the battery, which aids in its performance. In conclusion, if you want a powerful and efficient battery pack for your engine, you can choose an X2 Power battery.