If you own a camera, you're undoubtedly familiar with the cr2 and cr123 batteries. The two types of batteries are well known among users for their easy and reliable use.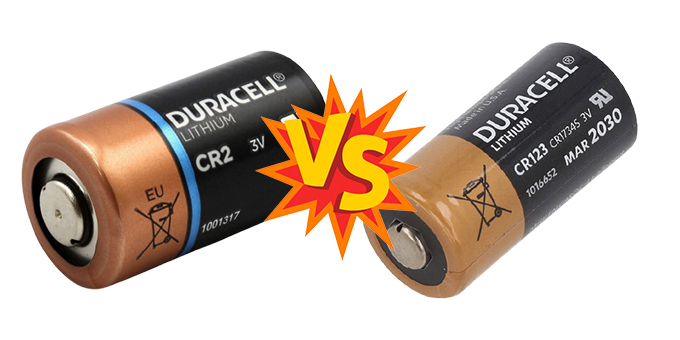 Even so, I won't be surprised if you are confused while purchasing a cr2 or cr123 battery since they are plentiful in the market. As a result, I thoroughly researched the cr2 battery Vs cr123 battery and give you all the information you need. Let's get started!
What is a CR2 Battery?
The cr2 battery is one type of non-rechargeable lithium battery cell that has a cylindrical shape and uses lithium (Lithium Manganese Dioxide (Li/MnO2) as its electrolyte. If you're familiar with D-cell batteries, you'll see that cr2 and D-cell batteries are quite similar. It looks like cr2 battery cells are the small variant of D-type battery cells.
If you research the market, you will discover that there are approximately ten different varieties of cr2 batteries available. This large number of cr2 battery types proves that they are highly popular all around the globe and have a wide range of applications.
Specifications of CR2 Battery
CR2 batteries have a set of technical specifications that you can use to determine whether the battery is compatible with your device or not. Before purchasing a battery for your electric gadget, you should carefully check them. Otherwise, it may suffer you.
Voltage And Capacity
A cr2 battery has a nominal voltage of 3v (volts) and a cutoff voltage of 2v (volts) which is perfect for your gadgets like a camera or backup power source. It has a charging capacity of about 800 mAh.
Physical Dimensions
The body of a cr2 battery is about 1.0623 inches or 27mm (millimeter), with a length and radius of 15.6 millimeters which is 0.59 inches.
Operating Temperature
The cr2 battery's operating temperature range is about 40°C to 60°C. If you use a cr2 battery above this temperature, the battery's life will be shortened, and it may even explode.
CR2 Battery Average Lifespan
Generally, the quality of the production and the range of application of your cr2 battery will determine how long it will last. If your battery is fresh, brand new, and purchased from a reliable source it will last over a year with the appropriate conditions.
However, if you use your battery extensively and it demands a lot of energy, such as for a high-lumen floodlight, your cr2 battery may only last a month.
Applications Of CR2 Battery
Nowadays cr2 battery technology is very popular and widely utilized in several areas, including the civilian, military, medical, and industrial sectors, all over the world.
In the military industry, the cr2 battery is applied in guns, lighting and optics,  vehicles, laser devices, and in many networking and communications equipment. CR2 batteries are also utilized in a variety of civilian items, including cameras, flashlights, LED lights, laptops, gaming consoles, electric automobiles, and so on. Alarm batteries and power for different surgical and health devices are examples of medical uses for the cr2 battery.
What is a CR123 Battery?
CR123 battery commonly known as 123 battery is a high-power lithium-based battery. Generally, they use Lithium Manganese Dioxide (Li/MnO2 ) as their electrolytes. For using this type of chemical property, a cr123 battery is extremely safe to use.
They are specially designed for compact devices that require a lot of power, like high-powered LED lamps and digital cameras.
Specifications of CR123 Battery
The technical characteristics for cr123 batteries are shown below, which you should review before purchasing.
Voltage And Capacity
The nominal voltage of a CR123 battery is 3V volts with a cutoff voltage of 2V (volts). CR123 batteries have a higher capacity than cr2 batteries, ranging from 700 to 1700mAh.
Physical Dimensions
A cr123 battery's battery cells are 34.5 x 17mm or 2/3A in size. This size is perfect for fitting inside a compact gadget.
Operating Temperature
The optimal working temperature range for cr123A lithium-based batteries is -40° to + 70°C or (-40° to 158°F). If you use this battery at this temperature, its self-discharge rate will be the lowest possible, giving you a better user experience.
CR123 Battery Average Lifespan
The lifespan of a battery entirely depends on its application, maintenance, and build quality. If you use your battery decently a cr123 battery may live up to three years, which is longer than a cr2 battery. 
Applications Of CR123 Battery
CR123 batteries were originally invented for cameras, but they are now used in a wide range of technological applications. Wireless Security Devices (wireless alarm system, IP or security camera), Home Automation Systems, Fire and Smoke Detectors, Lighting, and Tactical Equipment are just a few examples.
cr2 Battery Vs cr123- Similarities & Differences
In some respects, cr2 and cr123 batteries are quite similar, but they also have certain differences.
Similarities
Differences
Both cr2 and cr123 batteries have a voltage of 3 volts.
Both of these batteries are composed of lithium, which is a lightweight material.
They are not rechargeable
Most significantly, they are created using the same technology.

A cr2 battery has a length of 27 mm, whereas a cr123s battery has a 34.5 mm length.
A cr2 battery has an 800mAh capacity, but a cr123 battery has a capacity of 700 to 1700mAh.
A cr2 battery has a one-year lifespan,  where a cr123 battery can last roughly 3 years.
Frequently Asked Questions
Q: Is a cr2 battery the same as a cr123A battery?
Answer: No, they are not the same battery kind. The size of a cr123 battery is larger than that of a cr2.
Q: Can I use a cr123 battery instead of a cr2 battery?
Answer: Though both cr2 and cr123 batteries have the same voltage, cr2 batteries size is different from cr123 batteries. As a result, you cannot use a CR123 battery instead of a cr2.
Q: Can I recharge a fully discharged cr2 or cr123 battery?
Answer: No, you can't recharge a cr2 or cr123 battery because they don't have the ability to recharge their cell after they've been totally drained.
Q: What are the CR2 battery equivalent batteries?
Answer: The DLCR2, KCR2, ECR2 1CR2, and 5046LC batteries are some of the CR2 battery's alternatives.
Conclusion
If you are thinking of replacing the batteries in your camera or other electronic devices, cr2 or cr123 will be the best options because they are dependable and provide you with high voltage and a long life span. 
I hope this post provides all of the information you need on cr2 versus cr123 batteries.