There are different types of batteries out there. AA, AAA, D shaped, E shaped, and the coin type.
Coin-type batteries are mainly used in smaller devices. Such as smoke detectors, key fobs, calculators, wrist watches, and even the computer.
The fun thing about them is that they don't need to be changed too often. You can go on for years on with that small tiny thing and it will keep on performing.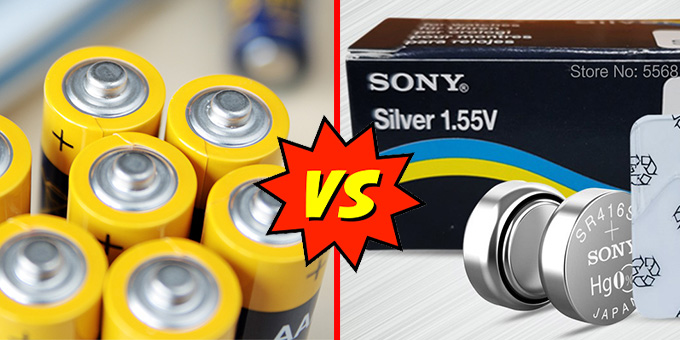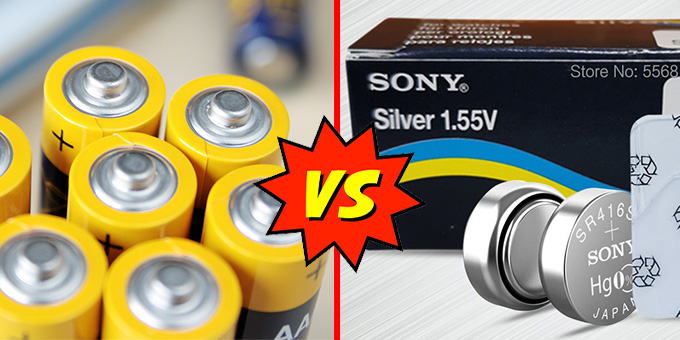 This is due to their battery chemistry. While some of them are Alkaline, others are silver oxide. Which makes you question, which one is better? What is the difference between them?
To answer those questions, we are putting up an Alkaline vs Silver oxide Battery comparison in this article.
Alkaline vs Silver Oxide Battery Comparison
Although the batteries might come in different sizes and shapes, they look almost the same. From the outside, you cannot tell the difference between an Alkaline and a Silver oxide battery. But underneath them, they are two different things. 
Here is a chart to tell you what are the main differences between the two.
| | | |
| --- | --- | --- |
| Features  | Alkaline Battery | Silver oxide Battery |
| Chemistry | Potassium hydroxide is the main ingredient and powdered Zinc as an anode. | Uses sodium hydroxide as the electrolyte. A zinc anode and silver oxide cathode are used to bring in more power output. |
| Annual discharge rate | 10-15% on room temperature. | 2-10% on room temperature. |
| Shelf life | 2-3 years if stored properly. | 3-5 years if stored properly. |
| Output voltage | 1.5V | 1.5V |
| Price range | Low  | A little bit more due to high power density. |
As you can see, you cannot judge the battery by its cover. Because there are many differences between the two.
Starting with their chemical build, the alkaline battery has a potassium hydroxide as the electrolyte. Silver oxide on the other hand uses sodium hydroxide as its electrolyte. Though both batteries have a zinc anode, the silver oxide battery uses a silver oxide cathode. Which makes it give out more power. 
This also affects in terms of their annual discharge rate. Alkaline batteries have a 15% discharge rate if kept at room temperature without use. Silver oxide batteries on the other hand have a low discharge rate due to their denser chemistry.
You also get a long shelf life for the silver oxide battery. Most of us like to keep some batteries in our drawers for safe keeping. And silver oxide will outrun alkaline batteries by 2 extra years. They can hold on to their power for over 5 years while an alkaline battery can only stay good for 3.
The one thing they share is their output voltage. Both batteries give out the same 1.5V when put in a device. Though the silver oxide tends to go even low when the device requires less power, the alkaline doesn't. It keeps on discharging at the same rate.
One other thing about the silver oxide battery is that they have two variants. One has sodium hydroxide build while the other one has potassium hydroxide like the alkaline battery. The potassium hydroxide one lasts the same as an alkaline battery giving out more output than it.
But if you are thinking about efficiency and more power, silver oxide would be the best one to go for.
Are Alkaline and Silver Oxide Battery Interchangeable?
When it comes to power, the silver oxide battery outperforms an alkaline battery. This is because of their higher density and power output.
But you have to keep in mind, that not all devices support a high output battery. So if you interchange the alkaline battery of your watch with a silver oxide one, you might be harming it. 
Low power running devices will suffer the high voltages and it will shorten their performance time. So if your device manual says it supports silver oxide batteries, only then you can use them. 
Otherwise sticking to the alkaline one is the best way to ensure the safety of your device.
Frequently Asked Questions
Which battery is better alkaline or silver oxide?
If you are talking about power and longevity, then silver oxide batteries are better than alkaline batteries. They have denser chemistry which makes them more powerful than any alkaline battery. But this doesn't mean you can interchange them in your device with your alkaline one. Only if your device supports higher voltage battery output, then you can change them with silver oxide batteries.
What is a silver oxide battery used for?
Silver oxide batteries are mainly used in smaller devices that require high power in a small shell. Smartwatches, hearing aids, key fobs, laser pointers, toys, and electrical instruments have silver oxide batteries in them.
Are silver-oxide batteries safe?
Yes. Silver oxide batteries are safe in normal temperatures and operations. But it is hazardous if swallowed. As they come in very small coin-like shapes, it is easy for any child to put them into their mouth. This is why it is advised to keep them out of reach of children. 
Conclusion
By now you have understood that if you ever wanted to swap out your alkaline batteries with silver oxide, you can't. Although they are the same size and everything, you have to follow the instructions of your device about the battery. If it cannot take on higher power output, it will damage it if one is put in them. So better stick with the instruction rather than being a scientist, if you love your device.