There is a debate between a carbon-zinc battery and an alkaline battery. As both of them are related in a way. You will find zinc as an anode in both batteries but in different forms.
This is the only similarity between the two. Otherwise, they are built differently and even their development timeline is different.
The zinc battery was first invented between 1876-1886. And the Alkaline battery was invented between 1899-1950, making it the successor of the zinc battery.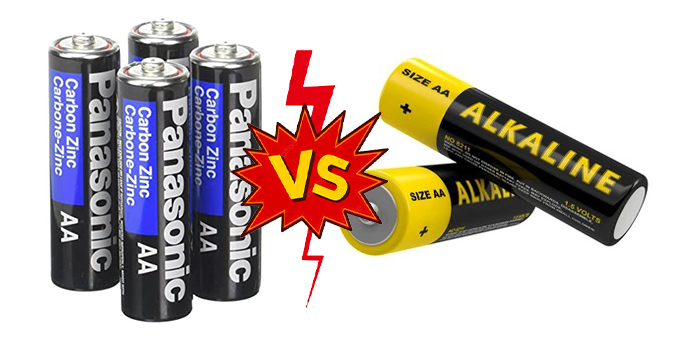 While the chemistry is very much different and both of them went through a lot of developments, they are very different batteries with different levels of performance.
We have gathered all the information for you in our Carbon Zinc vs Alkaline battery in this article. 
Battery War: Carbon Zinc vs Alkaline Battery 
We are going to start with a table. This way you will be able to understand the difference between the two batteries easily.
| | | |
| --- | --- | --- |
| Feature  | Carbon Zinc Battery | Alkaline Battery |
| Chemical builds | Ammonium chloride. Acidic in nature. | Potassium hydroxide. Basic electrolyte. |
| External structure | Zinc external structure with sometimes a metal outer shell | Metal outer structure with a zinc anode. |
| Capacity and power output | Low capacity. | High capacity. |
| Shelf life | Low. 1-3 years | High. 6-7 years. |
| Safety issues | Has a tendency of leakage  | Perfectly secured with extra protection built around it.  |
Starting off with the chemical features of the batteries, the Carbon Zinc battery has a more acidic compound than the Alkaline battery. Ammonium chloride, an acidic substance is used in the zinc battery while the alkaline battery uses potassium hydroxide, which is just an electrolyte. 
As powerful as the zinc battery compound sounds, it is not ideal for the battery's own structure. The acid starts to devour the battery from the inside making it a self-harmful type of situation. Although there is outer protection, they are prone to leakage and damaging their surroundings and even the device it is used in. 
Alkaline batteries on the other hand have a metal outer shell that keeps them safe from the outside world. As it has a denser zinc anode inside, it provides a more powerful output than the zinc battery. And if you are thinking about how long it lasts, well, Alkaline batteries can go 10 times more than zinc battery.
As we already have talked about the safety issue of the zinc battery, Alkaline has no such thing as it doesn't have anything acidic inside of them. Even if somehow it is damaged, which will require heavy force, it won't harm as much as the zinc battery.
The main thing we use is a battery to power up our devices. And we also tend to store some. Zinc batteries fail in being stored for a long time. They have a 3-year shelf life, and that is the top-notch one. 
Alkaline on the other hand has a 6-7 year shelf life. And they do not self-discharge like zinc batteries when they are not in use. Making them one of the best power sources for any device. 
Frequently Asked Questions
Are carbon-zinc batteries the same as alkaline?
No. Carbon Zinc batteries and Alkaline batteries are very different types of batteries. They have different chemical build-ups. Carbon Zinc has an acidic powerhouse of ammonium chloride and Alkaline batteries have potassium hydroxide as their main ingredient. This won't be noticed from the outside though. What you will notice is the low capacity of a carbon-zinc battery and the alkaline battery outperforming them. 
What is the advantage of the alkaline cell as compared with the carbon-zinc cell?
Apart from the acidic compound and basic electric compound, there are a few major advantages of an alkaline cell compared to a carbon-zinc cell. Due to the acidic chemistry, the battery starts to degrade from the inside. Also, they produce less power. Alkaline on the other hand doesn't self-harm and produces more power and lasts longer than the carbon-zinc cell.
Can I mix alkaline and carbon zinc batteries?
Using two different chemistry batteries in the same device is always forbidden. Not only that, you should never use a different voltage of the battery in your device. If you mix alkaline batteries with carbon-zinc batteries, the carbon-zinc might get overpowered and explode. As they have an acidic compound in them, it will destroy your device. 
Conclusion
With modern technological advances, carbon-zinc batteries have also evolved. There are devices that require less power and run on carbon-zinc batteries, which you can gladly use. Using a better brand would be the right way to go. But an alkaline battery will always outrun a carbon-zinc battery in safety, longevity, and capacity.