From waking up in the morning with an alarm to going to bed after enjoying a couple of hours of Netflix, we all are dependent on the electronic devices around us. The devices like smartphones, smartwatches, and tablets don't just make our life easier; it makes everything efficient as well as enjoyable.
I guess we all have been in the same shoes at some point and had the bitter taste of 'phone's battery running out when you really need it.' It's not like this kind of problem happens every once in a lifetime. It happens every now and then while we are on the go. So, is there any reliable solution for that?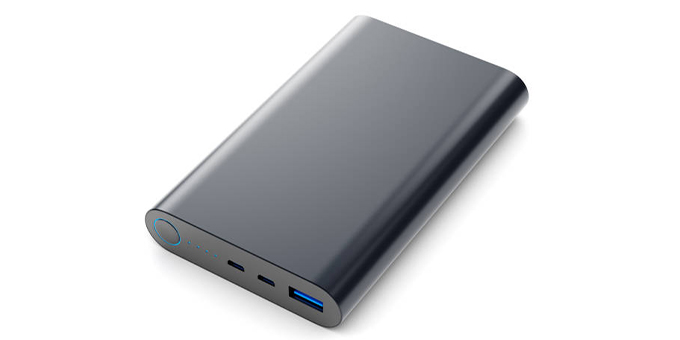 Well, the answer is yes. In this article, I'll introduce you to some of the best high-capacity power banks out there. These power banks, also known as portable chargers, can solve the problem of your device's battery going dead in an untimely situation. So, let's dive into the details without further ado!
The Benefits of Having a Power Bank
Before we get into the main thing, make one thing perfectly clear by asking yourself a question. The question is, 'why should you have a power bank in the first place? I know we pretty much had the gist of it at the start but that's not enough actually.
I want you to understand the purpose of having a quality power bank a little bit deeper. The thing is, if you can completely figure out the importance of it in a proper way, you will be able to value each of the information the way you should. So, let's just say we're going through this silly part for the greater good!
Imagine going out on a camping trip on the hillside or in the woods for 2/3 days. You would hardly be in touch with any electricity in there and you'll probably have no way to charge all your devices. You'll have to travel for a couple of hours at least if you feel the need to charge something that badly.
I'm not just making up all that out of thin air. I've actually been in the same boat once. It was a hillside trip and I had to walk 15 kilometers just to charge my dead phone and other important devices. Do you know how I could avoid that trouble? Simply by carrying a high-capacity power bank in my bag pack!
If you can't relate to this scenario, tell me you haven't had a very busy day either in your college, office, or workplace. I know for a fact that we all have every now and then. I'm talking about the situations where you can't just leave your device on charge, nor can you work with it as it's completely dead.
Do you know what really helps in these moments?
The answer is, having a small diary-sized power bank right there with you! A power bank isn't known as a portable charger for no reason. It enables you to charge your devices without having the need to be seated in front of a socket. That includes charging your smartphone, tablet, even your laptop.
In case you weren't so sure about spending a few bucks for a power bank, this part should help you set your mind to it.
Editors Choice
Best Buy
Nice Pick
Anker PowerCore 20,100mAh Portable Charger Ultra High Capacity Power Bank with 4.8A Output and PowerIQ Technology, External Battery Pack for iPhone, iPad & Samsung Galaxy & More (Black)
30000mAh Power Bank Portable Charger, PD 20W&QC3.0 USB C Fast Charging Power Bank with 3 Outputs, VEEKTOMX Huge Capacity External Battery Pack Compatible with iPhone 13/12/11 iPad Samsung
ROMOSS 30000mAh Power Bank Sense 8+, 18W PD USB C Portable Charger with 3 Outputs & 3 Inputs External Battery Pack Cell Phone Charger Battery Compatible with iPhone 11, Xs Max, MacBook, iPad Pro
Editors Choice
Anker PowerCore 20,100mAh Portable Charger Ultra High Capacity Power Bank with 4.8A Output and PowerIQ Technology, External Battery Pack for iPhone, iPad & Samsung Galaxy & More (Black)
Best Buy
30000mAh Power Bank Portable Charger, PD 20W&QC3.0 USB C Fast Charging Power Bank with 3 Outputs, VEEKTOMX Huge Capacity External Battery Pack Compatible with iPhone 13/12/11 iPad Samsung
Nice Pick
ROMOSS 30000mAh Power Bank Sense 8+, 18W PD USB C Portable Charger with 3 Outputs & 3 Inputs External Battery Pack Cell Phone Charger Battery Compatible with iPhone 11, Xs Max, MacBook, iPad Pro
Best 5 High Capacity Power Bank Based on My Research
In this part, I'll introduce you to some of the best power banks out there. When it comes to buying a high-capacity power bank, the number of models, types, and brands seem kind of overwhelming. However, I've gone through the trouble of choosing the top 5 ones so that you don't have to.
Here's the list –
1. Anker PowerCore 20,100mAh Power Bank, 4.8A Output (Best for a 2/3 Day Trip)
The very first one on our list is the PowerCore high-capacity power bank from Anker. Anker is a globally leading brand that manufactures chargers & power banks for different devices. They have a great reputation for their top-notch quality and innovation. Now let's find out how good this product is.
Weighing only 12.5 ounces, this power bank or portable charger comes in the dimensions of 6.64 x 2.28 x 0.87 inches respectively in length, width & height. This practical shape, ergonomic size, and lightweight allow you to easily carry it with you right there in your pocket or at the side of your backpack.
The build of this portable charger is something you can completely rely on. It's durable enough to survive through some falls, not to mention a little bit of pressure inside the backpack among other things. Not only that, the practical design offers you enhanced grip and dust protection.
This high-capacity portable charger has a total of 20,100 mAh charging capacity. In case you didn't know, this amount is enough to charge up the Galaxy S8 5 times, iPhone 8 7 times, or the iPad mini 4 at least twice. This capacity is perfect for you if you are planning to go on a trip for 2/3 days.   
With a 2 amp charger, you can fully charge this power bank within 10 hours only. Considering the power capacity, this device takes a lot less time to recharge itself than the other ones of this range. BTW, it's always good to charge it up with the cable that comes with it.
PowerIQ and VoltageBoost technology in this power bank allows it to recognize the device connected with it and charges it with maximum efficiency. Both ports in it offer output up to 2.4 amps and 4.8 amps output in total. That means you can simultaneously charge any two devices with a good speed.
This Anker PowerCore portable charger has a lot to offer when it comes to safety issues. Along with surge protection and short circuit protection, the built-in LG battery cells ensure added protection. You don't have to worry about your devices being damaged by this portable charger.
 Bundled with the Anker PowerCore 20100 portable charger, you'll get 1x Micro USB cable, 1x travel pouch, 1x welcome guide. Along with these, you can buy a lightning cable for your iPhone / iPad which is sold separately. Altogether, this seems like a complete deal to me.
2. Imuto X6 USB Power Bank, 30000 mAh (Affordability with Quality)
The next one to make its way up to this list of the best high-capacity power banks is the Imuto Power Bank with X6 USB. Along with quality power banks, Imuto has been manufacturing consumer electronics and other energy-based equipment for more than a decade now.
Now the question is, 'is this Imuto power bank worthy enough to be on the list? Let's find out!
For starters, Imoto is a brand known for manufacturing products at affordable prices. If you're looking for a high-capacity power bank but having trouble with the budget, then this is your go-to power bank. However, if you're worried about the quality then your confusion is about to go away soon!
This power bank has a compact & durable build to offer its service for a long period of time. The outer surface of the body and the safeguards are made of high-quality materials. They ensure that the inner circuit or the battery of this portable charger won't get damaged that easily.
For a power bank of this capacity, the shape, size & weight of the Imuto X6 power bank is practical and user-friendly at the same time. It's the dimensions of 6.7 x 3.4 x 1.2 inches and weighs only 1.36 pounds. It mightn't be too comfortable to carry in your pocket but it'll fit just perfectly in your backpack.
The battery capacity of this portable charger is 30000 Milliamp Hours which is more than enough to keep your devices charged for half a week and I'm not just talking about your smartphone. Just so you understand, with this huge capacity you can fully charge an iPhone X at least 7 times!
The Imuto X6 power bank has 1 input and 3 outputs. The power bank can obtain a max recharging speed of 5V/2.1 A and the max charging speed for the three output ports is 5V/ 3.4 A. The iM-power technology ensures smart and efficient charging of your devices by detecting connected devices.
Besides the safe li-polymer batteries, the overcurrent protection, overcharge protection, short-circuit protection, and temperature protection makes this portable charger extra safe. You can leave your devices on charge without worrying about anything going south.
One more thing, you'll get an X6 external battery pack with the power bank. The whole package also contains a user guide and a micro USB cable. All things combined, this would be the right choice if you're a little short on money but don't want to compromise with quality. I guess you've got your answer.
3. ROMOSS 30000mAh 18W Power Bank (Increased Usability)
This one here is the 18W power bank from ROMOSS. It's yet another high capacity 30000 mAh power bank on the list. However, it's got some of its own parks that make it a little bit special. Like all the other ones in this list, I've also hand-picked this one for its special features. Let's find out what those are!
The ROMOSS 18w power bank has the following dimension – 6.57 x 3.15 x 1.26 inches in length, width & height. This site and the ergonomic shape are one of the many things that you should appreciate about this portable charger. It can sit there in your bag along with other items occupying only a little space.
Then comes the weight. This portable charger weighs 1.48 pounds only, which is lightweight compared to the other ones of this same capacity out there. You can simply carry both the power bank and your smartphone (connected to it) in just one hand while you do your morning walk.
This 12V portable charger has a whopping 30,000 mAh capacity. To sum it up, this capacity is equivalent to 12.6 charges for an iPhone 8, or 4 charges for an iPad mini 4! That's insane, right? If you have this with you, then you can simply leave for a 2/3 days camping trip without worrying about charging issues.   
For rapid recharge, this power bank has 3 inputs – Type C, Micro-USB, and lightning. All 3 ports support an 18W charger and using an 18W charger you can recharge the whole thing just in 11 hours. On the other hand, it takes 10 hours just to charge a 20000 mAh with a normal charger.
Having all three types of ports available, the charging option is wide open for you. Because all these three ports are the most used medium for fast charging. Well, there's a catch that you should know already. You have to buy an 18W charger & the cable separately, it won't come as a package.
Like 3 inputs, this ROMOSS power bank has 3 outputs too. That means you can charge 3 devices simultaneously at a great speed. This power bank can charge your devices with four times more time efficiency. In just 35 minutes you can charge QC-supported devices up to 80 %.  
Last of all comes its safety features. The safety feature of this particular power bank is as good as the other top ones. The extra information that you should have is that it's a perfect choice if you have a Nintendo Switch. It meets all the requirements that a perfect power bank for your Switch should have.
If you ask me, the usability of this power bank is on a different level than most of the other ones out there.
4. Powkey 200W Power Bank, 42000 mAh (Best for Camping with Family)
What we've here with us is the 200W power bank from Powley. Powley is a leading manufacturing brand that is known for manufacturing solar AC power banks, outdoor emergency power packs, and stuff like that. In case you haven't heard of their products yet, you're about to know about one right now.
This Powkey power bank is unlike any other power bank that you usually see out there. I know this sounds like something that's a little hard to believe but I'm not overselling this thing. Its features, mechanism, usability & practical design are on a whole new level.
Let's see what I'm talking about!
This portable charger has 7.87 x 1.81 x 5.71 inches dimensions (L x W x H) and it weighs only 3.3 pounds. Naturally, the size and weight seem a little extra for a power bank. But hey, it's not like any other power banks, right? After finding out what it offers, the weight & size won't seem much of a problem.
This Powkey power bank has a huge power capacity of 42000 mAh. If a 20000 mAh capacity power bank can charge an iPhone 8 seven times, just imagine what twice that power can do. This thing can single-handedly cover for the whole family's charging issues with one charge.
If you're planning for a week-long trip where you won't be in touch with power & electricity, then don't forget to carry this little monster with you. Not just your smartphone, tablet & laptop, this thing can power up that runs within 200W. For example – fans, lamps, coffee maker, toaster and many more!
The reason why it's best for a week-long trip in the woods or hillside is its charging options. It's like the charging options couldn't be any more convenient. With the 15V/2A DC input, you can fully recharge it within just 6-7 hours. But, is that all?
Not really! If you don't have electricity, holy moly, you can always use a solar panel for charging this power bank. That's right, it can be charged with a solar panel too! How insane is that? I bet that's not the type of feature you were expecting from a power bank, right?
For power output, it has 2x 120V AC power sockets, 4x USB ports, and 1 output for emergency power. The AC power sockets run with 200W in total which is used for powering up high-end things like toasters & coffee makers. The USB ports are for charging your mobile, tablets, and other small devices.
This FCC ROHS and factory ISO9001 approved portable charger has the best quality lithium-ion battery cells. On top of that, it offers OVP/short circuit protection, and auto power-off protection. Also, there are 4 LED indicators to notify about the remaining battery.
Note:  Don't use both of the AC outputs at the same time if each of the connected electrical equipment needs more than 100W to run.
So, that's pretty much all you need to know about this power bank. It surely is exceptional, isn't it?
5. CONXWAN 18W PD Portable Charger, 26800 mAh (A Complete Package)
Last but not the least, this one here is yet another 18W PD power bank. This time it's from CONXWAN. This list of the best high-capacity power banks would remain incomplete without this power bank in it. Let's find out why it deserves to be among the other ones on the list.
This sleek-looking portable charger is made for long-lasting use. The durable safeguards and body will save the inner circuit and battery from any unwanted damage. Because of the compact design, this power bank can withstand a few falls. However, it's best to avoid any such incident.
The ergonomic shape and size come with the dimensions of 5.91 x 2.91 x 0.94 inches. It's almost the same size as your smartphone. Then again, it weighs only 1.03 pounds which are lightweight compared to other ones of this capacity. So, you can simply carry it in your hand, pocket, or in your bag.
The 26800 mAh capacity of this power bank can charge up your iPhone 11 at least 8 times with only one charge. On the contrary, it takes only 5 hours at most to fully recharge the power bank with an 18W USB C charger. But the catch is that you have to buy the charger separately.
For charging your device with the most efficiency, this power bank has QC (Quick Charge) output and 18W PD (Power Delivery) output. Both of these features are known as the standards for fast charging your devices. BTW, the safety features in it are top-notch. So, you don't need to worry about that at all.
There are 4 output ports to simultaneously charge 4 devices with smart charging technology. There's also an LCD screen to accurately show you the remaining charge of this power bank. If you face any trouble, the user manual inside the package will make every detail crystal clear to you.
All bundled together, this seems like nothing less than a complete package to me.   
Frequently Asked Questions
People Often Ask, 'What Should Be the Basic Qualities of the Best High Capacity Power Bank'?
Ans: For a high-capacity power bank to be the best, all of the qualities are important. However, there are a few features that shouldn't be compromised with quality. For starters, it must have durability, practical design, fast & smart charging, less recharge time, and safety features.
Another Common Question Is, 'What if My Power Bank Doesn't Have Any Type C Port'?
Ans: Not having a Type C port these days seems like a huge setback for any power bank. However, if your power bank doesn't have a C port then you'll find adapters to transform USB A port into a USB C port.
The Most Common Concern Among Many People Is, 'Can I Leave My Devices Connected to a Power Bank'?
Ans: Well, the answer is 'yes. There's nothing to worry about. You see, almost all the latest power banks these days have the 'overcharge protection' feature in it that doesn't let the power bank cause any kind of harm to your devices.
Final Words before the Wrap
I've pretty much provided you with all the valuable information that you need to choose the best high-capacity power bank for you. If you're still having trouble deciding which one is the right choice for you, then what you need to do is, figure out your priority first.
Here is how you can make things easier. First of all, decide what capacity is necessary for you. For example, if you're looking for something that provides 2/3 day backup then go with the Anker (2100 mAh) or Conxwan (26800) mAh. If you're looking for a budget-friendly deal then go with the Imuto X6.
I've written this article based on thorough research, well-thought comparison, and a little bit of my own experience. All the information in this article is sorted in a way that you should find easy to comprehend. I hope it was helpful to you.