Cell phone chargers are excellent devices, but it turns out that every phone charger is not created equivalent. There are many options for keeping your phone charged at home or on the go. Some options among the types of phone chargers like USB chargers, wall chargers, and wireless chargers are really cool.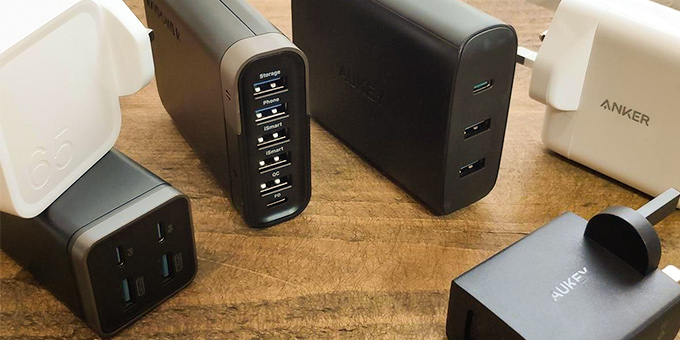 Phone Chargers
There are several types of phone chargers according to our needs and our phone models. 
Wall Chargers
Wall chargers have a cable outfitted with an adaptor that plugs into a wall socket. They are considered to be the most dependable chargers. We can often find these chargers in the box with our phones.
Desktop Chargers
Desktop ones are wireless chargers that are actually built right into the furniture. Basically, they are wireless-enabled furniture. Mostly, they are installed under a tabletop and lie flush with their streamlined appearance. These chargers can be installed on desktops, nightstands, side tables, or any furniture that has a flat surface.
The charger generates a magnetic field that transfers directly to the phone when the phone is placed on top of it. This field can transmit through ceramics, glass, and wood. However, the power will not pass through metals such as steel and aluminum.
Car Chargers
A cell phone car charger is essential if you are on the road most of the day. Car chargers are designed to go into that tiny, 12-volt cigarette lighter port on your dashboard.
One of the advantages of car chargers is that they do not need to be permanently wired to the car's electronics. Once you remove the key from the ignition, the phone will stop charging to preserve the vehicle's battery.
Wireless Chargers
Wireless chargers are designed to charge your phone's battery without plugging it into a cable. All you have to do is place your phone face-up on a small, disc-shaped charging pad, and it will charge your device's battery. Although the charger is itself is a cable but utterly wireless with the phone.
How it works 
Your phone is equipped with a copper receiver coil, and the charger is outfitted with a copper transmitter coil. When the phone is on top of the charger, the transmitter produces an electromagnetic field. The receiver transforms this current into electricity, which then charges your phone's battery.
Drawback
The only major drawback to wireless charging is speed. A standard 5W wireless charger takes about three to four hours to charge. While on the other hand, a wired charger takes approximately two and a half hours to charge.
Solar Chargers
Solar chargers utilize small solar panels to do charging. It has a rechargeable battery that charges your phone's battery. Solar chargers are beneficial when you are outdoors, like at the beach or when your car battery has died.
Not to mention, high-quality solar chargers can capture sunlight on cloudy days, while their cheaper counterparts need to be saturated in direct sunlight.
Bright Side
Since they do not have to be plugged in, they are ideal for multiple charges if you spend long periods of time outside. They are also an excellent solution if you want to charge your phone in an eco-friendly way.
Power Bank
A power bank is convenient if you are going to be away from a wall socket and need backup power. A power bank receives deposits of energy that can be withdrawn later. They are also helpful in emergencies where you do not have access to a power source.
Power bank charges slowly. It can take as long as your phone does to charge up. Larger banks can take up to four times as long.
Green Chargers
They are not very popular like other chargers, but green chargers do exist and do work. There are Green solar chargers, bike chargers, and different unique ways chargers take advantage of renewable energy sources.
Emergency Chargers
Emergency chargers are portable chargers that are usually powered by batteries. The reason behind this charger is to get just enough charge to make an important phone call. For that purpose, emergency chargers are very effective.
Types of USB Chargers
USB cables come in different shapes and sizes despite the fact a lot of them do the same things.
USB Chargers
Among all other phone chargers, USB chargers are very popular. This is because all your need is a USB port, which is typically attached to desktops and laptops. However, they charge very slowly if connected to a wall charger, but USB chargers are still very convenient and practical.
Multiport USB Chargers
You may see multiport USB chargers somewhere in public where people converge. Multiport chargers are useful because they allow you to connect several different types of mobile devices simultaneously.
USB-Type A Charger
USB Type-A connectors are extremely common. And you can connect various devices such as smartphones, cameras, more to computers to transfer data and plug into wall chargers to charge.
Moreover USB-Type A chargers have male connectors that connect to the female Type-A ports present on a host device. Typically, these cable cords have a rectangular shape, with the bottom part comprising the pin connectors.
USB-Type B Charger
USB Type B connectors fit into the female Type B ports present on large peripheral devices like printers, scanners, and external storage devices. They have a characteristic square shape with beveled exterior corners on the top. You might still find a USB Type-B port on some devices, but it's becoming quite rare.
USB-Type C Charger
They are considered to be the best alternatives to most conventional charger ports like A or B. The key benefit of these connectors is the reversible option. Basically, this means it can be plugged in either up or down. 
Again, USB-C is quite powerful in terms of connectivity, faster data transfer, and speed charging of other devices connected at the end of the ports.
Mini-USB Charger
During the times of digital cameras, these chargers were game-changers in the way devices were charged. As the name says, Mini-USB chargers are much smaller and thicker compared to other kinds of phone chargers. 
On one end of this charger cable is a standard flat end USB and on the other end, you can find a smaller version of either Type-A, B, or C Chargers. 
Drawback
These chargers are not on-the-go compliant, meaning they cannot support the switching between the roles of host and device.
Micro-USB Charger
There are many ways in which Micro-USB chargers are superior to Mini-USBs. These chargers are physically smaller in size than Mini USBs. Also, they support a high data transfer of 480 MBPS. 
There are two subtypes of these USB chargers – Type A and Type B. Although the Type-B is more common in the marketplace.
Frequently Asked Questions
1. How many hours can chargers charge a phone?
Answer: Quality chargers also need about three hours to charge, while inexpensive ones can take a sluggish 10 to 12 hours. They can store energy to be used later. Solar devices last about 300 to 400 charges.
2. How many days can the power bank keep a charge?
Answer: If you use it daily, a good power bank has approximately 500 charging-discharging cycles and will last about a year and a half. On the other hand, cheap power banks have difficulty holding a charge for more than six weeks. But a high-end model can hold an amount of charge for six months.
3. How long do portable chargers last?
Answer: Portable chargers usually last between 18 months and 3 years. The less often you use yours, the longer it will work. So keep your portable charger unplugged unless you absolutely need it.
Conclusion
Those are some of the best types of phone chargers or mobile phone chargers available in the market today. However, if your phone is performing poorly, like not holding a charge or taking forever to charge, the problem might not be with the phone but with its charger. In that case, finding a brand-name one that is compatible with your phone is the best solution.