Wireless chargers help make your workspace tidy and clutter-free. You can usually charge varieties of smartphones with it. iPhones may require a different setup. But the relief of not looking for cables all over the house or office is really peaceful! 
Wireless chargers have been globally used for the past few years, but people are often skeptical about it. Some say they reduce our phone's battery power, some say it takes too long to charge, and some others show many other drawbacks. Yet, it's a good alternative to chords. 
In today's article, I'll discuss some of the trending best 15W wireless chargers and also shed light on the merits and demerits of using them. Also, there are some guidelines to follow when you go to purchase one. I'll discuss those as well. 
First, let's understand how a wireless charger works.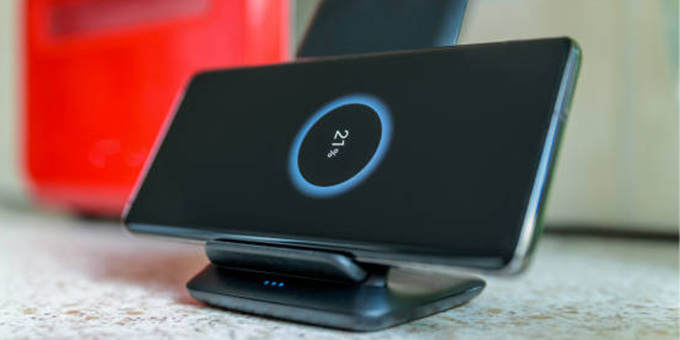 The Basics of Wireless Charging 
Wireless chargers come in the shape of either a round plate or a car dashboard. It's not wireless because there's a wire that connects to the power source. You've to place your phone on the plate or mat or stand and it starts charging automatically. 
This is why you shouldn't place any other metal object on it as it will either start supplying power and make the surface and the object hot or if the charger's got sensors, it will start showing signals. 
Your phone has to be Qi-enabled to function with a wireless charger. 
So… What's Qi? 
The term is actually pronounced as "Chee". It's one of the forerunning technologies of wireless charging. It's also the most widely used one because of its compatibility with most of the devices. These primarily came as chips and producers didn't include them in the phones. 
With time, Qi standards started using both inductive and resonant charging, allowing it to be compatible with both forward and backward charging processes. This made Qi popular among manufacturers, and they developed Qi-enabled phones for the market. 
Advantages of Qi Charging 
Let's look at the merits in brief. Firstly, you don't have to look for cables when you're super busy with work and kids! And often, the charger and your phone's charging port get damaged by rapid plugging in and out. Just place the phone on the stand or mat, and it starts! 
Secondly, you don't have to worry about the timing. Most of the wireless chargers stop the power supply the moment your phone gets full. And the place's versatility is amazing! Cars, mousepads, and even desks nowadays have a built-in wireless charging facility. 
You can charge your smartwatch, smartphone, etc. on the go. It saves you much hassle when you've to rush to your office or the mall or your kid's school. Besides, you can charge multiple brands and products with it, both your Android phone and your iPhone. 
The Disadvantage of Qi Charging 
There are three basic demerits of wireless or Qi charging. Firstly, the charging speed is really slow! You still have to opt for wired charging if you wanna charge fast. Also, you can't use your phone while charging. That's a healthy habit though! 
Another funny yet annoying issue is the placement. You've to put the phone properly on the charger or else it won't charge. Sometimes you'll be surprised that your phone didn't get charged even after a couple of hours only because it wasn't placed at the right point! 
How to Be Sure that Your Phone Is Qi-Enabled? 
The simplest answer to this is – find the Qi logo! If your phone is Qi-enabled, it will carry the logo. Apart from these, there are two other factors. 
Firstly, manufacturers now include a glass back for Qi-enabled phones. Metal backs pull the current, causing the power supply to go down. It takes even longer to charge and is unsafe as well. Besides, your phone battery will contain specific antennas for receiving the current. 
There are some problems you might face while using Qi charging. Your phone cover may hinder the charging, so you'll have to take it off before charging. Moreover, if the phone's on vibration mode and you get a call or text, it may displace it from the charging point. 
There's an alternative solution to this. Buy an external adapter and put it on the back of the phone so the device sticks to the charger. But check before buying if your phone supports an external adapter. 
Editors Choice
Best Buy
Nice Pick
Samsung 15W Fast Charge 2.0 Wireless Charger Stand - Black (US Version with Warranty)
Yootech Upgraded Wireless Charger, 15W Max [Ultra-Slim] [with Ventilation Hole] Wireless Charging Pad,Compatible with iPhone 12/12 Mini/12 Pro Max/SE 2020/11, Galaxy S20/S10/Pixel 3/4XL, AirPods Pro
Anker Wireless Charger, 313 Wireless Charger (Stand), Qi-Certified for iPhone 12, 12 mini, 12 Pro Max, SE, 11, 11 Pro, 11 Pro Max, XR, XS Max, 10W Fast-Charging Galaxy S20, S10 (No AC Adapter)
Editors Choice
Samsung 15W Fast Charge 2.0 Wireless Charger Stand - Black (US Version with Warranty)
Best Buy
Yootech Upgraded Wireless Charger, 15W Max [Ultra-Slim] [with Ventilation Hole] Wireless Charging Pad,Compatible with iPhone 12/12 Mini/12 Pro Max/SE 2020/11, Galaxy S20/S10/Pixel 3/4XL, AirPods Pro
Nice Pick
Anker Wireless Charger, 313 Wireless Charger (Stand), Qi-Certified for iPhone 12, 12 mini, 12 Pro Max, SE, 11, 11 Pro, 11 Pro Max, XR, XS Max, 10W Fast-Charging Galaxy S20, S10 (No AC Adapter)
Let's Explore Some 15W Wireless Chargers 
As you've gained some basic knowledge on wireless charging, lemme inform you that wireless chargers usually come in a 15W or 9V and 1.67 amps power supply. There are 7.5W and 10W chargers too, but the latest is the 15W ones. 
Let's look into the best 15W wireless chargers available in the market – 
1. Samsung 15W Fast Charge 2.0 
This type of 2.0 stand is compatible with smartphones only. You can charge Samsung Galaxy Note 10+, Samsung Galaxy Note 10, and Samsung Galaxy S10 with it. It's three versions – a convertible stand, a DUO, and a ground mat that came in 2019. 
It's a USB charger and comes with a wireless charger, a wall charger, and a USB-C cable. The benefit of C-type chargers is that you can plug it both upwards and downwards; it fits both the way equally. 
Another benefit is you can place your phone both vertically and horizontally to charge. Also, you can use your phone while charging! That you won't have to wait for it to finish charging to use it is definitely a piece of great news! 
Moreover, it charges faster than Samsung's standard charging speed. However, you'll have to add a charging cover separately for this. There's a built-in cooling fan to prevent heat from rising inside the charger and keep it safe and efficient while charging. 
Additionally, you can control the LED indicator and the cooling fan using Samsung Galaxy Note 10. Further, the USB wall charger provides a 25W power supply. However, you're suggested to use a compatible USB-C for this or the charger might get damaged. 
The only major limitation is that you can use it solely for charging Samsung smartphones and nothing else. With an average weight of 10.7 ounces, this charger is easy to carry anywhere and requires 1 Lithium-ion battery to operate, which is easily available. 
2. Yootech Upgraded Wireless Charger 
This charger comes in versatile power supplies. Amongst them, 15W charging mode works for LG V50 ThnkiQ, V50, V40 ThnikQ, V35, V30+, V30, G8 ThinkQ, G8, G7 ThinkQ, G7, Using QC2.0, QC3.0 adapter (12V and 1.5 amps). 
However, if the power supply matches and the phone is Qi-enabled, you can use the charger for many other brands and models, which makes it widely usable and adaptable. 
It weighs only 70g with a thickness of 0.43 inches, making it easily portable from home to office and anywhere else. If you connect the power source, the LED light will turn on for 3 seconds, and the light turns on 15 seconds at a stretch to indicate the phone's been fully charged. 
After full charging, the power supply automatically goes on sleep mode and thus makes it safe and electricity-saving. Usually, chargers get hot during the process. But this charger is enabled with heat-releasing holes to keep it cool and safe. 
Besides, the holes help keep the charger noise-free and power supply speed efficient. Therefore, you can charge up to 20% – 30% faster than standard charging options. The accessories include a Qi wireless charging pad, a 3 ft USB-C cable, and a user manual to help you. 
The brand offers a zero-risk purchase to ensure brand loyalty and customer satisfaction. Also, you won't have to worry about your rubber or plastic, or TPU case before placing it on the charger. Only metal or magnetic back covers will interfere with the power supply. 
Make sure to place the phone at the center of the charger to start the charging. But you don't need to worry after that. Interestingly, this charger is also compatible with AirPods and AirPods Pro. But you should avoid cases thicker than 4 mm to ensure proper power supply. 
3. Anker Wireless Charger 
One of the leading charging brands, Anker, offers a wide range of power and device options. Amongst them, the 15W charger is compatible with iPhone 11, 11 Pro, 11 Pro Max, XS Max, XR, XS, X, 8, 8 Plus. 
Samsung handsets include Galaxy Note 10, Note 10 Plus, S10, S10 Plus, S10E, S10 5G, Note 9, Note 8, S9, S9+, S8, S8+, S8 Active, S7, S7 Edge, S7 Active, S6 Edge+, S6 Active, S6, and Note 5. 
You can also charge Google Pixel 4, 4XL, 3, 3XL, Google Nexus 4, 5, and 6. Additionally, LG V50 ThinkQ, V50, V40 ThinkQ, V35, V30+, V30, LG G8 ThinkQ, G8, G7+, ThinkQ G7, G6, and G6+. And also Microsoft Lumia 950, 950 XL, and AirPod Pro. 
This charger has an additional feature. Its surface and bottom contain anti-slip silicone rings that help keep the phone in the proper place even if the phone vibrates. So, you just put the phone in the center and be tension-free till it's fully charged! 
It's enabled with PowerWave technology that switches power supply between 5W, 7.5W, and 15W based on the device connected to ensure the right power supply and a wide range of charging options. 
It's also got a PowerWave II pad that can charge any Qi-enabled device including iPhone 11, Samsung Galaxy S10, Sony Xperia XZ3, Pixel 4, and AirPods wireless charging cases. 
The charger comes with numerous accessories like a PowerWave II pad, power adapter with 5 ft power cable, user manual, a worry-free 18-month warranty, and friendly customer service. Anker is always famous for its after-sales service, and so you better fret not! 
With 4.8 ounces of weight, this charger is easy to carry anywhere with you, and it helps save electricity bills by switching power supply. You can use up to 5 mm thick phone cases but not metal or magnetic ones. 
Besides, it's also enabled with Qi-extended Power Profile to charge quickly but safely. And the MultiProtect safety system can immediately detect foreign objects and control temperature while operating to keep the charger cool. 
4. Seneo Wireless Charger 
This charger is compatible with iPhone SE 2020, iPhone 11 Pro max, iPhone 11 Pro, iPhone 11, iPhone XR, iPhone XS Max, iPhone XS, iPhone X, iPhone 8, and iPhone 8 Plus. 
Samsung handsets include Galaxy Note10, Note10+, Note9, Galaxy S20, S20+, S10, S9, Galaxy S9+, Galaxy Note8, Galaxy S8, Galaxy S8+, Galaxy Note7, Galaxy S7 Edge, Galaxy S7, Galaxy S6, Galaxy S6 Edge, Galaxy S6 Edge+, and Galaxy Note5. 
Other handsets include LG G7, G6, G6 Plus, G3, G2, V30, V30 Plus, Vu 3, Vu 2; Google Nexus 7, 6, 5, and 4; Microsoft Lumia 950, 950 Dual Slim, Lumia 950 XL, 950 XL Dual Slim, KDD ITORQUE G03, TORQUE G02. 
It supports some other phones too such as HUAWEI PORSCHE Mate RS, MI Mix 2S, Nokia 8 Sirocco, SONY Xperia X Z2, and ZTE T85. if you wanna charge iPhone 12 series, you'll have to buy a QC 3.0 adapter separately. 
This charger offers an upgraded USB-C connector with a 3.3 ft USB-C to USB-A charging cable so you can charge faster and safer than conventional micro USB cables. C-type cables are handy as you can plug in both upwards and downwards. 
It also helps the charging port from getting damaged by continuous usage and increases longevity. There are two built-in coils in the charger to enlarge charging space and speed. Besides, the battery stays cool because of the exclusive ATB technology. 
You can charge your phone to 100% within 3 hours with it. There's an intelligent chip that provides temperature control as well as over-charge, over-voltage, and foreign object protection to keep the device safe and efficient. 
You can use up to 5 mm thick phone cases but not the metal or magnetic ones. They interfere with wireless charging. There's an LED indicator to confirm that the device has started charging. The surface is slip-resistant so your phone sticks to it. 
The accessories include 2 pieces of 15W wireless charging stands, 2 pieces of upgraded Type-C USB cables each with 3.3 ft length, and a user manual. So you can use one at the office and another at your home. 
5. Belkin BoostCharge 
This charger is compatible with iPhone 8 Plus, iPhone XR, XS, 12 Pro Max, XS Max, iPhone 11, 12, 11 Pro Max, iPhone X, iPhone 8, iPhone 11 Pro, iPhone SE 2nd Gen, iPhone 12 Pro; Samsung Galaxy S10, Galaxy S10+, and Galaxy Note 10. 
It can charge most of the 15W Qi-enabled devices, including the above-mentioned, some Google Pixel phones, and AirPods too, which is one of the major requirements of an ideal 15W wireless charger. 
While the versatility of phones and brands is comparatively limited for this charger, you'll get the advantage of its weight and build. It's just 0.023 ounces and therefore easily portable anywhere anytime. 
You can use 3 mm thick phone covers easily. Here's a tip, don't use metal or magnetic cases while putting the phone to charge and place it properly. The non-slip grip helps keep the phone in place even when it vibrates. 
There are three colors of LED lights to show you the charging status. A green light indicates that charging has started. Amber light warns that a foreign object has been placed on the charger. And the red light signals that your phone isn't charging yet. 
These multiple lights help you stay worry-free throughout the whole charging process. The BoostCharge technology helps charge faster than standard USB chargers. 
It's protected by a 2-years warranty and Qi certification. Accessories include a wall charger, an AC adapter, and a cable to ensure a power supply. This means you've got both power supply and safety backup! 
How to Pick the Best 15W Wireless Charger? 
Electronic devices are tricky. You gotta know a lot of terminologies and their meaning to compare multiple products. Chargers are specifically more sensitive as they must be compatible with the phone or device to be charged. 
So how do we ensure that we're buying the best 15W wireless charger among all the thousands of options? The following points might help – 
Safety Certification 
Chargers' safety certifications are provided by Wireless Power Consortium (WPC). Their certification ensures that the charger is tested to be effective and safe and also compatible with Qi charging. Sometimes chargers may not have the certification which isn't unusual. 
However, having a certification is better and you'd wanna spend your money on a sure-shot product too. Some of the chargers have received certificates to be effective for magnetic and metal covers recently. But the majority of the chargers still prefer not to deal with them! 
Power Supply and Source 
The chargers I've mentioned here are either USB-enabled or have AC adapters. USBs can be both micro and type-C. However, type-C is best for the latest devices as they fit better. The length and quality of cords also matter and their replacement availability in the market matters more. 
In this case, the wall charger quality and type are also important to consider. On the one hand, you'd wanna save electricity bills by purchasing an auto power charger, and on the other hand, you'd prefer the speed of charging, which depends on the power supply. 
Qi Technology
There are different charging methods, but Qi is the most widely used wireless charging technology. If your phone is Qi-enabled, you must buy a Qi charger. And not only phones but also other devices are now Qi-enabled, so you can charge multiple devices with one charger. 
Speed and Wattage 
Most of the Qi chargers support up to 15W, but there are variants of 7.5W and 10W. The more the wattage, the faster the charging. Android and iPhones usually charge with a speed of 15W if connected to the right charger. 
I've mentioned some chargers here that support both 7.5W charging and 15W charging. Versatile chargers are better options as they offer power variations based on requirements. Therefore, you should look for a charger with a maximum capacity of 15W. 
Structure 
As mentioned above, wireless chargers can come in different shapes such as pad, stand, or mat. The better choice will be a circular flat mat. These are easy to place anywhere such as on your desk, car dashboard, etc. they're small and handy and easily portable too. 
You can look at the screen while charging because the surface is compatible. Also, you should consider the non-slippery feature. Your phone sometimes gets damaged by one single drop throughout its lifetime. 
The structure also includes the lighting criterion. An LED light makes it easier to understand if you've placed the device properly on the charger and if it's started charging. Besides, they help to detect foreign materials on the charger's surface. 
Cooler 
Most of the latest chargers include a cooling fan to prevent heat while charging. This has two major benefits, one is the efficiency stays consistent and the other is it doesn't create noise while charging. Your device and the charger also survive longer because of this. 
Brand Value 
The electronic market is flooded with random products from random brands. It takes both an understanding of the instrument as well as the cost of the product to determine which charger is actually good. You should, therefore, always choose a reputed brand. 
Also, you won't wanna buy a charger every couple of months, right? So, better spend a little more at the first time to ensure the charger survives and performs well. 
And reputed brands offer warranty and post-sale services that random brands don't. And both of these are really important because you may need assistance anytime after you've started using the charger. 
Frequently Asked Questions 
Despite getting so much information, it's normal to be confused about many other issues related to chargers. I'll try to answer some of the most common questions people ask before buying a wireless charger below. 
As we're talking about 15W wireless chargers only, I'll try to keep it relevant. 
How Fast Is 15W Wireless Charging? 
People have been skeptical about wireless charging because of its speed. However, the latest chargers are Qi-enabled which increase their speed to a great extent. These can almost double the charging speed for most devices. 
It's been possible due to the development of internal hardware with Qi technology. Before that, people used to buy wireless chargers for portability, design, and utility, etc. Even if the wattage was higher, the charging speed wasn't. The changed scenario has made them popular. 
Can Wireless Charging Damage Phone Battery? 
Not really. All the branded and most of the non-branded chargers are built in a way to protect your battery and back cover while charging. The LED indicator is one of the ways to alert you that your phone hasn't been placed properly and might not get a proper charge. 
The non-slip surfaces are also created to protect your phone's back as well as prevent it from falling on the floor and hit hard. However, unfortunately, there are some very popular rumors about wireless charging and its efficiency.
Why Does My Phone Get Hot While Charging? 
The major reason is the inefficiency of the charger. They can't turn the whole power supply into charge and therefore get hot. Make sure you buy a high-quality charger, and a cooling fan will be an added benefit in this case. This isn't a big concern but shouldn't continue in the long term. 
Is Charging Overnight a Good Thing? 
The answer is both yes and no. the latest chargers are enabled with auto power control so they stop the power supply the moment your phone is fully charged. Yet, they might emit some heat that can hurt your phone's longevity. 
It's best not to keep your phone on charge after the charging's done and better keep the charge between 40% – 80%. 
Final Words 
Choosing the best 15W charger requires some research and understanding. It might seem complicated, but wireless charging is more convenient and efficient. Tech Companies will keep coming up with better chargers in the near future and soon you'll find it hard to get a wired charger! 
Read the user manual with each charger and be patient with the use. Sometimes the performance may not be as per your expectation but if you try more carefully, you'll see the charger serves really well. 
Most of the phones and AirPods and smartwatches are now Qi-enabled which makes it easier for you to use one wireless charger for many devices. Carry it to your office and back home or on trips, they're cool. 
But remember to be gentle with the chargers or else they'll get damaged due to heat or hit! Avoid putting foreign objects and forcing the device to charge. Rather, see if the power supply is compatible and if you've put the phone at the proper point. 
Hope you'll have a great journey with your new wireless charger!