Have you ever felt annoyed with the tangle of your charging cable? Have you ever thought that it would be great if there was no problem with that cable? What if you could charge your device like magic, in the blink of an eye? 
About a hundred years ago, a gentleman named Nicholas Tesla, made a groundbreaking discovery. Today's Qi technology was born out of that extraordinary theory of the transfer of energy between two magnetic fields without wire. Yes, the concept of Qi charging is not new, it is a concept of the 19th century. 
It goes without saying that the most important accessory in our present life is all kinds of electric devices we use. Any time there is a discussion of electric devices, the issue of charging those devices arises. Having to charge so many devices used in our everyday lives can cause concern. When you get bored and think, will you ever get rid of this tangled cable? Just then, the Qi wireless charger appeared to solve all of your charging problems.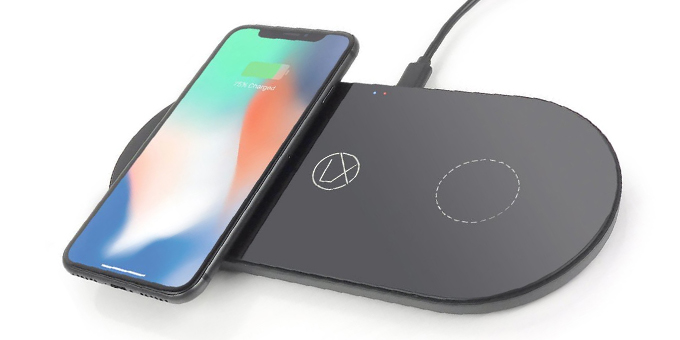 What is Qi Charging? 
Qi charger is a wireless charging technology. With that technology, you can charge your digital devices without any electric cable or wire. The word Qi originates from the Chinese word "Chee". This means "air energy flow".
Since this charging system transfers electricity from one device to another without a wire, it is named Qi Charging. All the major tech giants of the world have embraced this technology. The technology was developed in 2008 by the Wireless Power Consortium (WPC). Although there are many more wireless technologies on the market besides Qi, Qi is still the most popular wireless charging system.
It is an open interface where you can charge the device with a wireless charging pad, without the need for any wiring. You can charge your device in your home, car, office, or restaurant through this Qi charging if you want.
Wireless Charging And Qi Standard
Wireless charging systems have been on the market since 2006. Different organizations have brought different technologies. Among these, some notable technologies are The Alliance for Wireless Power (A4WP), The Power Matters Alliance (PMA), and The Wireless Power Consortium (WPC). But Wireless Power Consortium (WPC) Qi standard surpasses everyone in popularity.
The eye-catching wireless charging pad and the charging capability at a 1.5 cm distance make this Qi Standard unique in charging systems. Although it started with only 5W range charging in 2008, WPC started working with medium-range charging in 2012. Then in 2016, it started charging delivery in the range of 30-65W. At present, it is possible to charge high range charging up to 200W through QI standard.
Nokia and Samsung decided to include QI Standard in their smartphones in 2012. September 12, 2017. This day was a memorable day for QI Standard. This day Apple announced to support the QI standard in their iPhone 8. Since then, the QI standard has become irresistible in the market.
Due to the huge popularity of QI Standard, this technology started to be installed in public places like coffee shops and airports. Qi hotspots are also set up at London Heathrow Airport in England and John F. Kennedy Airport in New York.
Why Do QI Standard Important? 
It is important for us to adhere to this QI Standard. First of all, this technology can reduce the cost of making chargers or cables. And if you do not have a charger with the phone, naturally the packaging cost will be much lower. The chip required for the Qi Standard can also be made very easily, this is why the giant manufacturing companies are much more interested in Qi charging.
What Is Wireless Charging?
Before we get into the details of Qi Standard, we need to know, how does wireless charging works? A device will be charged without any cable, is it possible?
Yes, possible. As the name indicates, Wireless Charging is a charging system where you can charge your device without the help of any kind of cable. This system allows you to charge your mobile device by placing it near a charging pad. No need to connect them with any cable.
How Wireless Charging Works?
A wireless charging system works inside two coils. The two coils form two electromagnetic fields. Power is transmitted from a field to another field. The first coil stay is on the Qi charging pad. It plays the role of the sender. And you have another coil in your smartphone or device. Your device plays the role of receiver in this case. From a certain distance, your phone receives power through the air from the charging pad.
There are two systems for wireless charging. One is the inductive charging suspension. In this system, the charger and the device have to be kept close. The maximum distance will be 7 mm. Inductive charging allows more energy to be transferred in a short time.
Another is "resonant charging." The structure of this system is somewhat complex. However, the main advantage of this system is that it is possible to charge your phones even if they are far away from the wireless chargers. Although less power is available in this system.
The Use of Qi Wireless Charging
It's not very difficult to use wireless charging. You can use it very easily. However, make sure that your phone or device is not displaced, but in the right place. With this precaution, you can easily use Qi charging.
To charge, first, you need to keep your charging pad in a flat place. It may be a table, bed, or chair. When using it in the car, care should be taken to keep the charging pad in a flat place. After placing the pad in a suitable place, the plug should be attached. Then place your device on the charging pad. You're done. Your device will now start charging.
Advantages of Qi Charging: 
Qi chargers have a lot of advantages. Some of them are:
Keeps Your Home Neat and Clean
What is the most annoying thing about charging? Lost cable. Or tangling with the cables. Wireless charging can save you from this annoying hassle. At the same time, the cable of laptop, mobile, smartwatch or earphone makes your house untidy. Thus, this system helps you keep the house neat and clean.
Simplicity and Convenience
Cable damage is another problem in our daily lives. Qi Charging can also save us from the hassle of cable damage. Another advantage of wireless charging is that it is very simple. You can easily charge any compatible device using this modern technology.
All in One
The biggest advantage of Qi Charging is that with the same charging pad you can also charge different devices of different brands. Suppose, you use two phones of Apple and Samsung at the same time. Where you needed two separate cables for cable charging, wireless charging allows you to charge both Apple and Samsung phones with a single pad.
Disadvantages of Qi Charging 
Slower than Cable Charging
When using Qi Charging, you have to bear some disadvantages along with the advantages. The first disadvantage of this system is that it is still much slower than cable charging. Cable charging is an established charging system already but Qi Charging is still in the underdevelopment stage. However, I can say with certainty that fast Qi charging is coming soon. So long as we can't get it, we have to charge slowly.
No Using Condition During Charging
Another problem is in the case of Qi Charging, you must connect the device to the charging pad in the right place. Charging slows down when your device vibrates during charging or moves. However, the biggest problem with Qi Charging is that you can't use the phone in any way while charging, which can be done easily during cable charging.
Frequently Asked Questions
Is Qi Charging Safe for Your Device? 
– Yes, it is safe for your device. There is no danger in wireless charging. It is a simple yet advanced charging system, it doesn't harm your device battery. 
Do You Able to Turn Off Qi Charging? 
–In fact, it depends on your device model. For some models of devices, you have both Qi Charging and cable charging options. You can choose any of them and turn to another. 
Is Your Phone Qi-Enabled?
Is your phone supports Qi Charging? It should be checked at the time of purchase. Because wireless charging requires different hardware in the phone. You will likely find this technology in almost all Apple devices, some Samsung flagship devices, and very few HUAWEI and One Plus devices. 
Is Wireless Charging Necessary?
This is a very sensitive question. Because tech experts unanimously admit, Qi Charging is the future of technology. But if the question is, how important is Qi Charging right now? In that case, at present, Charging with Qi is more luxurious than it needs to be. Cable charging is still more effective than Qi charging. But if you want to make yourself look a little smarter than others or stay up-to-date with modern technology, you can choose Qi Charging.
Final Words
Lastly, Qi Charging is a wonderful discovery of modern science -another big milestone in the path of technology. Despite its remarkable scientific discovery, we should be aware of it.
One of the most intriguing things about Qi charging is that it enables us to live easier and protects the environment from pollutants as well. By preventing global warming, it makes our future world a little safer.