Your reasoning defines if you should go for a wired or wireless charging case for AirPods. Technically, it is convenient to have a wireless case as you can guess, gets automatically juiced up without any dependency on wires.
Basically, the confusion may remain on your purpose of choice. If you are willing to have non-stop power on your pods, both can give you better performances. Wired will give you a fast charge experience, and wireless to save your plugging hassles. 
Wire or Wire-Not  
There can be tons of queries on how wired is better and simultaneously why not. Let's break down the detailing of the individual specs. 
Fast Charges
One of the primary questions and confusions comparing these two charging solutions is, which one is more efficient in terms of fast charge. It is tested and reviewed by the users that the wireless charges up the pods slower than the wired ones.
Also, many have issues depicting the scenario like, if you don't keep the pods in some proper direction in the wireless charger case it will not even get the juice in. Wireless cases have a charger pack inclusive which genuinely helps the pods to reach the saturation level.
Work-Friendly
Of course, apple promises almost 24 hours of battery life to all AirPod products. When you are in a region out of connection, the wireless will be the savior for you. Wired ones come with lightning cable and need recharging the pods like any primitive way.
All on Wireless AirPods
Apple brings AirPod 2 with an updated version of fully wireless and also there is the primitive one with the lightning cable. The wireless ones have the LED indicator in the front of the case and there is a slight difference in the backside also. Furthermore, it has a matte finish, and also the pair-up button is slightly up than wired AirPod 1.
The following gives a better visual of the difference.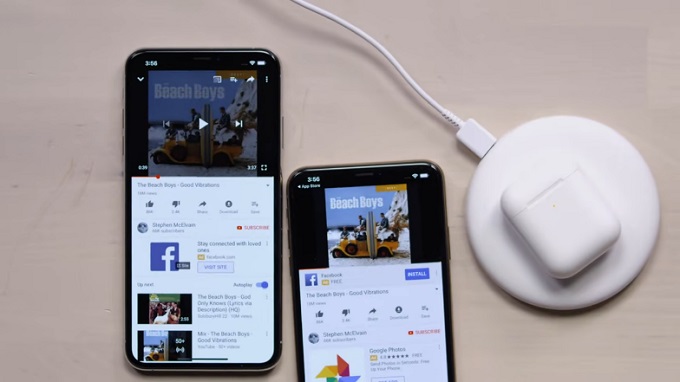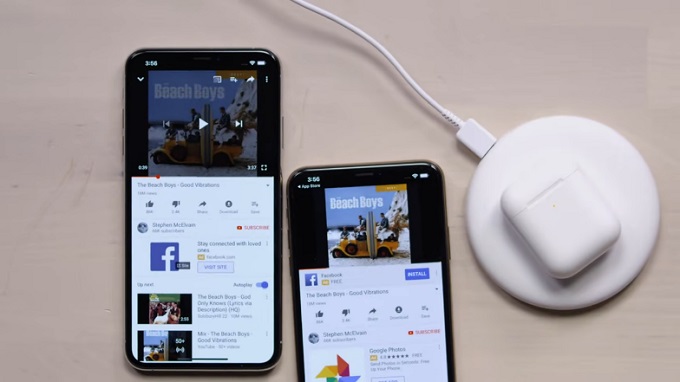 The wireless charging case is charged in an individual disc (Qi-compatible charging mat) and often is queried to be slow in charging. Gives the pod 3 hours of talk time and 5 hours of listening. Also, they use an H1 chipset and 5.0 Bluetooth.
All on The Wired Charging Case
Wired charging cases have the LED indicator on the inside, amid two pods. The rear side has a comparative glossy finish and the pair button is slightly lower in the wired charging case.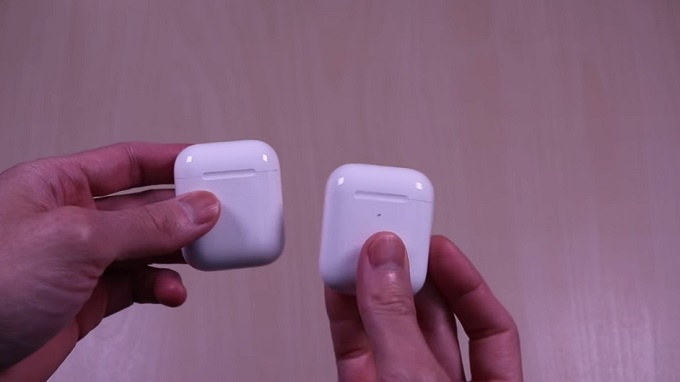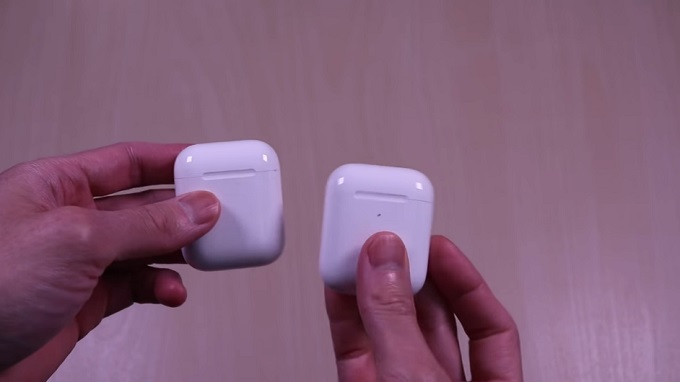 The pods in this version use a W1 chipset and are connected without any pain via Bluetooth 4.2. The major difference is that wired ones come with lightning cables and enable a fast charge, which is why yet a favorite one. This clip gives a better ideology on the charger cases.
Choose Wireless or Wired
Technically the version that is named wireless has a charging port as well, and the major facility is it can be charged without plugged as well. However, the wired one gets charged fast almost it takes 30 minutes to juice up to 100%.
Then you might think a wireless one is better as you are getting both facilities in one. But the new pack doesn't come with lightning cables. Rather just the case with or without pods is there. Let's check a little more in brief discussions. 
Thumbs up to Wireless & Thumbs Down to Wired
First of all, you have your old lightning, and bought the new wireless; you can charge in both ways, else you are only with Qi charging mat to charge the cases. So, this can give you a save in long drives, out of network region. You need not worry about draining out.
And as you can see, you need to carry lightning with you all the time so your battery doesn't fall. Even if you have your cable with you, there can be cases where you can't plug them. So, now you know the core difference.
Thumbs up to Wired and Down to Wireless
Specifically, wired cases get charged faster than wireless and the charging pad of wireless can't beat the power of lightning here. If your go-to-go office-work and walk friend is the pod then you better need a fast charged one. 
Looks like the confusion still bothers. But it's wise and standard to follow up the updated versions and wireless ones do have a massive upgrade on the systems like the H1 chipset and better Bluetooth.
Frequently Asked Questions
Does wireless charging case reduce battery life?
No wireless cases reduce battery life rather wired charging system makes the cases hot and often can disrupt the battery life.
Are wireless charging cases a better option?
Yes, even if the single procedure of the charging mat is slower than the wired way, yet it is convenient and is an updated one. 
Conclusion
Based on the chronology and new-age demands, the wired or wireless charging case for the AirPods question has a single answer- wireless. Latest upgrade and hence better entrails. But wireless is not always an entirely wire-free experience in practice.