There is a high chance that your phone's battery health may be declining if you are constantly charging it or looking for outlets to plug it in.
You may be imagining the drain of your battery, but Apple has built-in tools (that will be enhanced in iOS 14.5 and beyond) set to tell you for sure if your phone really is about to die.
Knowing how your battery is fairing can keep you from having to shell out big bucks for a new phone (a basic iPhone is $399). Treat the battery right and implement a few iPhone battery charging tips and tricks so that you can get the most out of it.
The following are some ways to monitor and maintain the battery of your iPhone in order to keep it running like (almost) new.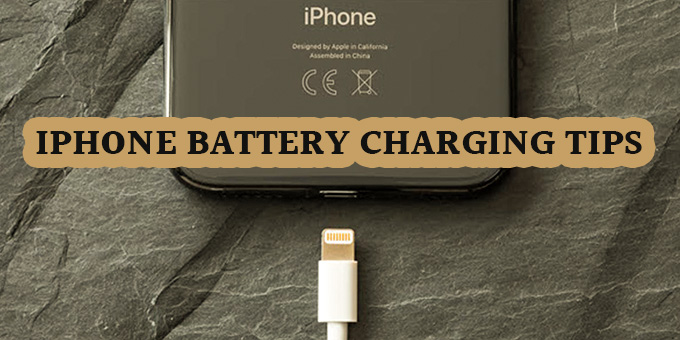 What Kind of Battery Does an iPhone Have? 
iPhone batteries use lithium-ion technology, a newer battery technology that provides additional power with a faster charging process. Battery life is also longer with lithium-ion models. 
Charges to 80% are very rapid, then the remaining 20% of the battery is charged by "trickle charging"". During trickle charging, it lowers electrical current significantly in order to extend the lifespan of the battery. 
Lithium Ion Battery: Dos and Don'ts
It is essential to follow a few guidelines when maintaining the good health of your iPhone battery. Here are some specific suggestions to help you prolong battery life: 
Dos:
Stay on top of your phone's software updates. 
Maintain a cool environment for your phone. According to Apple, the ideal temperature range is 32 to 95 degrees Fahrenheit. 
Make sure that the charger stops charging once the battery reaches 100 percent.
If you need to recharge a dead battery, let it charge for at least 30% before using.
Don'ts:
Make sure not to get a cheap charger that won't suit your battery.  
Once your battery is full, do not continue to charge it. 
If your battery is at 80% or more, do not charge it. 
Before using the battery on a new device, do not charge it.
No products found.
Our 8 iPhone Charging Tips That Will Save Your Battery 
1. Remove cover during charging 
During charging, your iPhone will generate heat, so it could get hot. To make sure that the heat generated during charging is dissipated properly, remove the iPhone's cover. Thicker covers and protective cases trap heat, causing the iPhone to overheat during charging. This can harm the battery's health. 
Most of these cases come in thick foldable leather cases, which have openings for cards and other accessibility features. Therefore, avoid using those huge and thick rubber cartoon covers for charging your iPhone since they can cause your iPhone to battery damage. 
2. Don't let your battery completely drain out
Many people think that fully discharging and recharging their phones will extend their battery's life. In contrast, as the battery goes lower, a greater amount of current is drawn out, so the battery life decreases. It is therefore essential for you to recharge your device once it has reached 20%. 
Furthermore, once you finished charging the battery, don't forget to unplug the charger. When the phone's battery is already fully charged, people are still leaving it to charge. This, however, will further degrade your battery's performance.
3. Don't use the phone when charging
You can upset the cycle of your phone while it is charging if you're watching videos or playing games. You should therefore avoid using your cellphone while it's charging to protect its battery. Furthermore, you should turn off the vibration notifications and the typing sounds. Over time, these features drain the battery, so make sure to turn them off if you aren't using them.
4. Turn off cellular data and WiFi when charging
Don't let the Wi-Fi or cellular data be turned on while you charge your phone. Considering that mobile data use more energy than Wi-Fi, it is recommended that you turn off mobile data if you must choose between these two. 
In addition, if you are out of the wifi network, don't keep your WiFi on. This causes your battery to drain faster. Since it continuously searches for Wi-Fi access and keeps the processor busy. Therefore, if possible, shut off the WiFi and cellular data simultaneously when plugging in your phone to charge. 
5. Enable "Optimized Battery Charging" 
With iOS 13, Apple introduced a new feature that limits the amount of power that you can use until you need it. It is referred to as Optimized Battery Charging. In Settings > Battery > Battery Health, you should find this enabled by default.
When a lithium-ion cell is fully charged, or charged to capacity, it degrades over time. With iOS 13, your device is restricted to around 80 percent charge until you pick up your phone. The app examines your habits and limits your charge accordingly. When that happens, the device charges to its full capacity.
Keeping the battery's capacity at 80 percent or less for a limited time will help the battery to last longer. In general, a battery degrades as it goes through more charge and discharge cycles, which is why eventually, batteries have to be replaced.
Hopefully, optimized battery charging will enable you to extend the battery life on your iPhone.
6. Use the default (genuine) charger
It is recommended that you use the charger included with your device. But the interesting fact is, you can also use the charger that came with your iPad to charge your iPhone and it will charge up to full sooner than the iPhone's own charger.
You'll find various third-party offers in the Apple store itself, as well as reliable brands such as Belkin (UK or US) and Juice. Make sure that the third-party charger you are using is of the highest quality if you are forced to use one. 
It is not a good idea to purchase cheap knock-offs, as these may damage your device. 
7. Don't charge your iPhone overnight
In the past, charging smartphones were primarily done by plugging in at night, disconnecting them in the morning when fully charged.
The reason for this was when batteries took a long time to charge to full capacity, so users and devices had ample time to recover from the previous day's exertions in bed accordingly.
But now that charging time has decreased, you might want to reconsider how you top off your tank.
In Apple's words, the lithium-ion battery preserves the longest battery life and provides a lighter, faster-charging experience for iPhones. The other features are fine, but Li-On does not really enjoy being reduced to 0 percent at the end of each day and then returning to 100 percent the following morning.
It is recommended by Apple and many others to keep smartphone batteries between 40 and 80 percent charged. Taking your battery to 100 percent is not recommended even though it will not necessarily damage it, but letting it run down to 0 percent on a regular basis can lead to premature battery death. 
However, there is an exception, as a complete charge of 0-100 percent should be done once a month to keep the battery healthy.
8. Don't overheat your battery
It's not a charging issue specifically. Still, it has great significance. Probably, you noticed after spending time in the sun, your phone was likely to become dramatically slower. Due to the fact that iPhone batteries hate extreme temperature changes, they must work harder in high heat or low temperature. 
Apple states that the "comfort zone" between 32 and 95 degrees is ideal for iPhones (and iPads, iPods). Bottom line: Your phones are cute little computers that need to be bundled up and cooled down as often as possible.
How to Look up iPhone Battery Info
Go to "Settings" and select "Battery". Your battery usage will be broken down into when it was used, and which apps use the most power. Within the past 24 hours or past 10 days, you can see what has happened exactly.
In addition, there is a section titled "Battery Health," which provides a quick insight into how much of your battery is in use. My iPhone 8 has 85 percent of its maximum capacity, purchased new a few years ago. You're better off when you're close to 100 percent. In addition, according to Apple, "low capacity can result in reduced usage time between charges."
The battery can still work at "peak performance" if it is less than 100 percent charged. The "Battery Health" page shows you if you're still able to use the battery as usual. Depending on which case you reside in, you may experience some of the following problems:
Dimming backlights
Slower apps
Slower scrolling
Longer app launch times
Lower speaker volume
How to Prolong Your iPhone Battery Life
Turn On Auto-Brightness and Avoid Full Brightness
You should always remember that as your phone consumes more battery, you will need to recharge it more often. And a battery has a limited number of cycles. Therefore, if you charge it often more, the battery will degrade faster than expected. 
A large amount of energy is consumed by the retina display on iPhones. During normal use, an iPhone's screen uses the most battery power. In addition, using the retina display at maximum brightness puts stress on an iPhone's battery. Thus, maintaining your iPhone's brightness at 100% all the time is not a good idea as it directly affects your battery life. 
Therefore, by setting your iPhone to auto-brightness, you can improve the battery life of your phone in the long run because it automatically adjusts the brightness. Additionally, it's also healthy for your eyes. 
Keep Eyes on Your Apps
Apps are one of the main reasons for iPhone battery drain – Constantly updating, consuming data, and sending notifications in the background. If you don't need them, simply disable their refresh in the background app settings. 
These apps continue to be updated with new features, however. To make sure that you update your apps and are able to take advantage of the new features available, make sure to read the latest reviews because these newly added functionalities can introduce a swarm of bugs that negatively affect the performance and battery life of your device. In many cases, updating an app has led to overheating or battery drain.
To summarize, be mindful about app updates; it is, in and of itself, neutral. You can make it worse or better.
Both types of users can use this tip: those who update their apps daily as well as those who check for updates periodically.
Turn Off Siri Suggestions
As you go about your daily activities, Siri will recommend items to you. For instance, if you usually order coffee at the same time every day, Siri may suggest it to you around that time. To make this happen, your assistant must do some work in the background, which, as you may have guessed, drains the battery. 
Select Settings > Siri & Search from the menu. With Siri Suggestions, you can change whether they appear in search, on the home screen, lock screen, or when sharing.
Frequently Asked Questions
How to Identify and Eliminate Battery Hogs?
Go to the battery information and look at the list. Identify the applications using more power than they should, by using this list. Delete the app or game that's really draining your battery, limit its use, or use it only when you need it the most.
It is sad, but true that Facebook drains the battery quickly. Deleting it may give your iPhone its biggest boost in battery life. You will, however, probably find something better to do than scrolling mindlessly through Facebook. It is also possible to use the Facebook mobile site instead of Facebook's app, which will require less battery drain.
Can Power Banks Harm Your Phone Battery?
There would always be an outlet nearby to charge our phones in an ideal world. Sadly, this is not the case all of the time. In such a case, a power bank would be very helpful for keeping you charged.
A power bank is not likely to damage your cell phone battery, in most circumstances. Make sure, however, that you charge your cell phone with a voltage that is compatible so that it does not overheat. It is essential that you get your power bank battery from a well-known manufacturer.
Final Words
It is true that every battery has a certain lifespan. However, with proper charging habits and maintenance, you can definitely upgrade the performance. We have tried our very best to include some tips in this article that are based on our very own experience and that of industry experts. In case of any further issues, do not hesitate to let us know. You are always welcome.