Nowadays, it is very common for smartphone and tablet users to carry around a power bank. Because most people demand a full day's worth of battery life from their phones. Sometimes, the inbuilt battery is unable to provide enough power. Anyway, you will find a lot of power bank options available in the market.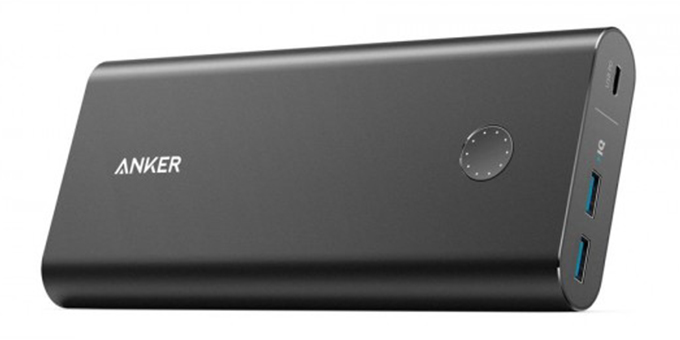 And it's no surprise that Anker is one of the most reputed companies in the power bank market. Plus, the PowerCore 20100 is one of the best sellers from them. 
Nevertheless, are you really in need of it? Would the power bank suit your needs? The purpose of this Anker PowerCore 20100 power bank review is to answer these questions.
Features of Anker PowerCore 20100 Power Bank
Capacity
As it falls in the high capacity category, Anker PowerCore 20100 doesn't need to mention its capacity. For smartphones, the 20100mAh capacity is huge. Moreover, it is considered as a great deal of power for tablets as well. However, no power bank can deliver the exact amount of power it is capable of producing. So, how much will you get from Anker's PowerCore 20100?
To calculate the actual capacity of any power bank, you need to multiply the advertised capacity by 3.7 first and for Anker PowerCore 20100, it is 20100 x 3.7. Then, divide the output by 5 and that's the real amount you will get from a power bank. 
So, for the Anker PowerCore 20100, it is 14874mAh. With such a huge capacity, you can charge your iPhone 13 more than 4 times. Thus, this Anker PowerCore battery pack actually holds a remarkable amount of power in a standard-sized unit.
Charging Technology
Unfortunately, this Anker PowerCore does not support either Quick Charge or Power Delivery feature and cannot fast charge like other Anker power banks. There is a reason for that. When this power bank was released for the first time, these advanced technologies were very rare in the power bank industry and no one adopted those technologies in their power banks. So, in reality, the Anker PowerCore was one of the top power banks of its time and still holds its good position in the market.
However, the Anker PowerCore 20100 portable charger comes with Anker's VoltageBoost and PowerIQ features. These special tech features work in a combined way to boost the charging speed and it is somehow better than some Quick Charge enabled common power banks too.
Compatibility
The Anker PowerCore 20100 portable power bank comes with two output charging ports, where you can charge two devices simultaneously using any USB cable. With the VoltageBoost and PowerIQ techs, these ports can deliver an individual max power of 2.4A. Anyway, you will find another micro-USB port near them, which is used to recharge the Anker PowerCore. Additionally, you will get a power button on a side and the LED indicator lights to show available capacity and recharging activity.
Safety System
Anker puts a lot of emphasis on the security of their devices. That's also not an exception as you are getting multiple protection facilities in the Anker PowerCore 20100 external battery pack. Short circuit protection, Surge protection, and many other safety measures are in place to ensure a safe charging process.
Design and Build
The matte finish of the power bank enhances grip and prevents the feeling of slipping. Though Anker advertised that its power bank wouldn't get smudged, sometimes it is reported that firm grips leave fingerprints behind. In terms of measurements, this PowerCore 20100 portable charger has a very compact design and is extremely portable while delivering a lot of power. It measures 6.64 x 2.28 x 0.87 inches. Due to this, you can easily carry this power bank and it fits inside the pocket of your jacket without any trouble.
Pros
Comes with a large capacity of 20100mAh
Very slim design compared to the same capacity power banks
Solid and strongly built with a matte finish
Four LED indicator lights
Supports simultaneous charging of two devices
Cons
It takes a long time to recharge itself
How Long Does It Take To Recharge The PowerCore 20100?
We have examined the recharging time of the Anker PowerCore 20100 power bank to get the exact result. If you use a 2A charger, the external battery pack needs more than 10 hours to fully recharge. With a 1A power bank charger, the charging time is obviously double the previous time. Using a 1 Amp charger is so slow that you may think the charger is defective! So, we would recommend a 2A charger or to have patience.
Can You Take The Anker PowerCore 20100 In Flights?
This is a very common question for every air traveler. The answer here is yes. Most planes allow you to carry lithium polymer batteries onboard. Besides, the capacity limit is much greater than the Anker PowerCore's. 
However, you can always check your airline's policies to make sure you don't get in any trouble. But, generally speaking, you will not face any issue taking the Anker PowerCore 20100 with you in planes.
Final Thoughts
In this review of the Anker PowerCore 20100 portable power bank, we examined all its important features, as well as its shortcomings. In the article, you might get a better understanding of whether you should purchase this power bank or not. This power bank will be useful if you need additional power when you are on a long trip, or if you need a large capacity power bank that can power your multiple devices all day long.