High-capacity power banks are becoming popular because of their long-lasting power and charging ability along with compact portable design. People don't need to carry several chargers if they bag a multipurpose power bank.
In the same way, you may also feel interested in high-capacity portable chargers if you are fond of traveling a lot. A power bank like this lets you charge multiple devices at once without worrying about running out of power.
In addition to Anker PowerCore's huge capacity, it features some lucrative benefits. First and foremost, in most cases, you'll get the latest technology in this power bank, and it offers multiple ways of charging different devices.
So, without any further introduction, let's dive into the Anker PowerCore 26800 review.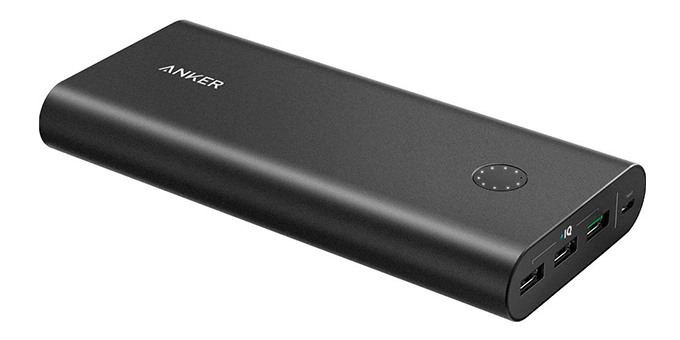 Overview of Anker PowerCore 26800
Design
Size and Weight:
If we look at the latest power banks of Anker, they always try to make their portable chargers as small as possible. They intend to give higher power output inside a compact device. The same goes for PowerCore 26800. By looking at its look and design, you cannot guess how powerful this gadget is.
The power bank is 7 inches long, slightly longer than half a foot, and 3.2 inches wide. It also has nearly 1 inch of thickness.
The weight of the charging device is 17.5 pounds, which is relatively high in the calculation.
You cannot walk comfortably carrying this gadget as it is not made for carrying; instead, to be used as a destination charging device.
You should carry the charger in your bag and use it for big purposes like charging larger devices.
Functional Elements:
All input and output ports are located on the side panel of the portable charger.
Horizontally placed three output ports together
Vertically positioned two micro-USB input ports
Uncommon design facilitating less width
To check the battery capacity and to shut down the device, there is a power button on the side
Automatically starts charging after connecting a device
4 LED lights on the top surface to show the available battery power
No flashlight in the PoweCore 26800
Build
Structure and Materials:
Despite being made of plastic, Anker PowerCore has a varnished finish. You may think the plastic-made device is not durable enough, but Anker makes their PowerCore with thick and strong plastic, which is not brittle at all.
Three main parts- the center body and two side panels
Pressurized side panels into the power bank to lower the chance of damage
Increased durability in case of avoiding top fall onto a hard surface
Technologies:
This power bank has not only an excellent charging capacity but also a Multi-Protection System to keep your power bank and devices safe.
This device can control the current effectively, so there is less possibility of generating heat which harms the PowerCore.
You can charge three devices simultaneously using the three output ports considering no damage.
Power
Capacity:
The Anker PowerCore 26800 has a power capacity of 26800 mAh. The manufacturer provides such vast power using Panasonic battery cells inside the PowerCore. So, the power loss remains as much lower as possible, and you can charge your devices multiple times.
The PowerCore loses approximately 800mAh per port when using three ports together. So, we can sum up to an amount of total 2400mAh power that the charger can lose.
If you charge only your smartphone, the power of this gadget can last over a week.
The high capacity is meant for road trips and to keep your devices charged for an extended period.
You can fully charge your iPhone 12-14 times using this PowerCore.
Output Charging:
The Anker PowerCore 26800 comes with three charging outputs. The charging speed is also higher, to be concise, as each port runs at 5V/3.0A speed. So, you can charge three devices simultaneously at the optimum speed.
The total output power of the charger is 6A at once.
Connecting three devices will divide into 2.0A per port, reducing their max charging speed from 2.4A to 2.0A.
Input Recharging:
Let's talk about one of the best features of the Anker PowerCore 26800. That is its amazing recharging capability. This PowerCore has two micro-USB recharging inputs. Each of them has a charging speed of 5V/2A.
You can utilize both input ports, and when you will charge using both of them, you will be likely to recharge quickly.
The power bank takes around 6 to 7 hours to recharge fully, which is only possible because of its two inputs.
Credibility
You can put your trust in the Anker PowerCore 26800 without any hesitation. The credibility of this product is expected to be beyond your expectation.
This power bank will suit almost everyone. Though it has a limitation in terms of portability, it is very impressive in powering devices. After all, this product provides great value for the price.
Pros
Very high capacity
Great for larger devices
Comparatively small and handy
Three output charging ports
Fast recharging for two input ports
Automatic start of charging when a device is connected
Compatible with maximum brands' devices
Cons
Comparatively expensive
Not suitable for carrying inside the pocket
Dropping heavyweights can easily damage it
Wrap Up
If you are searching for a charging device that has a very high capacity with many ports, the PowerCore 26800 is not for you. If you want a durable power bank and are happy with only three ports, we have no reason to exclude it from our recommendation.
Though you cannot simply carry the Anker PowerCore 26800 in your pocket, sometimes you can rely on this charger for days or even weeks. The PowerCore 26800 has become more popular because of its dual input ports and fast recharging.