If life needs food for survival then it's the charge that most of the portable devices are dependent on. The method of feeding up devices has been through stacks of experiments and upgrades in the last few decades. And here we are now, into the era of wireless charging.
It was the early 19th century when Nicolas Tesla built his 200 feet Wardenclyffe Tower with a desire to electrify the world wirelessly. Tesla failed. But the idea of wireless charging didn't. It hit the mainstream multimedia devices again in 2012.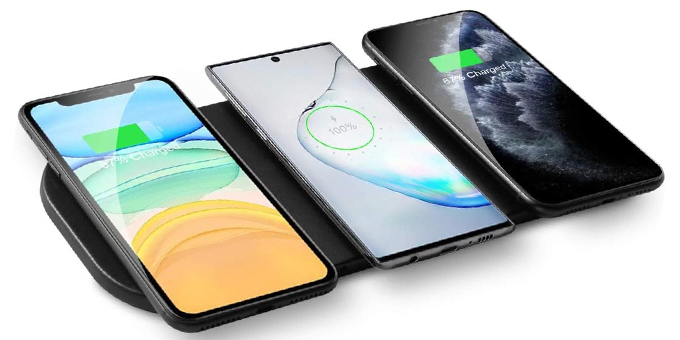 Since then, tech giants like Apple, Samsung, or other frontline manufacturers are using the technology in their devices. Yes, there were a few twists and turns to work out, but it continued to advance. And the good news is – it just keeps getting better.
So, what's the best wireless charger for multiple devices? Especially when numerous retailers claiming the throne. And what should you look for in the gadget that would certify top-notch performance with stability? Let's find it out in this paper.
What Makes a Wireless Charger Efficient?
The wireless charger uses an induction coil to create an alternating electromagnetic field that transfers the energy from the surface of the device to the back of the phone. In anticipation, the receiver coil residing in the phone's end converts the magnetic transmission into electricity and feeds the battery.
So, you can clearly see – or rather understand, since it's wireless – there is some sort of subtle engineering taking place to either end of the devices. What it portrays, at the same time suggests, that there is hardly any choice to blindly throw your cards at the table and bet against it.  
Wireless charging is cool. But if you end up with the wrong one then it wouldn't take much time to turn things into hell. Having said that, you need to make sure the device you are about to get has these following features within its hold to be potentially an ideal product.
Fast Charging
In most cases, wireless chargers are not as fast as the traditional ones, given the fact that a mediocre induction coil could produce excessive heat on stress. Also, the electromagnetic traffic loses some of its strength in the process, hence, it gets challenging to top up as quickly as a directly wired charger would.
So, a decent wireless charger is made taking this inefficiency into account.  Some of the best wireless chargers, for example, the SAMSUNG Wireless Charger DUO Pad comes with a 12W charging option to shorten the opening between the prototypes.
The Qi Standard
It was absolute chaos at the beginning. Most of the manufactures were coming up with their own type of wireless chargers and making it extremely confusing for the users. Devices that other vendors were also making compatible with wireless chargers could not decide which way to go.
As a result, a universal standard was a crying need to keep things under the same umbrella. So, the Wireless Power Consortium (WPC) came up with an open, universal standard for wireless charging to eliminate the confusion from both parties.
Now, almost all the frontline wireless chargers are Qi-certified. It uses magnetic induction to wirelessly transmit power from a charging pad to a wide range of Qi-compatible smartphones, tablets, or accessories like smartwatches or wireless earphones. It's the most common and recognized wireless charging technology right now.
Versatility
Well, the first and foremost duty of a wireless charger might be to charge your phone. But you need to keep in mind that a significant number of other multimedia gadgets like smartwatches, earphones, or tablets are also showing up with the necessity of a good wireless charger.
So, it would be an advantage to have a wireless charger that can serve multiple purposes. For instance, HATALKIN 3 in 1 Wireless Charging Station is one of those best wireless chargers for multiple devices. The likes of these chargers certainly make the charging experience much more elegant.
Aesthetic
There aren't many things to do with the aesthetic of a wired charger. But when it's wireless, there's always something you might want to look for. Since the whole idea is about ease of access, portability, and modesty, you'll definitely want to pick the device that best matches your home or office suits.
Besides, there are several formats of wireless chargers that you can choose from. As a matter of fact, stand-based wireless chargers are the most common and efficient ones. This would not only save some space but also give a better view to peep through the display while it's on charge.
Editors Choice
Best Buy
Nice Pick
SAMSUNG Wireless Charger DUO Pad, Fast Charge 2.0 (US Version with Warranty) - Black
Quezqa Wireless Charging Stand – 3 in 1 Fast Wireless Charger – Qi Charging Station Dock Compatible with AirPods Pro Apple Watch 7 SE 6 5 4 3 2 iPhone 13 Pro Max 12 11 Pro Max Xs X with QC3.0 Adapter
ZealSound Triple Wireless Charger wg-3b-fba + wg-3h
Editors Choice
SAMSUNG Wireless Charger DUO Pad, Fast Charge 2.0 (US Version with Warranty) - Black
Best Buy
Quezqa Wireless Charging Stand – 3 in 1 Fast Wireless Charger – Qi Charging Station Dock Compatible with AirPods Pro Apple Watch 7 SE 6 5 4 3 2 iPhone 13 Pro Max 12 11 Pro Max Xs X with QC3.0 Adapter
Nice Pick
ZealSound Triple Wireless Charger wg-3b-fba + wg-3h
The Best Wireless Charger For Multiple Devices of 2021
Since there are several wireless chargers out there right now dominating the shelf, it gets a little tricky to pick the right one. But don't be worried at all, because we've sorted out the best ones from a bunch of wireless chargers taking all the rudimentary aspects into account.
Now, fasten your seat belt, read along, and discover the one you need most.
1. SAMSUNG Wireless Charger DUO Pad, Fast Charge 2.0
When it comes to electronic devices, everyone prefers to go for reputed brands. No wonder why we've kept the Samsung Duo Pad 2.0 at the top of our list. It is the successor of the Samsung Due Pad, but with some modifications, it's significantly better in terms of usability, charge time, and price.
It comes with advanced Qi certifications that enable charging multiple devices without plugging in a cable. Having said that, you can charge Samsung Galaxy S9, Note 9, or any other Qi-compatible device. It also supports iPhone 8 or later models and other Apple accessories featuring wireless charging. 
As the name of the product suggests, it's a duo pad. That means you can charge different devices using the same charger at the same time. So, charging your Gear S3, Gear Sport, and Galaxy Watch or AirPods is now more fun using the SAMSUNG Wireless Charger DUO Pad 2.0.
Now, you may ask whether it would lose competency for charging multiple devices simultaneously. Well, no, it wouldn't. Perhaps it comes with 12W fast charging technology that can charge your compatible smartphones faster than any other typical wireless charger out there.
The left one is the primary charging pad of the gadget that you should easily apprehend since it's larger than the other one. To be mentioned, the right-sided charging pad offers 7.5W fast charging which is ideal for charging accessories. However, you can also use both stations for charging your phones.
If you had used a wireless charger before, then you might know that it produces significant heat during operation. And if your room temperature is slightly hotter than it should be, it might add to the overheating issue of any wireless charger.
But the Samsung Duo Wireless Charger 2.0 comes with a fan mounted at the bottom of the device that helps a lot to keep the copper induction coils moderately cool. While it increases the battery life of the device by keeping the surface temperature checked, some might find the noise of the fan irritating.
Another standout of the charger is its compactness compared to the previous one. It weighs about 11.2 ounces with its 6 x 8 x 2 inches size. Also, Samsung has eliminated the sanding pad from the earlier version. Which makes it more convenient to carry inside your bag and use on any given surface.
Being matt black makes it a universal fit for any setting. In addition to that, it's coated with a nice gripping material all over its surface that ensures none of your fancy devices slides away from the charging pad. Though Samsung has used plastic materials here and there in the charger, it still smells premium.
However, you might find it a little expensive compared to other wireless chargers, but it's a win-win situation given the fact that you are technically getting two long-lasting chargers for the price of one.
2. Quezqa Wireless Charging Stand – 3 in 1 Fast Wireless Charger
This isn't a pad format wireless charger. Rather, it's a charging stand that houses 3 devices to charge simultaneously. Well, you can sense that it's a unique product. The design and build quality of the Quezqa Wireless is almost unparalleled if you consider charging more than 2 devices at once.
The engineers working their blood and sweat out at the rear end of the Quezqa production line surprised the wireless charger market back in 2019. Since then, it has been one of the best wireless chargers for multiple devices.
What users find extremely helpful in this charger is the stand that lets them charge phones in both portrait and landscape modes. Typically, flat pad stations don't let you do additional work while the phone is on charge. Since it's a charging stand, you can take full toll of leisure time watching movies or favorite videos.
Sometimes it gets a little difficult to find the exact spot of the station of your wireless charger. But Quezqa has been remarkably brilliant to address the issue. They have used larger induction coils so that users don't need to struggle to find the sweet spot.
There are six wider induction coils altogether in the charging station. The big two are dedicated to phone charging which covers almost the entire mast of the charging stand and offers to charge speed up to 12W.
The other two coils sit at the top and rear of the stand individually. The top station offers 3W and is dedicated to charging gadgets like smartwatches. On the back of the stand rests the charging point that supports 5W charging for Airpods.
Well, with too many induction coils come too much heat, right? And excessive heat is always harmful to your device. So, what's the solution?
The Quezqa Wireless Charging Stand comes with intelligent cooling technology that dissipates heat through the back end of the stand and ensures your devices are prevented from overheating while the high-speed energy transmission takes place.
It comes with a led indicator resting at the bottom of the stand that switches off automatically so that you don't find it disturbing late at night. However, there is an additional rubber pad just over the led indicator that ensures your phone stays upright even if the stand trembles from unwanted plunges.
Each of the charging stations of this gadget has anti-slip pads that prevent your devices from sliding off the pads while charging. On top of that, all material used for this wireless charging station is 100% electrostatic-proof, ensuring safety for both your devices and feelings.
Though this charger was made prioritizing the iPhone users in the first place, it also offers a wide range of wireless charging facilities that include the likes of Samsung Galaxy S20, S20+, S20 Ultra, and a few Google Pixel and Nexus devices.
Thanks to the advanced Qi-standard authentication. It certifies that the charger is capable of charging any Qi-enabled devices be it your apple watch or AirPods.
3. ZealSound WG-3B-FBA, Ultra-Slim and Best Wireless Charger
If you own multiple phones then you should be looking for this particular charger. The ZealSound Ultra-Slim Wireless charger station comes with an option to charge three phones side by side. Now charging the phones of your family members will get easier with this one-stop charging solution.
Well, it's not only for charging phones. You can feed up your wireless charging compatible AirPods or other Qi-certified devices. But the bad news is you can't charge any smartwatch in any of the three charging points.
However, it's compatible with every iPhone 8 and above, Samsung Galaxy S8 Plus, Lumia Lumia920, and a bunch of other Qi-enabled smartphones.
ZealSound believes the art of charging devices is about consistency rather than charging at a wild speed. This is why their charging stations come with a standard 12V/2A AC Adapter. That being said, you can charge three phones simultaneously with an equal speed of 5 watts.
This might seem slower compared to Samsung DUO Pad 2.0's 12W charging facility. But the amount of heat Samsung's wireless charger produces is significantly higher than ZealSound's. Perhaps, they preferred to emphasize more on prolonging your phone's battery life by reducing excessive heat.
On top of that, ZealSound WG-3B-FBA comes with a premium ultra-slim leather pad that works better in heat dissipation than a typical charger. The pad has a fine matt black finish and offers a firm grip on the devices. The 10.63 x 4.72 x 0.24 inches rectangular-shaped pad is a perfect fit for small desks.
Many other ordinary wireless chargers get stubborn when you try to charge the phone with a case on. Fortunately, this one comes with a case-friendly working distance of 4 mm which covers almost 90% of phone cases in the market. You can maximize the distance up to 8mm by taking off the phone case.
Safety is always a concern while charging your fancy phones wirelessly. Be assured that the ZealSound WG-3B-FBA Ultra-Slim wireless charger comes with a bunch of safety features including overcharge and overheat protection, radiation shielding as well as foreign object detection.
So, all in all, the lightweight ultra-slim, and travel-friendly companion is one of the best wireless chargers for multiple devices. Though it is slower compared to other gadgets out there, if you take phones' wellbeing into account, this should be the perfect fit for you.
4. HATALKIN 3 in 1 Wireless Charging Station (TPA-10120150UU)
The Chinese brand Hatalkin was known for its smartwatch accessories a few years back. But with their 10W 3 in 1 Wireless Charging Station, they had made another fresh entry to the market. Right now, one just can't ignore this gadget while talking about wireless chargers, especially for Apple products.
The reason is clear as daylight. It comes with QI, CE, FCC, and ROHS certifications that enable charging multiple devices at the same time ensuring fast charging speed. And tell you what, you can save a few bucks too since it's budget-friendly!
At the first glance, you will find it almost identical to the Quezqa Wireless Charging Stand, which is also a masterpiece of its kind. But the key differences between the models are the charging speed and conversion efficiency.
Quezqa's charger's conversation rate is up to 80% whereas the Hatalkin 3 in 1 Wireless Charging Station offers up to 90%.
However, the combined charging speed is 22.4W for the gadget. Any iPhone 8 or above (except iPhone 12 mini) is charged with a consistent speed of 7.5W. On the other hand, the Samsung Qi-compatible smartphone can be charged with a faster speed of 10W.
The 5W charging pad resting at the back of the station is dedicated to Apple Watch, Airpods or Samsung Buds series, and other wireless earbuds.
It comes with dual LED indicators that shut off automatically after 40 seconds you put the device on charge, making it more energy-efficient and sleep-friendly during the night. The green light in the indicator means you have everything right. It turns red if the device is not compatible with the charger.
The sturdy charging station is extremely lightweight and compact in size. So, it's a perfect on-the-go companion. On top of that, being a charging stand, it provides great safety for your devices and at the same time adds extra charm to your office or home décor.
The built quality of the charger is unquestionable. The 4 induction coils used in the gadget are made of pure copper that ensures top-class energy efficiency keeping the charger as cool as possible. In addition to that, advanced intelligent heat dissipation and protection systems ensure safety at its best.
5. UUTO 3 in 1 Qi-Certified Fast Wireless Charger
Some people regret stating that wireless could have been more convenient if it had come with the fast charging capability of a wired charger. Well, if you are one of them, then it's time to end your ode to mourning.
Because the UUTO 3 in 1 Qi-Certified Fast Wireless Charger comes with an industry-leading fast charging option of 15 watts. This advanced Qi-enabled charging pad literally lets you charge phones 1.5 faster than any other wireless chargers out there.
The opal-shaped charging pad is simple and comfortable to use. It offers to charge multiple devices simultaneously with the help of a QC 3.0 power adapter. With a lightweight of 5.9 ounces and a compact size of 8.07 x 3.15 x 0.35 inches, it gets super easy to carry into your bags anytime, anywhere.
It lets you charge compatible iPhones, Samsung, and other Qi-certified smartphones at a speed of 15W, 10W, 7.5W, and 5 watts. The primary slot for charging phones is the left station that supports up to 15W whereas you can also charge another smartphone at the leftmost slot at a speed of 5 watts.
The middle or central station is dedicated to smartwatches. It features 2.5W which is more than enough to charge apple watches. However, it doesn't support any other brand of smartwatches other than apple. This is where it loses the universal rating with the particular drawback on-board.
But you wouldn't want to pay much heed to that since it comes with an intelligent cooling feature that does the heat decapitation process without making the slightest noise. In terms of noise and heat management, it surpasses the Samsung Duo 2.0 Wireless charger by a fair margin. 
I should have mentioned the slimness of the charger earlier. But it's a matter of wonder how UUTO managed to fit all the stuff within 3.15 inches of space. The front of the charger looks rather a techno with its subtle circuit print and graphical exhibition.
The base of the charger is plastic made although it always looks premium. There are four gripping pads at the base that ensures a strong grip on the surface and at the same time make little room for the heat to be dissipated.
Though you might feel a little unlucky not being served with a charging adapter in the package, yet with its fast charging capability and stunning design make it one of the best wireless chargers for multiple devices.  
6. Amugpill 3 in 1 Qi Certified 15W Fast Wireless Charging Station
Here's another 3 in 1 charging station featuring up to 15 watts of charging speed. You have come across several charging stations in this article. So, you may ask what makes Amugpill 3 in 1 different from others? Well, it's the design it has.
It has a unique design that makes charging multiple devices easier than other standing charging stations. The HATALKIN or Quezqa Wireless Charging Stand uses the back of the standing mast to station accessories that some users find a bit inconvenient to use at times.
But Amugpill uses the right side of the standing mast rather than going behind. On top of that, the charger comes with a platform that features a touch button to let you choose between the lighting modes.
I should mention the relaxing surround light that breathes while the phone is on charge. The light turns green in standby mode, blue in charging mode, and flashes blue and green when devices aren't placed accordingly. You can also turn the light off using the touch key during the night if it bothers you.
What we've seen in most cases is that wireless chargers don't behave themselves when it comes to charging wireless earphones. But not in this case. Because the Amugpill 3 in 1 wireless charger supports almost all the Qi-certified TWS earbuds that include Airpods, Galaxy Buds, or the likes of Free Buds.
The stand's surface has a premium anti-slip silicone finish that ensures all the devices stay in place during operation. Since it has a working distance of up to 0.2 inches, you can easily charge your smartphone without necessarily removing the slim cover.
Besides, a larger induction coil eliminates the requirement of finding the sweet spot. Now it's more fun enjoying videos in landscape mode while charging.
Luckily, you'll get the Qualcomm Quick Charge 3.0 adapter free with the charger which some manufacturers find difficult to include in the package. The energy conversion rate is ≥ 73% and there are no heating or noise issues related to the product.
The advanced temperature control technology works flawlessly to ensure prolonged battery life for all your devices. At the same time, over voltage and over current protection make sure both the charger and devices are free from risky electrical malfunctions.
It might cost you a few extra bucks compared to other 3 in 1 wireless charging stands in the market. But the convenience and consistency it offers are worth a shot. 
7. JE Make IT Simple Qi-Certified Wireless Charging Station
Initially, we wanted to put it higher on the list. But, since it isn't compatible with the iPad and smartwatches, we had to reshuffle it at lower order.
However, three powerful pads that can charge three compatible smartphones with the same high speed of 10 watts make it one of the best wireless chargers for multiple devices. On top of that, all the charging points can detect the device automatically and set the charging value by itself.
That being said, you don't need to wait with your iPhone 12 to put in a 7.5W pad. Just place it on the charging pad, and let it automatically decide what your phone needs. This is one of the reasons why it's called JE Make IT Simple!
The rectangular-shaped wireless charger is compatible with all the Qi-certified devices that include a long list of iPhone and Samsung smartphones as well as the Airpods2. 
The ultra-slim 4-inch leather pad comes with three heavy-duty copper induction coils that ensure parallel charging competency. At the same time, an advanced heat dissipation system keeps the pads cool even at full stress.
As far as aesthetics is concerned, you will get an option to choose between five colors to make a good match with your office or home surroundings. Besides, It weighs so little and has a compact size which makes it really easy to carry anywhere if needed.
You'll be glad to hear that this charger offers the best working distance. It can transmit charging power even through the heavily protective phone cases up to 6mm. But you'd definitely want to take off the case if it has any metal parts.
Like all other premium wireless chargers out there, it also comes with advanced safety measurements. But unfortunately, there's no cooling fan mounted in the device. Perhaps, they preferred not to bother anyone with the extra noise of the rotating blades.
But long story short, it's a handy wireless charger that can charge multiple phones simultaneously. However, keep in mind that it isn't very friendly with smartwatches or wireless earphones. Other than that, it's an easy-to-use, powerful, and convenient charging mat.
Frequently Asked Questions
How Fast Is Wireless Charging?
Wireless chargers might not be as fast as wired chargers. Currently, you can get a maximum of 15W output depending on the model of the charger. However, most of the Qi-enabled charging stations tend to vary between 2.5W to 15W of charging output.
Which Is the Best Wireless Charger for Multiple Devices Right Now?
Well, being the best requires certain qualifications. Built quality, energy efficiency, versatility, charging time, and price are some of the factors you might want to take into account while choosing your wireless charger.
Right now, the Quezqa Wireless Charging Stand is one of the best wireless chargers among the standing prototypes. On the other hand, you can consider the UUTO Wireless Charger as one of the best pad-based wireless chargers.
Can I Use a Metal Phone Case During Wireless Charging?
No, you can't use metal phone cases while charging your phone using a wireless charger. The wireless chargers typically come with a working efficiency range of 4mm-6mm. If your phone cases are thicker than that, you'll need to take them off before charging.
Do Wireless Chargers Need WI-FI?
Wireless chargers come with additional power adapters that drive the DC current into the charging station. From there, the energy transfers to the battery of your phone using an electromagnetic field. That being said, WI-FI has nothing to do with wireless charging.
Is Wireless Charging Harmful to My Device?
Well, there is a myth in this regard that wireless chargers damage the phone or its battery. To be honest, this is not entirely true, nor can you ignore the matter. Because, if you end up getting a cheap quality electronic accessory, it will definitely hamper things associated with it.
Since the wireless chargers deal with sensitive things like induction coils or electromagnetic fields, there is always some risk that stays on. Nevertheless, you can easily minimize the risk by buying a quality wireless charger.
Final Thoughts
Undoubtedly, the wireless charger is one of the modern-day blessings. It has eliminated the irritating days of struggle with our traditional wired charger. Besides, nothing beats the wireless charger when it comes to charging multiple devices simultaneously at the same place.
With everything being said and explained, if you want me to conclude on a particular wireless charger, then I'd like to mention the Samsung Duo 2.0 Fast Charger as the best wireless charger for multiple devices. Because it's always better to value brand and quality over anything else.
However, you should also explore and try to discover the best one by yourself. Be very meticulous while choosing the wireless device for your phone or smart accessories. The future is wide open, and as I've mentioned at the beginning – it always gets better.