In order to live a more comfortable life, we all look for new gadgets. If you are planning to go on a trip or hiking, you will definitely like to carry some electronic devices such as smartphones, tablets, cameras, and MP3 players. However, keeping those devices powered up during the trip is crucial to making it memorable.
Therefore, you will begin to consider a portable power bank with this perspective in mind. Without having a shadow of a doubt, every day it is becoming increasingly important to use technology to get rolling in our daily life.
If you want to use a power bank all day long, it needs to be powerful and compact at the same time. We did a lot of research to find you the perfect one, and Anker PowerCore 10000 turned out as an exceptional choice, nonetheless. In our review of the Anker PowerCore 10000, we explore many aspects of this product to help you decide whether or not it is the best purchase for you.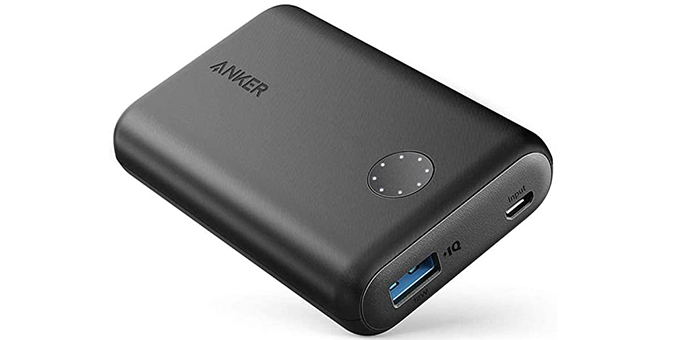 An Overview of Anker PowerCore 10000
Design
The rectangular-shaped PowerCore is made of plastic and generally comes in black.
It has a dimension of 3.9×2.5×0.9 inches.
The weight is around 7 ounces, which is significantly lighter than the others of the same dimension.
The compact design of the product allows you to carry it simply in your pocket or your purse.
Features
The PowerCore 10000 comes with only a single USB charging port, which is literally uncommon among the same type of power banks. Maximum power banks of the same capacity come with two USB charging ports. Though the Anker PowerCore 10000 lacks in this area, it has Qualcomm Quick Charge 3.0 feature enabled in that single port. This Qualcomm feature allows the Anker PowerCore to get 5V/2A output.
You can charge an iPhone from zero to fifty percent within 40 minutes because of its Quick Charge feature.
A micro-USB port is available to charge the power bank, which does not allow pass-through charging. That means you cannot recharge the Power bank when you are charging your phones using it.
You will get a micro-USB cable to charge your devices. Anyway, you can use your devices' own cables as well.
You will find a line of four LED lights on the front, which will show the battery status. These lights blink when you start charging your power bank.
You can press the status button on the left to check the battery power status.
There is no power button on this device. So, you will connect a device using the USB port, and it will automatically detect the device and start charging.
Performance
We took the Apple iPhone 12 for our testing. The PowerCore's 10000 mAh battery can charge an iPhone 12 three times over. If we talk about tablets, it generally can charge most tablets more than twice. Hence, this gadget can be a pleasant companion on your day trip.
People choose it for their flights and long car rides. If you expect to be away from the main power for a day or two, this power bank is an excellent solution for you.
This Anker PowerCore ran for around 24 hours when we connected a ZTE Axon 7 with zero power. We streamed a full-screen video at maximum screen brightness over Wi-Fi to perform this test.
Advantages
The bargain price is one of the things that you would love to have this portable charger for. It doesn't cost you more than the price of two McDonald's special burgers. In addition, you don't need to worry about the technical problems of your Anker PowerCore for at least 18 months, as they provide limited warranty service for that period.
The recharge time of this Anker PowerCore is decent. It takes only 4 hours on average to charge fully. Overall, this PowerCore provides an excellent value for its price. You may like to know about Anker PowerCore 2000.
Affordable price
Lightweight and compact design
Available in multiple colors
Massive battery capacity compared to the size
Automatic detection of device and starts charging
Qualcomm Quick Charge 3.0 supported
Limited Warranty Service for 18 months
Disadvantages
You can use this PowerCore gadget only to charge your devices. It does not come with other integrated features, which you will typically find in other power banks.
Though flashlights are popular in power banks, it does not contain any. Besides, there is no built-in wall plug or adapter to charge your PowerCore 10000, and no integrated cable is also available for charging various devices. So, you will have to charge the Anker 10000 power bank using your own USB power adapter. Otherwise, you need to charge it off from your computer. In the case of phones compatible with other cable types, you have no option but to buy that specific cable.
Cons
Conclusion
That's all about Anker PowerCore 10000 review for today. You already know this power bank gadget does not have multiple ports to charge several devices at once. But it has a USB port, which can charge your device incredibly fast.
Why will you carry giant power banks which are inconvenient to move and create hassles? Instead, you can use the Anker 10000 mAh power bank to get the fast charging inside a small cover. We recommend this portable charger to smartphone users and tablet users for quick trips or day travels to keep their devices charged whenever needed.