In the era of portability and less weight, we tend to seek the lightest and most efficient power source.
As technology advances, the more things get lighter and stronger in the process. Cars are now hybrid, laptops can fit into your jacket, and your day-to-day items are using less processed materials. 
While we talk about power, most of the things around us rely on batteries. From our cars and home UPS to our laptops and smartphones, everything has a battery in them.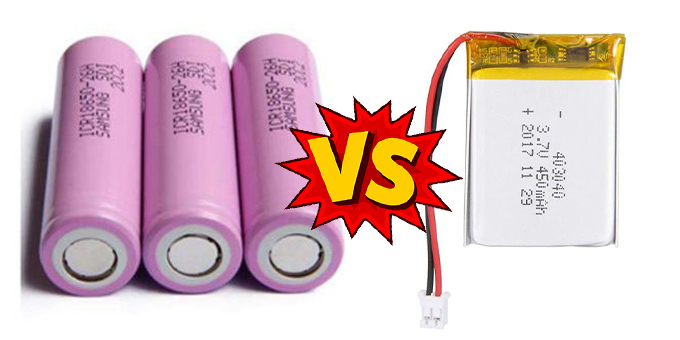 This makes us question their efficiency. As most of them have a Lithium-ion build, and some are lithium polymers, which one is better? 
That is why we are going to explain the difference between the two in this li-ion vs li-polymer battery article. 
LI Ion vs LI Polymer Battery | the Battle of Power
To make things a bit easier, we have put the two battery builds side by side in this table. You will see one of them excels at some point and the other fails. So let's not waste any more time and get into the explanation. 
| | | |
| --- | --- | --- |
| Features  | Li-ion battery  | Li-polymer battery |
| Build type  | Li-ion batteries have a Lithium anode, graphite cathode, and an electrolyte element dividing the two and creating power.  | Li-polymer batteries also have the same anode and cathodes but have a gel-based power source instead of liquid ones.  |
| Operation  | While charging a li-ion battery, the liquid electrolytes react and make the negative ions move to the positive terminals generating power. | Works almost the same way as li-ion batteries but as there is less liquid, they don't heat up as much as them.  |
| Memory effects  | None.  | With usage and time, li-polymer batteries fall into memory effects and losses their power to operate properly.  |
| Leakage chances  | More prone to leakage due to their liquid electrolyte.  | Few to no leakage possibilities for gel-based electrolytes.  |
| Weight  | Lighter and thinner.  | Bulky and rugged.  |
While at the first go, you might think that they have the same build of anodes and cathodes, so they will function the same way, you are wrong. 
Depending on how they are built is how they will function in the long run. Although the li-polymer battery has a gel instead of a liquid-based electrolyte, they fall short with time and usage. The gel substance starts to solidify making its power go down day by day. 
The li-ion battery on the other hand keeps on running till the end. But the liquid state makes them more vulnerable to the polymer battery, making them not usable in rugged devices. 
The place where the Li-ion battery shines is its lifespan. A Lithium-ion battery will perform to its fullest till the end. 
At the same time, the li-polymer battery will suffer the memory effect. You might have come across this situation with your laptop or power bank. They will show you that it has enough power but will decrease significantly while put into use. This is called the memory effect. Lithium-ion batteries don't have this problem. When they are ready to die, they just die. 
Weight is another issue with a li-polymer battery. As they have gels instead of liquid electrolytes, they are rugged and not prone to any damage in any situation. This is a good thing but not so much if weight is an issue. 
Li-ion batteries tend to be lightweight and can generate a good amount of energy for a long time. Which makes them the perfect fit for handheld devices like smartphones and tabs. They can do so much in their little shells. 
Which One Should You Use
With both having their drawbacks and best performance in different fields, we would suggest that you go with the most available resources. 
Li-polymer batteries are good for laptops and power banks while li-ion batteries are good for smartphones and tabs. 
But if you are afraid of leakage and damage, then opting for a li-polymer battery would be good. But be prepared for a memory effect in long-term usage. 
Frequently Asked Questions 
How long does the li-polymer battery last? 
Li-polymer batteries have a life cycle of 300 to 500 times. Which can round up to 3-4 years. It is the same for li-ion batteries. They have the same lifetime as a lipo battery.
Which is better li-ion or li-polymer? 
Depending on the device you are using, li-ion batteries pack more power than a li-polymer battery. So if you have a power-hungry device, then go for li-ion batteries than lipo batteries. Also, they are lighter than lipo batteries. 
Is it okay to overcharge the li-polymer battery? 
No. Like any other battery, li-polymer batteries will explode or leak if overcharged. Especially if they don't have a power conductor to regulate the power input. So it is advised you pay close attention to your battery charging and not overcharge them. 
Conclusion 
Batteries are batteries, no matter what their types are. And with time, they will start to perish. As lightweight is our main priority, li-ion batteries are the winner. But for ruggedness and safety, a li-polymer battery holds the crown.