If you are a regular user of Apple products, chances are good that you run many of the Apple devices at once. We can therefore assume you may use Apple Watch, Apple iPhone, and Airpods all at the same time. Additionally, these three will require three different adapters to charge. 
In such a situation, you would appreciate a power station that will charge all three of your devices simultaneously. Your solution is here with the Mophie 3 in 1 wireless charging pad. It is a fast-charging wireless pad to charge all Apple devices, excluding iPad and MacBook.
Today, we are here for the Mophie 3 In 1 wireless charging pad review. This article will examine whether this charging station from Mophie is worth buying and why it is recommended for use.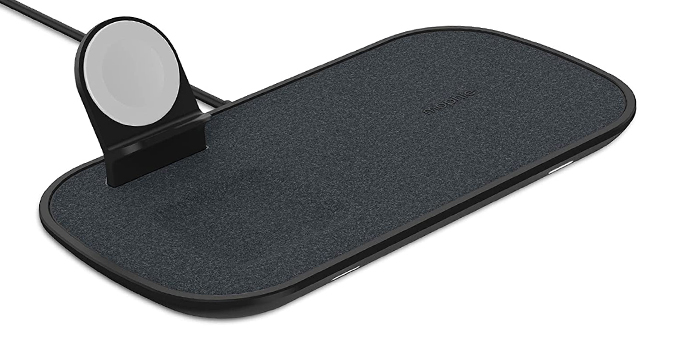 What's Inside the Package?
The box of the charging pad comes with a traditional black and white color combination which looks great. You will find the list of supported devices on one side. And other sides are filled with additional information and pictures regarding the charging pad.
If you open the box, you will find the charging pad placed in a cardboard cartridge.
A short guidebook, a power adapter for the socket, and a module to charge the airpods and Apple watch are also packaged inside the box.
An Overview of Mophie 3 In 1 Wireless Charging Pad
Specifications 
You can charge your iPhone, Airpods as well as Apple Watch, and Qi-enabled devices using this wireless charging pad. In fact, you can charge them all together at the same time.
Mophie charging pad has the latest Qi technology, which allows you to charge iPhones with maximum speed and has a charge power of 7.5W. And, other devices can be charged with 5W charge power.
If we sum up all the mentioned power together, Mophie Wireless Pad has a total charge power of 17.5W.
It weighs around 268 grams.
The dimension of the charging pad is 52.6x195x100 mm.
The price of the wireless charging pad is almost $120 on average.
Design
The design of the Mophie 3 in 1 Charging Pad is excellent. It suits almost every device perfectly.
Basically, the wireless charge pad is made of plastic along with a smooth front surface. Your devices are safe from scratches because of that smooth surface.
The charging pad also comes with a glass-made design that suits any tabletop. 
You will find a slot to keep your Airpods when charging. Additionally, you can charge your iPhone near the slot in the storage compartment.
A non-slippery rubber is added at the bottom of the charging pad so that your charging pad does not slip off the desk surface.
There are two LED lights on the front to show the signals of the charging process.
If we look at the previous charging stations, there was an extra cable system for Apple Watch. That means you always need to use at least two cables. But, Mophie has brought a solution to that problem by inventing this power station as no secondary cable is required for Apple Watch. Mophie has also provided the facility to charge Apple Watch both crown up and down.
User Experience
Maximum charging pads create problems when charging multiple devices. In the case of Mophie 3 in 1 Charging Pad, you will find no issue when charging various devices together at max output. Besides, there is no problem with overheating when you charge all three devices simultaneously. You should just place your devices in exact places, and the charging process will begin immediately.
For hearing-sensitive people, there is a problem with the charging beep sound coming from the adapter. It would help if you kept it at a distance of a minimum of 20cm to avoid that sound. Anyway, you don't need to worry about charging performance. Because the charging pad provides almost the same speed of charging which you would get using an individual cable for each device. As a result, you will need around three hours to charge your iPhone, which is actually the standard time.
Besides, it's one of my favorite features on the Apple Watch to use the Nightstand Mode, and this setup makes it easier than ever to utilize it. Advantage of Nightstand Mode, where your AirPods are slightly raised, your watch won't be blocked by your AirPods when you are lying on your back with your eyes at the same level as the charging pad.
Pros
Qi Technology included which allows fast charging
It comes with a scratch-free and smooth front surface
Non-slippery rubber at the bottom for better grip
Facility to charge the Apple Watch both crown up and down
Bedside friendly Apple Watch holder
Safe and efficient charge
Hassle-free charging for 3 devices at once without any issue
Cons
Disturbing beep sound from adapter
Specialties of the Wireless Charging Pad
You may use iPhone cases to keep your iPhone safe. If you use iPhone cases with a thickness of less than 3mm, you have nothing to worry about. In other cases, you need to remove your iPhone case to charge appropriately.
If you look at the Apple Watch holder, it seems to be very convenient to use at the bedside. The holder is made at such an angle so that you can easily watch the time from bed.
Conclusion
If you want to charge multiple devices including your iPhone, Apple Watch, Airpods, etc., Mophie is a brilliant solution for you. Though its whistling adapter can bother you sometimes, overall, the device has a pleasant feel and is easy to use. After going through the review and knowing about its ins and outs, we believe it won't be a difficult decision to make anyway.