With the arrival of the latest iPhone on the market, a bomb has also exploded. Don't be surprised to open the box of your new iPhone!! Because Apple has announced that the new iPhone box will no longer have a charger. You're worried about that, aren't you? No, you shouldn't worry. There is no need to go and buy a new charger right now. You can charge your iPhone 12 with an old charger.  
Not only has Apple dropped the charger out of the box, but it has also added a new charging technology to its new devices, the Magnet MagSafe Charging. Now you have a new question, what is this MagSafe charging again?
We hope that this article will answer all the questions related to charging your iPhone 12 if you read it from beginning to end.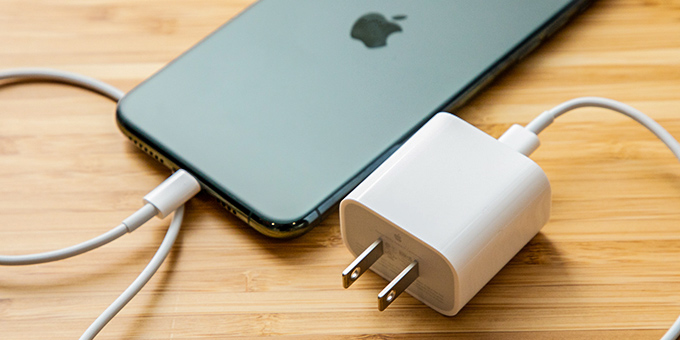 What's in Your iPhone 12's Box
You will only receive a Lightning-to-USB-C cable when you open the iPhone 12 box. No adapter is included in the box. If you are new to the iPhone or have never owned an Apple device, then you will have to purchase an adapter in order to charge your iPhone 12.
Apple brings another piece of bad news for users. If you don't get AirPods by opening the iPhone box, there is nothing to be surprised about. Because Apple is not giving AirPods with iPhone 12 this time. This means that if you are a new user, you will need to buy new earphones to listen to music. However, if you are an old iPhone user, you do not have to buy new AirPods. You can continue working with old earphones.
Naturally, the question arises in your mind, what is the reason for the sudden decision of Apple? Apple says they can reduce the size of their shipping boxes by up to 70% without chargers. This will reduce carbon emissions by 2 million metric tons per year.
Besides, Apple claims that its decision is not for business reasons, but to protect our environment. What should we do now? Apple has made its decision, but what is your decision? Do you have to buy a new charger? Or you can continue working with the old charger? The answer is here!!
Can You Charge Your iPhone 12 With Old Charger?
Unfortunately, there is no direct answer to this question. It depends. Indeed, Apple did not give a new adapter this time, only a Lightning-to-USB-C cable in the packet. However, Apple has not only made the iPhone compatible with USB-C but has also left the option for charging with the previous USB cable. 
This means that as you can charge your iPhone using the new USB-C, you can also charge your iPhone 12 using USB-A. The only difference is, using USB C will charge your phone faster, using USB A will charge your phone a bit slower. 
Besides, if you have a MAC laptop, you can also charge your iPhone from the MAC using USB C. Plus, no adapter will be required. You can charge your iPhone with the old charger without buying any new adapter.
Now the question is, can you charge your new iPhone using the old wireless charging or QI charger? The answer is, yes you can. If you want, you can charge your new iPhone with your old QI charger. Because since 2017, all Apple devices support QI charging. However, in addition to QI charging, there is another way to charge your new iPhone. What is that? Magnetic MagSafe charging system. Apple is now focusing on charging this magnet MagSafe. Now your question is, what is MagSafe charging?
What is MagSafe Charging
Previously, Apple referred to their MacBook charging system as MagSafe. We call their MacBook charging cable MagSafe. But as soon as the iPhone 12 hit the market, we saw another MagSafe.
This MagSafe technology is what Apple brought back to the market. Once you connect the USB C port in your box with this MagSafe conjunction, your iPhone 12 will start charging faster. Apple calls this new charging system 15W Magnetizing MagSafe Charging.
How to Charge Your iPhone Fast
Apple started offering a 5 Watt power adapter (USB) in the iPhone box from iPhone 5. However, when it came to iPhone 11, Apple started giving an adapter of 18W. So, if you are an old iPhone user, you must have an adapter of 5W or 18W, with which you can charge your iPhone quickly.
Apple phones have begun to support fast charging from iPhone 8. With this charging, you can charge your phone 50% in just 30 minutes. But for this, you must Use USB-C Power Adapter. Again, if you want, you can quickly charge your iPhone with QI wireless charging or any other wireless charger.
On the other hand, your phone gets charged 15W through MagSafe charging. So, if you have all three options, cable charging, QI charging, and MagSafe charging, you can choose MagSafe charging without any hesitation.
So, What Do You Need to Buy
If you possess an iPhone or iPad already, or you have an apple Lightning Cable, so you don't require to buy any charger. As soon as you get the iPhone 12 in hand, you can charge it with your previous adapter. But if you expect the experience of the modern MagSafe charger, you have to spend around 40$.
If you want, you can also use a 20W charger instead of Apple's 5W charger. You can buy these chargers separately from Apple, you can also buy from Amazon. 
Frequently Asked Questions (FAQs)
How Long Does It Take To Charge Your iPhone With An Old Charger? 
Older chargers allow you to charge your iPhone, but that charge will be slower. While the new charger is capable of charging 50% in 30 minutes, the old charger will charge much longer.
Will Using An Old Charger Do Any Harm To Your iPhone? 
No. You can charge your new iPhone using any of the old iPhone chargers. It may take longer to charge, but it will not damage your phone or battery.
Does MagSafe Work With Older iPhone Models? 
Yes. Although MagSafe technology has been developed for the iPhone 12, you can use this technology on your older models if you want. You can use MagSafe Charger on any phone which supports wireless charging.
Final Words
Before charging your iPhone with an old charger, please check your cable connection, USB cable, and power supply. Make sure all of them are right. Don't worry; your device will not suffer any harm when using an old charger. Just it works quite slower than a new charger. Nothing else.