If you have multiple Apple devices, like an iPhone, Apple Watch, or MacBook, you need a different charger for each. It is therefore necessary that you plug in and plug out your chargers frequently throughout the day.
When traveling, you should also carry multiple chargers. This is rather annoying. There may be a question in your mind if one charger can charge all of your devices or as few as two devices. What if an apple watch charger could also be used to recharge an iPhone? It would certainly simplify the process of charging. Sadly, that device is yet to arrive.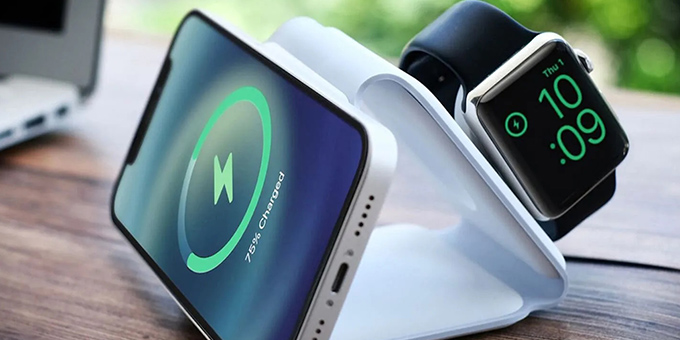 Can Apple Watch Charger Charge iPhone – How do Apple Watch and iPhone Charging Work?
An Apple watch comes with a charger that allows for wireless charging. It has a magnetic connector that connects to the watch and automatically starts charging it the moment you place a strip in the back. Using a magnet, the watch is locked to the charger and prevents it from being dislocated. Apple watch chargers use MagSafe technology for the fastest wireless charging. Not to mention, Apple watches do not contain any ports. 
In contrast, iPhones have multiple charging options. Most of the time, they are charged via a charging port. Wireless charging is compatible with some iPhone models, such as the iPhone 8 and higher.  iPhones are compatible with MagSafe technology, however, you cannot use the original iWatch charger to charge them. 
Because iWatch chargers are made exclusively for charging Apple watches. They are capable of charging the entire Apple watch series. But surprisingly, a few of them are compatible with iPad and MacBook. Although none of them is capable of charging your iPhones. Now, here are some options you can try if you want to charge both your iPhone and Apple Watch on the same charger.  
Accessories to Charge Both iPhone and Apple Watch
The MagSafe Duo Charger 
MagSafe Duo Charger is the first and only Apple charger that can charge both an iPhone and an Apple watch at the same time. Particularly, it is designed to work with the iPhone 12. This charger has two sides; the right one is for the iWatch and the left one is for the iPhone and other Qi-compatible devices. It comes with a USB C to Lightning cable. In order to charge your device, you only need to connect the charger with an adapter. 
With a 20W power adapter, you can charge at 11W, but for 14W, you need a 27W power adapter. For the fastest charging speed, Apple recommends using a Power Delivery (PD) supported 20W USB C charger.  
Moreover, it is compatible with the entire line of Apple watches, as well as the iPhone 8 and later versions. Additionally, this charger allows you to charge any Qi-certified device, including AirPods. 
Traveling with a MagSafe Duo charger is a breeze because it is small, portable, and foldable. Nevertheless, in the case of charging two devices at once, the charging process may undergo a slowdown. 
This charger, like all Apple products, is somewhat pricey. But as long as you are concerned with the charger quality, there is no point that can hold you back from using this charger. 
What are the Conveniences of Wireless Charging Stands?
A wireless charging stand not only allows you to charge two devices at once but also saves space for you. In addition, a phone stand keeps your devices in the same place, so you don't have to search for them. Furthermore, you can use charging pads on your desk. However, the stands are somewhat more efficient. While charging the phone, both stands and pads allow you to use the phone. As an added benefit, they allow fast charging with Qi technology. Depending on your needs, you can choose between 5W and 20W charging speeds. 
You will find a wide range of stands and charging pads on the market. Additionally, some multidevice stands offer three or even four charging options. For people with AirPods, iPhones, and Apple Watches, the 3 in 1 charger is the best option. We've compiled a list of the best wireless charging stands and pads for charging your iPhone or Apple Watch. 
The Belkin two-in-one charger is MagSafe supported and allows your iPhone to charge up to 15W. It also includes a Qi-certified charger.   
Anker Powerwave 7.5 pad includes Quick Charge 3.0 technology that provides 7.5W for Apple devices and 10W for others. 
Joygeek 3-in-1 Wireless Charging Pad can charge up to three devices at once. Its power supply is a maximum of 7.5W. 
Wrap Up 
Last but not least, as both devices have different charging patterns, the Apple Watch charger won't be able to charge an iPhone.
Don't worry, I've got rather interesting solutions for you. From the options above, you can choose a charger to charge them both at the same time.
However, charging your iPhone and Apple watch with the same charger is not technically ideal. It is because some chargers other than Apple may cause damage to your devices. They also reduce the charging speed. So, it is wise to use the given charger with an Apple Watch and iPhone.