A deep cycle battery is a type of battery that is designed to provide a steady amount of current over a long period. On the other hand, the starting battery is a battery that provides a large burst of power in an instance then maintains a low current or recharges itself.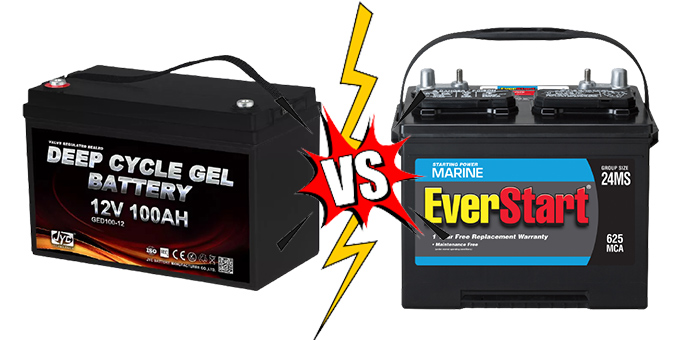 Both of the battery has their own use and one cannot replace the other one. So if you are using the battery for a boat then it needs a constant current thus a deep cycle battery. But if you need a big discharge such as inside an engine to start it, then starting a battery is a necessity.
Difference Between Deep Cycle and Starting Battery
Both the deep cycle and the starting battery are used for different reasons. So comparing them to find out which is better is not really an option. They both excel at their own tasks. So here we'll learn the difference between these two batteries to figure out which one you need for your use.
Starting Battery
Starting battery excels at providing a large burst of current for a short time. These batteries use a lot of thin lead plates to accomplish this task. This kind of burst of current is needed to start the engine of any vehicle. Hence they are called starting batteries.
A starting battery can use up to 3% of its power in a single burst. After the initial burst, they can supply some current to low power consumption appliances. After the engine starts the alternator is used to supply current and recharge the battery back up again. So this makes them a very good choice for using in a car.
Deep Cycle Battery
A deep cycle battery is made to provide sustained current over a long time. Unlike the starting battery, it can run high-power consumption appliances. Other than that, they are also used to run golf carts boats, wheelchairs, and forklifts. They are more pricy than starting battery but they also perform better when comes to sustained power.
The deep cycle battery uses thick lead plates for its power. So they don't corrode much over long usage. Most of the deep cycle battery can be used up to 80% of its power before charging. But it is recommended to leave a 45% charge before charging to extend the battery life.
Which One Do I Use?
Since deep cycle and starting battery batteries are used for different purposes, depending on the usage you need to choose your battery (There is no such 'deep cycle vs starting battery' issue). If you need a battery for your car then you should go for a starting battery since the deep cycle will not be able to work there.
But if you want to buy a battery for your boat then a deep cycle will be the preferable option. A boat has a lot of accessories like the radar and radio that need a constant supply of current. Only a deep cycle battery can provide it constantly with better performance.
Some vehicles use both the starting and deep cycle batteries. In a bus, you can find both batteries used for different purposes. The starting battery is used for the engine and the deep cycle is used for accessories. 
So if you want to buy a battery for something that has both batteries then make sure which battery needs replacing. Then you can buy the type of battery that you need to replace or add to the vehicle.
Using Starting Battery as Deep Cycle and Vice Versa
Despite being a starting battery, you can use it as a normal or deep cycle battery. However, it is not recommended at all. As we have discussed before, the starting battery uses thin lead plates. 
Thus if you use it as a deep cycle replacement, it will corrode the plates faster making the lifespan short. On top of that, it will not perform as well as a deep cycle battery. So it is better to buy a deep cycle battery rather than using it as one.
But a deep cycle battery cannot be used as a starting battery. A deep cycle battery is not made for producing a burst of current. So most of the time it will simply fail to start the engine. But it will work as a scuffed replacement if necessary.
So it is not impossible to use the deep cycle as a starting battery. But starting battery is cheaper than deep cycle one. So there is no need for buying a deep cycle battery if you don't need to since it will not be as reliable as a starting one.
Dual Purpose Battery
A dual-purpose battery as the name suggests can work as both the starting and deep cycle battery. This is accomplished by using both thick and thin types of lead used inside the battery. But these types of batteries tend to be very heavy because of both types of lead usage.
They are mostly used in military vehicles but you can also find these batteries in the market. On paper, they seem like a good idea to have but because of how heavy they are it is generally not worth having.
Although there is one use case for this battery and that is if you have a space shortage. If you are ever in a situation where you need to use both batteries but you don't have space to install both batteries, you can use these dual-purpose batteries. Or you can just use these batteries to save space anyway.
Frequently Asked Questions
Is deep cycle better than car battery?
Ans: Cars use starting batteries which are good for using a producing burst of current. But the deep cycle is good for supplying sustained current at a steady rate. So the purposes of the two batteries are different. As a result, depending on the situation deep cycle can be better than a car battery.
Can a car alternator charge a deep cycle battery?
Ans: Yes it can but you have to have the engine speed at around 1500 rpm to charge it properly. The idle speed of 500-700 rpm won't be able to charge it properly.
Conclusion
Both deep cycle and starting battery are used for different purposes. It is possible to do deep cycle battery work with starting battery and vice versa. But it is not cost-efficient and usually doesn't work well. So you should choose which battery to use according to the usage.