A deep cycle battery is a lead battery designed to provide sustained power over a long period. This battery runs reliably until it is 80% discharged, at which point it needs to be recharged. 
Deep Cycle batteries are constructed using thicker battery plates. These thicker battery plates are a denser active material to withstand repeated charge and discharge cycles. They are specially designed to deliver sustained power with lower current draw over extended periods. 
Where's the Contrast to Others
Usually, a starter battery discharges only a tiny percentage, like 2 to 5%, whenever used. The discharge level is the "deep cycle" and stands in contrast to other batteries that provide only short bursts of energy before they need to be recharged. In a battery, one discharge plus one recharge equals one cycle.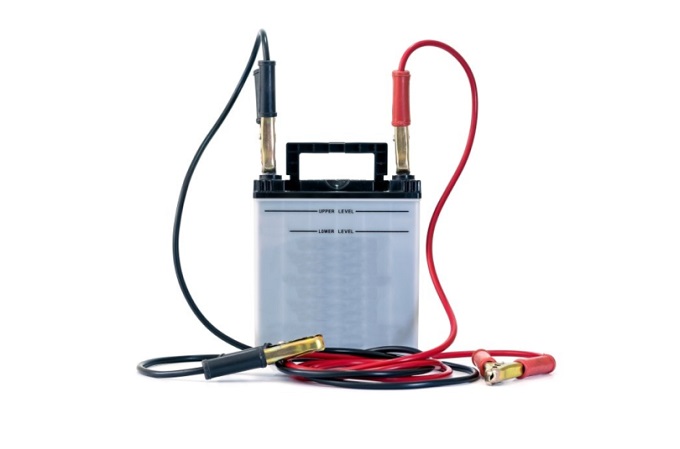 Types of Deep Cycle Batteries 
Deep cycle batteries are quite similar to functionality, but still, there are different types of these batteries.
No products found.
Flooded Deep Cycle Batteries
Flooded deep cycle batteries require regular monitoring. When the electrolyte levels are too low in this type of battery, the user must refill the battery appropriately to maintain better performance.
Flooded Lead-Acid
Flooded Lead-Acid is also called a wet cell type of battery. This name comes from the battery having a liquid electrolyte inside, consisting of water and sulfuric acid. You may have to open the tabs at the top to add water to the battery on occasion. With deep cycle, flooded lead-acid batteries, adding water is needed more frequently.
They also require good ventilation. Batteries produce hydrogen gas, and they must need a way to escape. It is not uncommon for the electrolyte to spit out of the vents during charge, leaving acid residue on the battery cover.
Valve Regulated Lead Acid 
Valve Regulated Lead Acid batteries are sealed and do not require watering. However, a regular check-up is still recommended for this kind of battery.
Valve Regulated Lead-Acid (Gel and AGM)
Gel and AGM batteries are other types of lead-acid deep cycle batteries. They do not have free-flowing liquid electrolytes in them. So that is why they do not require any addition of water.
However, Gel batteries use a gelled electrolyte, and AGM batteries use an electrolyte absorbed in glass matt. They will not release any gases when they are used and fully charged. But if they over-pressure, then the safety valve will open and remove the buildup.
They are more expensive than other battery types and often do not last as long as flooded batteries in more demanding applications. Especially, they are trendy for use in boats, recreational vehicles, and more.
Lithium-Lon Battery
Lithium-ion batteries require no maintenance, can be discharged more deeply without affecting their lifespan. And you can charge them much faster than other types of deep cycle batteries.
Compared to other batteries, a lithium-ion battery is very costly. But the fact that they last much longer than lead-acid batteries can actually make them similar in price as well as these batteries are even less expensive over the long run
Benefits
Lithium-ion batteries have several benefits over their lead-acid predecessors. They are lightweight; they provide their rated capacity at any rate of discharge. Interestingly, they do not get damaged from being left or operated in a partial state of charge. Moreover, they provide more power throughout the discharge cycle and more.
When to Use a Deep Cycle Battery
Deep cycle batteries provide sustained energy and thus making them ideal for specific applications that require more than a quick start. Some of the most common uses for deep cycle batteries are golf carts, recreational vehicles, marine applications, materials handling, including forklifts, off-grid renewable energy, etc.
Facts I Regret Not Knowing Earlier
A deep cycle battery listing refers to some crucial facts. The most important among them is that the battery produces 75 Amp-Hours for a period of 20 hours. To add more, it's rated for 1000 complete cycles at 80% depth of discharge.
These numbers will also express –
how long the battery will last 
how far you should be discharging the battery 
what kind of power you can expect in the meantime
how long you can expect to go before you need a battery replacement 
Capacity
Each and every type of battery has its kind of capacity. Capacity differs significantly between lead-acid and lithium batteries due to their utterly different chemistry. Mainly the significant difference lies in their ability concerning their rate of discharge.
Lithium batteries can provide up to 100% of their rated capacity regardless of their rate of discharge. On the other side, lead-acid batteries provide significantly less usable energy with higher rates of release. Although both battery types may lose capacity in colder weather, the performance changes are far less drastic with lithium.
Example 
At 0°C, for example, a lead-acid battery's capacity is reduced by up to 50%. While a lithium iron phosphate battery suffers only a 10% loss at the same temperature.
Lifespan
There are few factors that we need to understand while learning the lifespan of these batteries. These factors impact the life of a lead-acid battery than lithium. In other words, lead-acid batteries are more accessible to abuse. Proper maintenance can extend the life, as well as discharging and charging it correctly.
Instead, if we do opposite things like improper watering, over-discharging, over-charging, and under-charging, a lead-acid battery regularly can significantly reduce its lifespan.
Lithium battery
First, lithium batteries do not require watering, so the issue of overwatering is cut down. Second, lithium batteries are not damaged by a partial state of charge, or under-charging, so that particular problem is also eliminated.
Warnings 
Lithium batteries can be damaged if they are charged at a high current below freezing temperatures. Thereby this reduces the battery's lifespan a lot. Heat affects the battery as well. Higher temperatures degrade the battery much quicker.
Discharge Capability
Deep cycle batteries are not designed to put out power for an extended period. However, the batteries can discharge much more of their stored energy. But deeply removing a starter battery will hurt its performance.
The amount you can safely discharge is different with every kind of battery. Some batteries can only handle releasing 45% of their energy reserves, whereas others can safely discharge up to 100%.
Uses of Deep Cycle Batteries
In general, we use deep cycle batteries for anything that needs continuous power for more extended periods. Some items are electric golf carts, floor cleaning machines, scissor lifts, wheelchairs, scooters, forklifts, recreational vehicles, renewable energy systems, etc.
Frequently Asked Questions
1. How many years does a deep cycle battery last?
Answer: Deep cycle batteries can last up to six years with proper care and charging.
2. Is it better to charge a deep cycle battery? Slow or fast?
Answer:  These batteries are not designed to handle fast charging and extra heat, so it is possible that they may never reach full capacity.
3. What voltage should I charge my deep cycle battery?
Answer: The recharging voltage of 2.43 to 2.45 volts per cell.
Conclusion 
Though deep cycle batteries go as little as 20% of their initial condition, it is essential to note that most manufacturers recommend not discharging below 45% to extend the battery's life.
One more fact- though you do not need a deep cycle battery to start your internal combustion engine, they will make an excellent RV battery or battery bank for your solar panel system.