Perhaps the lead-acid battery is the most common type of rechargeable battery that is roaming around you. From motorbikes to cars, this battery is able to power all kinds of automobiles, golf cars, or UPS without any doubt of surge power. This is the most cost-effective rechargeable battery invented for commercial use. Most surprisingly this battery has kept its popularity intact even when hundreds of modern battery models have arrived in the market.
But do you know everything about this battery that you may have been using for years?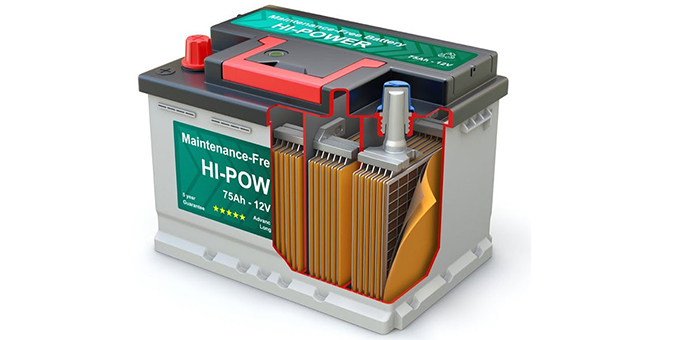 In this article, we will take you through everything you need to know about the lead-acid battery, in detail.
Lead Acid Battery Simply Explained
Simply put, a Lead-acid battery is the type of rechargeable battery you see in a motorbike or in a car that provides power to all the electrical components in the vehicle. It comes in different sizes depending on the number of volts it contains.
Moreover, it's a kind of rechargeable battery that has the least energy density compared to modern rechargeable batteries. But it's high surge power, long battery life and low cost still make it an attractive choice for most rechargeable battery applications. It works wonders in terms of powering automobile engines and electronics that require a high current supply for starting the combustion engine all of its electronics components at once. 
When hundreds of advanced technologies have been developed for making more efficient and powerful batteries, lead-acid batteries have been holding their place for their easy and low-cost manufacturing process providing affordable rechargeable battery-led applications.
Lead Acid Battery History Behind The Creation
The lead-Acid battery was first invented in 1859 by Gaston Plante. But the initial idea came from a French scientist Nicolas Gautherot. He observes that the wires that he used for electrolytes experiments contain a very small amount of secondary current even when the main battery is exhausted or disconnected. This idea, later on, led Gaston Plante to develop the first lead-acid battery.  
He developed his first lead-acid battery model by two lead sheets that were separated through elastic rubber bands and rolled into a spiral. He also saw that this lead-acid formulated battery can be charged by passing a reverse current into it.
Amazingly, the first invented lead-acid batteries were used for powering the lights of a train carriage at the time of waiting in a station. But later on, the popularity extended to all the rechargeable battery-led applications such as automobiles, golf cars, marine, forklifts, and UPS.
Breaking Down The Components Of Lead Acid Battery
There are basically four basic components in a lead-acid battery that work together to power up your electronic gears after being charged up; Positive plate, negative plate, rubber stripes, and electrolytes.
The positive plate and negative plate are separated by a rubber strip. The positive plate of the led acid battery is made of lead peroxide, a dark brown, hard, and brittle substance. The negative plate of the battery is made of pure lead in soft sponge condition. The positive and the negative plate are immersed into the electrolytes, a combination of sulfuric acid and water. A load is externally connected between these plates. 
A plastic case is required to hold all the internal components in place. On the top of the case, there are two plastic leads with two terminals, a positive and a negative. The casing is divided into six separate chambers where each chamber alternatively named a cell produces 2.1 volts of direct current. Each cell is connected in a series where the positive of one cell is connected with a negative of the next cell giving us a total of 12.6 volts altogether. 
How To Maintain Your Lead Acid Battery?
Basically, proper maintenance is required to boost efficiency and increase battery life. Most of the time, the service life of your battery may extend due to daily maintenance. It may sound very simple but in reality, maintenance can be the only pain in the a**. 
Here we have provided a few maintenance tips that are highly important and should not be overlooked.
The first and most important part is to maintain the electrolyte level in the battery. Keep track of the water levels. Make sure the plates are submerged into the electrolytes. The user needs to add distilled water if the electrolyte levels drop. But don't add acid.
While pouring water into the battery case, avoid using tap water. It may contain minerals that will affect the lifespan of the plates. Always use distilled or deionized water.
Use after the battery is fully charged. Using the battery half charged or before fully charged can adversely affect its lifespan. 
Don't charge a lead-acid battery more than once a day. Charging the battery occasionally for a short time is also not recommended.
Don't keep your batteries in direct sun exposure or in freezing temperature while charging. Charging in a place where the temperature is more than 80 degrees Fahrenheit can build a gas gap in the batteries. Be aware of that while charging your lead acid battery.
Another thing that a user of a lead-acid battery must maintain is cleanliness. The battery must be cleaned regularly otherwise the dust will cause leakage currents. For cleaning purposes, using a battery steam cleaner is appropriate.
Frequently Asked Questions (FAQs)
How Many Years Does A Lead-Acid Battery Last?
Generally, a lead-acid battery is designed to last at least 3-5 years and up to  10 years maximum. But the lifetime also depends on how the user treats the battery during usage. If the battery is properly maintained, the battery will last longer than usual service years.
What Are The Perks of Using Sealed Lead Acid Batteries?
A sealed acid battery gives the user the convenience of using the battery in any position without the fear of spilling electrolytes. The easy handling of a sealed acid battery keeps it at the top of the user's mind. This battery comes in a sealed plastic case made out of non-conductive ABC plastic that gives protection from dangerous chemical reactions, heat, or vibration. This battery is also cost-efficient than lithium batteries and has a longer service life.
Conclusion
In conclusion, the two positive and negative plates dipped into a mixture of water and sulfuric acid placed into a plastic case to formulate a lead-acid battery. The lead-acid battery is the perfect cost-effective battery solution for any commercial use. The easy manufacturing process and convenient source of manufacturing inputs make lead-acid batteries the first choice for all sorts of automobile vehicles.