These days, it seems like everything needs a battery. From your watches to your car, you can't go anywhere without making sure that the batteries are fresh. CR2032 batteries are some of the most popular on the market simply because they're so versatile.
The best CR2032 batteries are renowned for delivering more efficient and consistent power when compared to a standard pencil cell.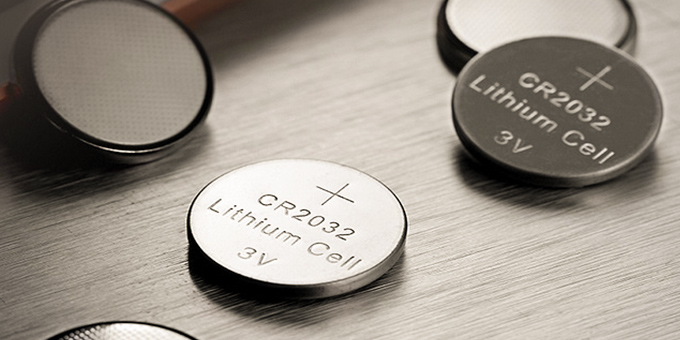 These batteries, while more expensive, take up less space than a pencil cell, making them more appropriate for use in compact electrical devices.
These tiny powerhouses are the most significant choice available on the market for all electronic gadgets, with an average lifespan of more than 10 years. 
Are you looking for the top CR2032 batteries? I have you covered. 
I've researched to find the most reliable and long-lasting brands on the market. This way, you can buy with confidence, knowing you're getting the best battery for your needs.
Properties and Uses of CR2032 Batteries 
A CR2032 battery is a primary (non-rechargeable) lithium coin cell battery. Depending on the manufacturer's requirements, the CR2032 battery has a capacity of up to 240mAh and a voltage of 3 volts.
TODAY, the CR2032 lithium coin cell battery is the most widely used lithium coin cell battery. In addition, the CR2032 battery has a variety of commercial applications ranging from car key fobs to various security systems.
The CR2032 battery can also be equipped with connecting tabs, installing it in practically any position required. The CR2032 battery is an excellent choice for many applications due to its small size but relatively high service life, capacity, and steady discharge.
Key Properties of the Best CR2032 Batteries 
CR2032 battery is manufactured by several brands but has the same specs. 
Voltage
The battery's nominal voltage is around 3V, which is relatively high for such a battery.
Lithium Quantity
The battery typically contains 0.109 grams of lithium, but the amount may vary from different manufacturers.
Long Product Shelf Life
The battery has a long shelf life and can be used well for ten years. Therefore, the right combination of Manganese Dioxide and Lithium is supposed to offer a long and steady battery life.
Self-Discharge
The self-discharge rate of this battery is only 1%. That means the stored charge loses roughly 1% of the total battery per year owing to internal chemical reactions, which are pretty consistent and not excessive.
Temperature Tolerance
The battery is exceptionally temperature resistant, operating correctly in temperatures ranging from nearly -30 degrees Celsius to 60 degrees Celsius.
2 Despite the battery's large operating temperature range, it can withstand a temperature change of 0-30 ° C. while stored.
Uses of CR2032 Batteries
These little button-like batteries can be found in practically any gadget. With the potential to generate a massive power level of 3V, these small batteries power most of the modern equipment on the market.
Medical Devices
Patients sitting at home must attend the hospital regularly to have their glucose and blood pressure levels checked. Still, with the development of smaller portable devices that can do all of the services that physicians have to offer for these conditions, this is no longer necessary.
Portable medical gadgets, such as blood pressure and glucose meters, rely on lithium batteries as their primary power source.
In addition, among the most essential devices in today's world, a cardiac pacemaker relies on these batteries for proper operation.
The batteries enable these devices to function remotely and increase their portability.
Automobile Remotes
Nowadays, all automobile keys include a built-in remote control that can be used to unlock, lock, open and close the trunk of the car, and sound an alarm to indicate the car's position.
The CR2032 battery is still the only explanation these little remotes may operate for 3-5 years without needing replacement.
Motherboards of Electronic Devices
Many motherboards are outfitted with these lithium cells, which serve as the primary source of energy for all of the electrical parts on the motherboard, making them an essential component of the modern computer.
Toys
The most common gadgets that use CR2032 are toys. Most of these toys require a small amount of energy to operate, and the CR2032 coin batteries are ideal for this purpose.
Bank Card Readers
Electronic devices are becoming increasingly tiny. As a result, the usage of small architecture is becoming more popular, and these CR2032 batteries have made it possible.
Many large devices have shrunk to the size of a pocket nowadays. And one of the most significant examples is the portable banking card readers.
5 Best CR2032 Batteries 
There's a lot of demand for these tiny batteries. Furthermore, they can readily replace an extensive range of battery models. As a result, you will find numerous brands producing CR2032 batteries. 
To save you time and confusion, I've compiled a selection of the top CR2032 products available.
1. Energizer 3V Lithium Coin Cell CR2032 Batteries (Best of Watches)
Energizer is one of the most reliable battery manufacturers in the world. This is because they always try to produce the best quality and high-performance battery of almost every kind.
The Energizer CR2032 batteries are 3V, and this product contains 6 batteries. As you already know that CR2032 batteries are used in various applications, getting 6 batteries at once will be worth the money.
The batteries are great, especially for their fantastic shelf life. You will get almost a decade of shelf life – which is insane. You don't have to worry about if you're not using them, even for years. They will be ready for backup whenever you need them.
If you use these batteries- L14, DL2032, SB-T15, and 5004LC for your devices, you can easily replace them with the Energizer CR2032 battery.
From the manufacturer, this particular CR2032 battery model is recommended for watches. In addition, though, these batteries can be used in other devices like key remotes, heart rate monitors, glucose monitors, and various toys.
Energizer CR2032 batteries are also compatible with the Amazon Dash Smart Shelf. So, all those smart tech users, Energizer got your back too.
Pros
It comes with 6 batteries 
10 years of shelf life 
Good replace for L14, DL2032, SB-T15, and 5004LC models
Highly beneficial for watches
Computable with Amazon Dash Smart Shelf 
2. Amazon Basics B0787K2XWZ 4 Pack CR2032 3-Volt Lithium Coin Cell Battery (Best for Apple TV Remotes)
When it comes to Amazon Basics, you have to believe you're going to get a fantastic experience. The same applies to this CR2032 battery.
In the box, you'll find 4 lithium cell 3V batteries. These batteries are of excellent quality and will provide you with a more extended backup for your electronic devices.
The zero-mercury lithium coin batteries are built to withstand severe temperatures, making them ideal for outdoors or recreational activities.
Spill-proof technology is built into these batteries. Furthermore, this battery has an 8-year shelf life. Amazon Basics is unquestionably miles ahead of the competition with its 8-year leak-free lifespan facility.
If you've been using BR2032, DL2032, or ECR2032 batteries in your devices until now, it's time to upgrade to the Amazon Basics CR2032 batteries.
Amazon Basics CR2032 batteries are great for Apple TV remotes. Besides, they are also ideal for toys, key remotes, calculators, watches, calculators, and other electronic applications.
Amazon has engraved the battery model. As a result, it became more accessible for the user to recognize and install.
Pros
It comes with 4 batteries 
Zero mercury is used in this battery for the overall safety 
The batteries are spill-proof
8 years of shelf life 
Best for Apple TV remotes
The battery model is engraved for better identification 
3. Duracell B009108SGS – 2032 3V Lithium Coin Battery 4 count (Best for the Safety Features)
The energy capacity of the Duracell lithium coin battery is 225mAh, which is huge. So, you're going to get a very long backup once you install these batteries to your devices.
Duracell always ensures the quality of its products. 
CR2032 lithium coin batteries are great to power your devices. However, at the same time, there are many reports of swallowing them for their coin size. To ensure safety regarding this, Duracell has taken a few exceptional steps like no other brand.
Duracell has produced CR2032 batteries with nontoxic but bitter coating. This bitter taste will discourage accidental swallowing.
On the other hand, the packaging of these batteries is so great that they are impossible for the children to open up with bare hands. 
If you're using a DL2032 battery, you can easily replace them with Duracell CR1632 batteries.  
Just like other models, these CR2032 batteries are also able to provide high performance to a variety of gadgets like string lights, thermometers, fitness devices, watches, calculators, remote control, wireless doorbell, key fob, kitchen scale, and weight scale.
Pros
Higher capacity of 225mAh 
The non-toxic bitter coating is used to prevent accidental swallowing of the coin batteries 
Safety packaging is ensured for the children 
Shelf life of around 10 years
An easy replacement for the DL2032 battery
4. JUNPOWER CR2032 3V Lithium Battery (Best for Toys)
This product from JUNPOWER is the ultimate powerhouse for your electrical devices. You are going to get 20 pieces of CR2032 batteries which are 3volts. And the fascinating thing is the battery capacity of these batteries.
The capacity of JUNPOWER CR2032 battery is 240mAh. So, can you really think how much backup you're going to get from a single battery? And there are 20 of them at one single purchase.
The batteries are ideal for car fobs, remote controls, LED lights, kitchen scales, watches, security alarms, calculators, medical equipment, and more everyday gadgets.
But JUNPOWER CR2032 battery is highly recommended if you buy a CR2032 battery for toys. However, toys run with these tiny coin-shaped lithium cell batteries. But toys do need quite a lot of consistent power to operate.
JUNPOWER battery's huge capacity comes in handy in this manner.
Like other CR2032 batteries, JUNPOWER CR2032 batteries don't have 10 years of shelf life. But they are providing a 5 years of shelf life, which I won't ever count as a shortcoming of a CR2032 battery. 
If a CR2032 battery can hold its energy even if left unused for long 5 years, you really should complain about it. Trust me!
Many manufacturers use mercury in their batteries to prevent internal gas buildup. But it also causes leaks. While providing a few years of shelf life, JUNPOWER ensures that the batteries won't leak. For this sake, they don't use mercury in their batteries.
 As a result, even if you don't use the device after installing a CR2032 battery in it for a long time, devices won't be damaged anyhow.
JUNPOWER CR2032 batteries are considered a suitable replacement for quite a few models of batteries. Like-
CR2032L, ECR2032, CR2032H, DL2032, BR2032, CR2032BP, EA2032C, LM2032, KCR2032, 5004LC, L14, 5004LB, SB-T15, L2032, EA-2032C, KL2032, GPCR2032, KECR2032.
Pros
It comes with 20 pieces of CR2032 batteries 
Huge capacity of 240mAh for more extended backup
5 years of shelf life 
Best suited for toys
0% mercury is used to ensure the battery doesn't spill
Can replace a huge number of battery models easily 
5. Panasonic CR2032 3V Lithium Coin Battery – Pack of 4 (Best for Outdoor Devices)
You're going to get 4 pieces of Panasonic CR2032 lithium coin batteries with this product. The batteries are 3 volts and have a capacity of 225mAh. With this capacity, batteries can provide a very extended period of backup to your electrical gadgets.
Like the other CR2032 batteries, Panasonic batteries are also useful for various kinds of medical equipment like glucometers, thermometers, watches, key remotes, calculators, toys, security alarms, and other electronic applications.
Having said that, if you're going to install these batteries in such devices that are used outside most of the time, then I am personally recommending you to buy this Panasonic CR2032 battery.
Panasonic CR2032 batteries have a vast range of operational temperatures. Most of the CR2032 works fine till it's either minus 15 degrees or around +40 degrees out there.
But Panasonic CR2032 batteries work fine between -30 to 85°C. You'll rarely find a CR2032 battery that has this kind of wide range of operational temperatures.
These batteries are more durable than other conventional CR2032 batteries. Overall longer lifespan with higher performance – Do you need more than this from a tiny battery? NO!
Pros
It comes with 4 pieces of CR2032 batteries 
Batteries have a capacity of 225mAh for long-lasting power backup
Best for outdoor devices
The batteries can operate in a very wide range of temperatures 
Frequently asked questions
How Long Do CR2032 Batteries Last?
Material quality, storage circumstances, storage time, moisture, physical damage, and temperature are all factors that affect battery storage life.
On average, CR2032 lithium coin batteries have 5-10 years of shelf life.
If you're asking how long CR2032 batteries will survive when used in devices, the answer is that it depends on what kind of devices you're putting them in.
Since the use of a CR2032 battery in a car key is relatively infrequent, it can survive up to 4-5 years before it needs to be replaced.
A more active device, such as Apple's new Air Tag, which allows for continuous item tracking, will only last roughly a year.
Are CR2032 batteries dangerous?
The finest CR2032 batteries are incorporated with leak-free technology as well. So, while using them in devices, they are not dangerous, rather beneficial.
But CR2032 batteries are incredibly flammable. So, you must be careful and keep them far from the fire. Otherwise, it can lead to a very crucial situation in no time.
On the other hand, for CR2032 battery's coin size, can be considered dangerous. There is always a possibility of accidental swallows of the cells of their tiny size. Especially for the children.
There are also possibilities of confusing these batteries with medicine tablets. So, be careful about storing these batteries. Please don't keep them around food anyhow.
There are around 20 cases every year of accidental swallowing of these tiny batteries if you see the statistics. So, that's how dangerous it is.
What to do if someone swallows the battery?
Because a lithium cell may cause a life-threatening condition in around 2 hours, immediate action must be performed without waiting even a millisecond.
Batteries should also be removed as quickly as possible if put into the noses or ears.
Final Thoughts | Tiny but Powerful 
The era of huge batteries has passed us by for sure. Nevertheless, lithium CR2032 systems are extensively used. They have a wide range of applications, ranging from the tiniest of toys to the most advanced machines ever, such as a heart pacemaker.
The best CR2032 batteries are ideal for these electrical gadgets since they provide all the characteristics required to operate a portable device. 
Batteries are incredibly vital in today's society since they can power several of the most commonly used items daily. But, at the same time, they may cause a great deal of harm if not managed properly.
CR2032 batteries are popular for various reasons, including their long battery life and strong temperature resistance.
Manufacturers are looking for a dependable energy source that is both powerful and small. And CR2032 is a jackpot product for all manufacturers undoubtedly.