Most of us have to deal with a dead battery or two in our lifetime. Especially if you have a new generation vehicle with a modest electrical setup like navigation, camera, and other electrical setups. All of these need power to keep the memory setup backup.
For this reason, they drain the battery even when your vehicle is off. And in time, the battery runs empty. And an empty battery is a threat to its life and longevity. 
Also, if you are going out camping and need power in the open, there is no outlet. So where do you go?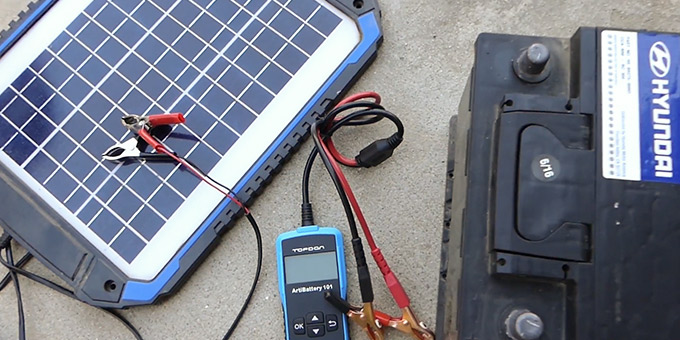 To make you get out of this inconvenience, there are solar battery chargers to trickle your battery. But which one do you get?
We have gathered some of the best 12-volt solar battery charger from the market. After analyzing and reviewing them if they are really worth it, we have come up with the ones you can go for.
Best 12 Volt Solar Battery Charger to Keep Your Battery Trickled All the Time
Here are the best 12-volt solar battery chargers that you can check out. They come in all sizes, shapes and give different outputs. 
1. ECO-WORTHY 12 Volt 5 Watt Solar Trickle Charger 
If coming out to a dead car battery is your problem, this can relieve you from it. The ECO-WORTHY 12 Volt 5 Watt Solar Trickle Charger keeps your batteries charge on a trickle without taking up any space.
As there are a lot of components in the car these days, the battery still runs them in the background to keep the memory intact. Not only cars, boats, trucks, and other vehicles are now packed with a lot of electrical components that drain the battery while it is sitting idle. That is why the battery gets drained slowly to nothing and you come to a dead battery. This solar charger helps your car's battery gets charged without you even knowing it.
The charger provides 17W of continuous output when the vehicle is under sunlight. This keeps on feeding the battery slowly throughout the day. Even if the battery is being used when you are driving, the continuous feed covers up the used power.
It can be connected in two ways. You can directly connect it to the battery with the provided battery connectors. Or you can use your cigarette lighter port to route the power feed to your vehicle's battery. It's easy as that.
In addition, the charger comes with a blocking diode. This will answer your question about the LED of the charger draining the battery. The diode will block all current from flowing out of the battery after the vehicle is turned off.
You also get PVC suckers to install the charger onto your vehicle.
Pros:
Great solar trickle charger.
Works as advertised.
Charges the battery even if the vehicle is left unused.
Cons:
Will not work on big-size batteries.
2. Sunway 12V Solar Car Battery Trickle Charger & Maintainer
If you are looking for something tight and handy for a solar battery charger for your vehicle, then the Sunway 12V solar car battery charger can be at your aid. It's light, smart, and comes with a whole lot of features in a package.
The charger gets connected to your battery using either the battery clumps or through the cigarette lighter port. Both of the ports can easily be disconnected if you need them.
A great feature of this charger is that it comes with an Amorphous solar panel. So even if the sun is not out and the weather is under the influence, it will keep on charging your battery. And that too with a very small amount of solar power. How cool is that!
The design of this solar charger is very compact. Unlike other solar battery chargers, it won't take much space. Even weighs very little. You can fit it in any corner of your vehicle and it can work as a decoration. 
Another great feature of this charger is the IP44 protection. This makes it splash-proof and weatherproof. So if you are thinking of getting it for your boat or RV and fitting it outside, it will do great. Just do not submerge it and it'll be fine.
Also, the charger comes with the usual diode that prevents it to draw power back from the battery. So no worry about it killing the battery.
Pros:
Compact design.
IP44 protection.
The amorphous solar panel even works in dull weather.
Cons:
Too thin and sun heat can damage the casing.
3. SOLPERK Solar Panel Kit 20W 12V, Solar Battery Trickle Charger Maintainer 
If slim and compact isn't your game and you are looking for something big and sturdy, then you can go for this SOLPERK Solar Panel Kit. This solar battery charger is powerful enough to not only trickle charge but to actually put some high watt charge in your battery.
The solar charger has a capacity of generating 20W of electricity. It can then give out 18V of power to your battery. Which is crazy!
As it has a big panel, it comes with all the necessary stands and mounting accessories. You can mount it anywhere you can think of. On the roof, on the ground, inside your vehicle, you name it. 
It is ideal for any RV, boat, or even can work as a power source for your solar battery setup. The charger can work with any type of battery be it flooded cell, AGM, gel, or EFB. And it automatically adjusts to the voltage and works on both 12V and 24V batteries. 
In addition, the solar charger also comes with a whole lot of protection. The best of them is the IP65 protection. So it is waterproof, dustproof. Also, it has overcharge, over-discharge, over-voltage, and short circuit protection.
As it is a big boy solar charger, it comes with its own panels and LED indicators. You have to install every wiring and connection through it and it will work smoothly monitoring everything.
One thing you should know before using this is, you have to connect the battery before you connect it to the panel. Otherwise, it won't work. So follow the instructions.
Pros:
Big enough to power a big battery setup.
Has a 10-year work-life guarantee.
Durable and rugged.
Cons:
The installation process and instructions aren't easy.
Frequently Asked Questions
Can I leave my solar battery charger on all the time?
Yes. You can leave the solar battery charger on all the time as it comes with trickle charge feature.
How long does it take for a solar battery charger to top up a car battery?
A 200W solar charger can top up a 12V car battery in 5-8 hours.
Can I drive my car with my solar battery charger plugged in?
No. For safety reasons, you should always unplug the charger before driving.
Why did my car battery die after sitting idle for a few days?
As many components of the car are microprocessor controlled and need to keep memory backup, they use the battery power even when the car is turned off. That is why your car battery died after sitting idle for a few days.
Conclusion
Solar battery chargers are a great component for your vehicle, home, or out in the wilderness. They provide you with the much-needed power when your vehicle is sitting unused. And this keeps the battery in full charge and also in good condition.
The battery life of your vehicle is threatened if it is fully depleted. A solar charger can save you from a whole lot of cost and time from battery damage and a depleted battery. Also, they work as an alternative power source if you are out camping. The possibilities are endless with a 12-volt solar battery charger.